Arcane Season 2: When Will Be Available to Stream on Netflix
Arcane Season 2: Arcane League of Legends is an animated action-adventure series on Netflix created by Christian Linke and Alex Yee. It was stated that the show would begin filming in 2019. Fortiche, a French animation studio, collaborated with Riot Games, the developers of the League of Legends video game upon which the show is based, to produce it.
In terms of viewership, Arcane's first season was Netflix's most successful ever. Critics praised it, and viewers gave it a majority of their attention across 52 different Netflix regions.
Read more:-
Ready yourselves, friends. Season 2 of Arcane is now in production.

Where's a Hexgate when you need one? pic.twitter.com/3aUeWuQ5Uu

— Arcane (@arcaneshow) November 21, 2021
Summary of the First Season of Arcane
The wealthy metropolis of Piltover stands in contrast to the impoverished metropolis of Zaun in Arcane. It seems like there's always some tension between these city-states.
The development of Hextech, which allows anybody to harness and direct magical energy, and shimmer, which turns people into monsters in Zaun, pose an existential threat to both worlds.
As we learn the backstories of the two legendary League champions and the force that will drive a wedge between them, we see how their rivalry affects their loved ones and friends.
Read more:-
In the course of nine episodes, we watch as Vi, Jinx, Jayce, and Silco fight for their own identities and freedoms, only for Jayce to learn that peace does not come cheap.
I know that sound at the end of the teaser..
Glad they showed this shot at the end of the show aswell, it's the same but from a different Angle.. pic.twitter.com/b6wyTDu7MG

— Kampsycho (@Kampsycho) November 21, 2021
Just as Zaun is being awarded its freedom, we left our heroes with Jinx deciding to weaponize the Hextech gemstone and use it against Piltover.
Read more:-
Netflix Set to Debut Second Season of "Arcane"
In November of 2021, it was revealed that Arcane would be returning for a second season on Netflix, produced by Riot Games.
It was already in the manufacturing phase. But animated series of the scope of Arcane League of Legends takes a lot longer to make than live-action episodes.
As far as we can tell, Hailee Steinfeld, Ella Purnell, and Katie Leung will all be reprising their respective roles as Vi, Jinx, and Caitlyn. And that the sisters will keep fighting the evil force that wants to separate them.
All we know for sure is that in 2023, Netflix will debut Arcane. We will make sure you don't miss out by updating the post once we have a firm date.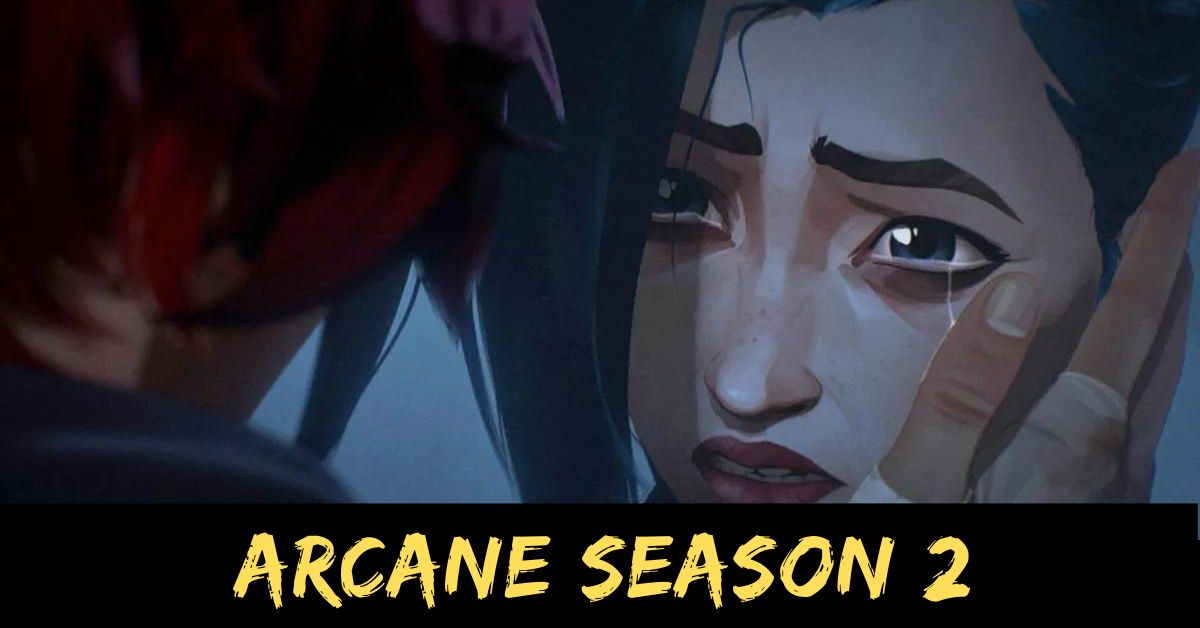 Furthermore, if you find that you simply cannot wait that long, you may choose to peruse our selection of shows that are similar to Arcane: League of Legends.
It reminds me of the trailer for
Season 7 of Game of Thrones pic.twitter.com/7W90bAicvu

— pJ (@J1542P) November 21, 2021
In Arcane, How Old Are the Protagonists and Antagonists?
Arcane is where the story of Vi and Jinx began (formerly Powder). As tragic as it is that the girls had to grow up so quickly without their parents, we won't get to that part of the story until later on.
Read more:
In the first act, Vi and her younger sister Jinx are in their early to mid-teens. The sisters are probably around 20 and 17 by the time the story of the Arcane League of Legends is narrated, which takes place in the second act.
So yeah, we are working on #arcane season 2.
The good news: you won't have to wait for 6 years (the time it took us to making season 1)
The bad news: it's not coming in 2022 😢 https://t.co/IQoPyLnw1J

— nicolo (@niiicolo) November 21, 2021
Who Provides the Voices for the Arcane Characters?
Voice performers in Arcane have received a lot of praise for their work. If the audience doesn't care about the characters, it doesn't matter how well the tale is told or how well the animation is done.
Hailee Steinfeld as Violet "Vi"
Ella Purnell as Powder / Jinx
Kevin Alejandro as Jayce Talis
Katie Leung as Caitlyn Kiramman
Jason Spisak as Silco
Toks Olagundoye as Mel Medarda
Harry Lloyd as Viktor
JB Blanc as Vander
Frequently asked questions
Is Arcane Season 2 coming out?
I hate to be the bearer of bad news to you, but it looks like season 2 of Arcane won't premiere until late 2023, at the earliest. Fortiche, together with the writers and producers, will take their time on Season 2 to make sure it lives up to the high standards set by the first.
Is Arcane Season 2 Coming in 2023?
The second season of Arcane was confirmed on November 20, 2021, three days after the season finale dropped. Though Netflix has not confirmed a return in 2022, Season 2 of Arcane is highly unlikely to be released any time soon.
Why did Arcane take so long to make?
And so it was a matter of starting from scratch again, of learning new tools since the ones they had been using weren't always adequate for a production of this scale. As a result, you can see why it took us so long (about six years). It's a significant portion of our lives that will never be recovered.
Final Words: This article concludes with information regarding Arcane Season 2: When Will Be Available to Stream on Netflix. For more latest news and information stay tuned with us here at Domaintrip.com.