Crusader Kings 3 is Ready to Hit PS5 and Xbox in March 2022
Paradox Development Studios have officially announced the upcoming release of the phenomenal  Crusader Kings 3! This time it is hitting the console platforms! 
Gear up to work up your brains for the strategic game is coming out this year itself! Sequel to the Crusader Kings I and Crusader Kings II, this upcoming game has elated the hearts of fans.
Crusader Kings 3 Release Date
Star Trek Lower Decks Season 3 Release Date, When and How to Watch
The epic, strategic, roleplaying game Crusader Kings 3will be released on console platforms on March 29, 2022, at 9 am PDT! The creators announced that they were excited for the game this time as fans have loved it since it was released on Windows PC in September 2020.
Crusader Kings 3 Platforms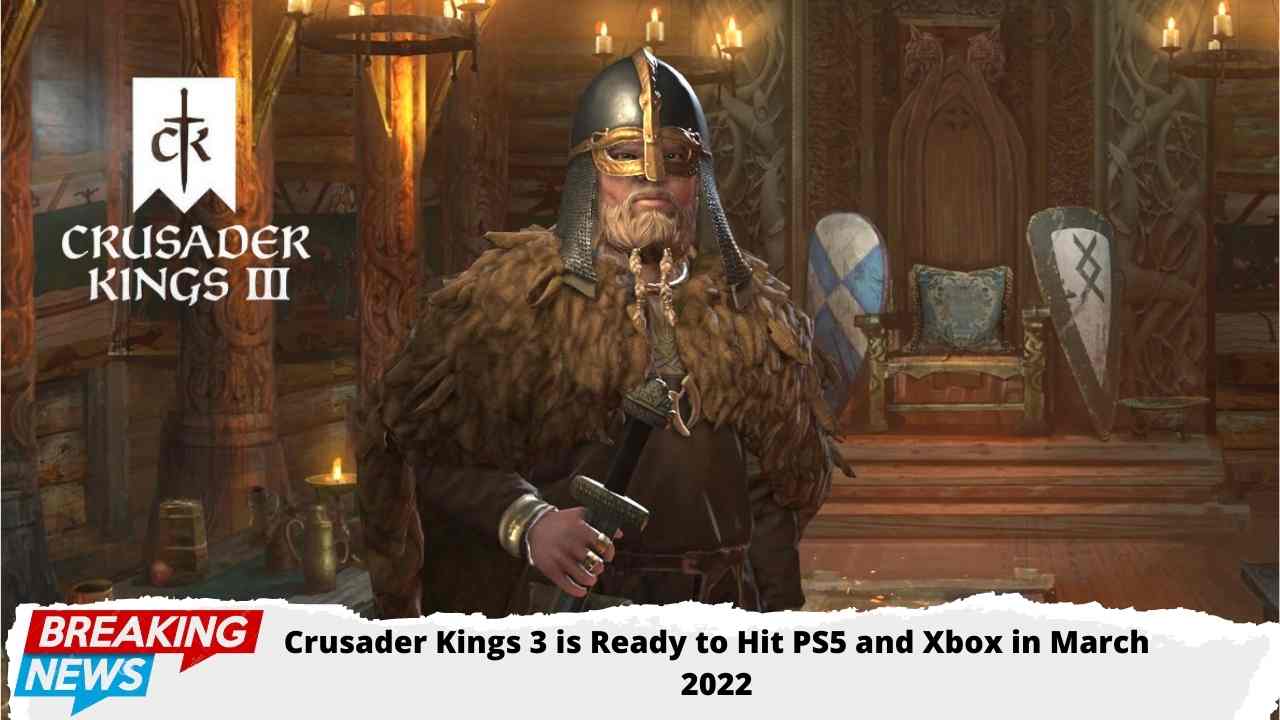 Crusader Kings 3 will be released on platforms like Xbox Series X and Series S, PlayStation 5, macOS, Microsoft Windows, Linux, Macintosh operating systems. The game's debut on the console platform has kept fans on the edge of their seats since its announcement.
Crusader Kings 3 Price
The game is available to pre-order on different available platforms for $49.90. When released, fans can head to their respective console platforms and save Crusader Kings 3!
About the Crusader Kings 3 game
Crusader Kings 3 is a multiplayer – grand strategic wargame and computer wargame, video game. Developed by Paradox Development Studio and Lab42, this game was also nominated for The Game Awards for Best Sim/Strategy Game. The game's size was previously known to be about 8 gigabytes.
It will be a little similar to its previous version released in 2020, but there are also some new add-ons and changes. The new control map will allow players to efficiently and quickly navigate the game's menus via triggers, bumpers, and quick flicks of the analog stick. For the PS5 edition, some unique gameplay features are added to maximize the amazing experience.
The game follows a synopsis where the game features:
Character Focused Gameplay: Every character the players choose or interact with will have their unique personality. Events and options in the game are depended majorly on the player himself.
Infinite Possibilities: you can play as any noble house from Iceland to India, Finland to Central Africa, you name it, they have it! with the timeline of over five centuries, players can Interact with wandering guests, stubborn brats, devious spymasters, and saintly holy men in an intrinsic dosser of medieval life, which is simply breathtaking Waging War: Rally your enemies and raise your men-at-arms to take over the rival's castles or silence rebellions. Personal prowess on the battlefield will win the players your great honour, but only with strategy can they plan their way to victory.
Celebrity Hunted for Stand Up To Cancer Season 4: release date and all about the 2022 series
Royal Marriages: want to spread your royal legacies to the next generation? The game allows the player to enlarge the dynastic DNA throughout the world while ensuring strong power and stamping your royal seal on the thrones of kingdoms and duchies on the whole face of the earth. Players can Marry for power and raise children to press claims on new lands, and Saints and Sinners: this game will test you! Do you have faith in your religious leaders, or do you commit heinous crimes in the state's interest for your people? When the choices get tough, you can always embrace a belief or make a new religion for yourself that suits you and your character's priorities!
This interactive game is anticipated by fans who are excited to see the game on console platforms.
The new release will have some brand new twists. The passes to be used in the games are also available, and players and fans of the franchise cannot wait to dust off their consoles and sit to rule over the whole world this March!