[UPDATED] CG CSMCL Portal Online, App Download, And Much More
The CSMCL Online Liquor Home Delivery – App Download, Price List, Alcohol Home Delivery, and Helpline Number on the Official Website CSMCL Online Registration and Online Wine are available at www.csmcl.in.
The government of Chhattisgarh has launched a new service called CSMCL Online Home Delivery, which would bring wine to your home. The government launched the portal and would supply alcohol online by accepting online orders through the CSMCL Online App Download. People who want to consume alcohol at home can now use the program to place a CSMCL Liquor Online Order and get the alcohol at their residence. 
This page contains information about CSMCL Online Home Delivery, App Download, Login, Price List, Alcohol Online Delivery, and Customer Care Helpline Number at the Official Website www.csmcl.in. So read the post attentively to learn how to get CSMCL online Home Delivery through the web and application.
Read More
What Is CSMCL Online Liquor Delivery App
On 10th May 2021, the Chhattisgarh government launched a new platform via which liquor may be ordered online and delivered to your home in Chhattisgarh. People who wish to buy wine no longer have to go to a wine shop; instead, they must place an online order with CSMCL. Following your CSMCL Online Order, the delivery boy will swiftly deliver liquor to your home.
Chhattisgarh Online liquor Home delivery app CSMCL online trending 3rd on playstore, aur kya din dekhna reh gya tha… Corona ki vaccine to lagwai nhi ja rhi hai aur darru home delivery karwayenge.#Chhattisgarh #Congress@bhupeshbaghel #chhattisgarhfightscorona pic.twitter.com/zNzmtLrRkR

— Yet another Infosec student (@ashwinisahu990) May 13, 2021
Last year, when the government launched the portal and application, online orders crashed on the server, and the government has now reopened the app and site for delivering wine to the home.
Citizens of Chhattisgarh can access this online liquor delivery platform through two channels: the application and their website. This was done because of the state's lockup crisis and overcrowding in wine shops. The administration has begun offering online liquor delivery to Chhattisgarh residents. To deliver, citizens must pay a home delivery fee of 118 rupees and make payment online.
Eligibility Criteria For Using The CSMCL App
You must be at least eighteen years old to utilize the online booking feature. Registration will require identification. Upon delivery, the delivery person will confirm the same form of identity. Just read the following points to understand better:
If you are in Chhattisgarh, you can get liquor delivered to your home only in Green zone.

The portal was named after the state-run CSMCL
A customer can place an online order for up to 5000 ml liquor at a time pic.twitter.com/whLiBqNvvO

— [email protected] (@imtashu27) May 5, 2020
Only applicants from the state of Chhattisgarh are allowed to apply.

Individuals must be at least 18 years old to use the online booking service.

Your government ID proof, such as an Aadhar Card or PAN Card, will be required during registration.

The delivery person will verify the same ID evidence.
The following are some ID proofs that the Chhattisgarh government will accept at the time of registration:
Birth Certificate

Aadhar Card

PAN Card

Passport

Ration Card
New Registration At CSMCL App
Applicants who intend to undertake the CSMCL Online Registration can now do so by visiting the official website and following the instructions outlined below. See the simple methods listed below to register for the portal. We have created a step-by-step guide for you. Just go through the following pointers: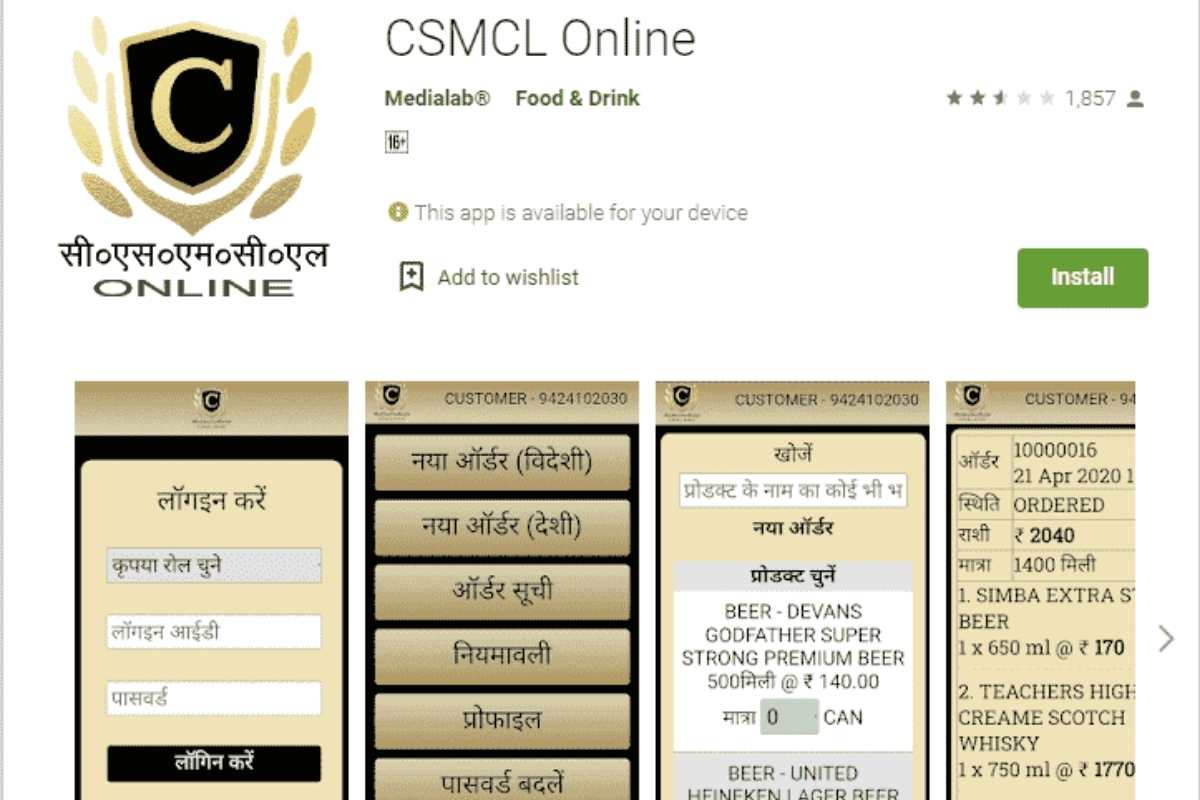 Open the official website of CSMCL Portal.

Click on the New Registration Option at the viewbar given on the official page.

Fill out the registration form with your name, Adhaar Card number, birth year, district, and delivery address.

Finally, click on the Register button.

You are now successfully registered on the portal and may log in.
CSMCL Online Liquor Price List
Applicants interested in learning about the CSMCL Online Liquor Price List can now do so by visiting the official website. Applicants who want to check the pricing list of liquor can do so while submitting their online liquor order. People who order liquor online must pay a 118 rupee home delivery charge online. Furthermore, the platform only accepts online payments. Therefore make your payment online exclusively; there is no cash-on-delivery option on the web.
Read More
CSMCL Online Liquor Customer Care Helpline
Applicants who want to learn more about the CSMCL Online Customer Care Helpline Number can now do so by dialing the numbers mentioned below. Applicants who are having difficulty placing an order or experiencing other issues with delivery can now call the helpline number and resolve their issues. See the numbers listed below to resolve your issue.
Helpline Number — 14405 / 0771-2439600
Official Website — https://csmcl.in/
If you have any problems registering on the site, please let us know in the comments section. We will get back to you as soon as possible. For more information like this, you can visit our page. We regularly update our page. 
Guys stay tuned with us for the latest updates on, domaintrip.com.