Matt Barrie's escrow company, Escrow.com is one of the world's most secure payment method from a counterparty risk perspective. It safeguards both buyer and seller, all funds transacted using escrow are kept in trust.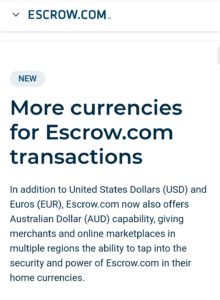 The firm has announced that from now on Australian Dollar will also be an accepted currency. The declaration says "In addition to United States Dollars (USD) and Euros (EUR), Escrow.com now also offers Australian Dollar (AUD) capability, giving merchants and online marketplaces in multiple regions the ability to tap into the security and power of Escrow.com in their home currencies."
"Escrow.com has already made a name for itself in other markets, delivering unprecedented safety and security for online transactions, thanks to the escrow process, which sees funds kept in trust until all involved parties are satisfied with the deal," said Escrow.com General Manager Jackson Elsegood. "With the launch of Australian Dollar capability, buyers and sellers in Australia can now make the most of what this escrow process has to offer."
The e-commerce platform provides internet escrowservices in many domains, cars, jwellery, general merchandise etc. More than $3 billion of transactions have been successfully protected with Escrow.com.