Former Secretary of the Treasury Steven Mnuchin has finally sold his apartment at 740 Park Ave. The elegant apartment sold at a discount from its initial asking price and was last on the market for a little less than $26 million.
Dwelled in the exclusive Park Avenue cooperative designed by Rosario Candela, the apartment had been in Mnuchin's family for decades.
Mnuchin bought the posh, 6,500-square-foot apartment from his aunt, Carol Terner Lederman, for $10.5 million nearly 20 years ago.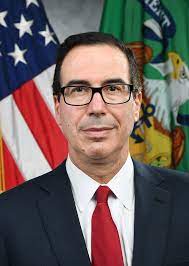 The 1929 Upper East Side duplex apartment highlights "precise renovations," which mix its traditional style with modern updates.
It's accessed by a private elevator, which comes at a landing that opens into a gallery with 11-foot ceilings, marble floors, and a curved staircase.
On the first level are the entertaining rooms, which come with wood-burning fireplaces and marble shelves. The massive living room highlights four oversized windows across 34 linear feet of Park Avenue frontage.
The kitchen is provided with a center island, storage pantry, and a large breakfast room equipped with top-of-the-line appliances.
Up one floor is a "sprawling" master suite, with walk-in closets, a fireplace, study, dressing room, and a pair of en suite marble bathrooms. Three extra bedrooms are also located on the floor, all with en suite bathrooms, as is a large den.
Before working as Treasury Secretary from 2017 to 2021, Mnuchin, 58, had served as an executive at Goldman Sachs for 17 years and then became a hedge fund manager, investor, and movie producer, bankrolling such films as "Avatar," "Mad Max: Fury Road," and "The Lego Movie."