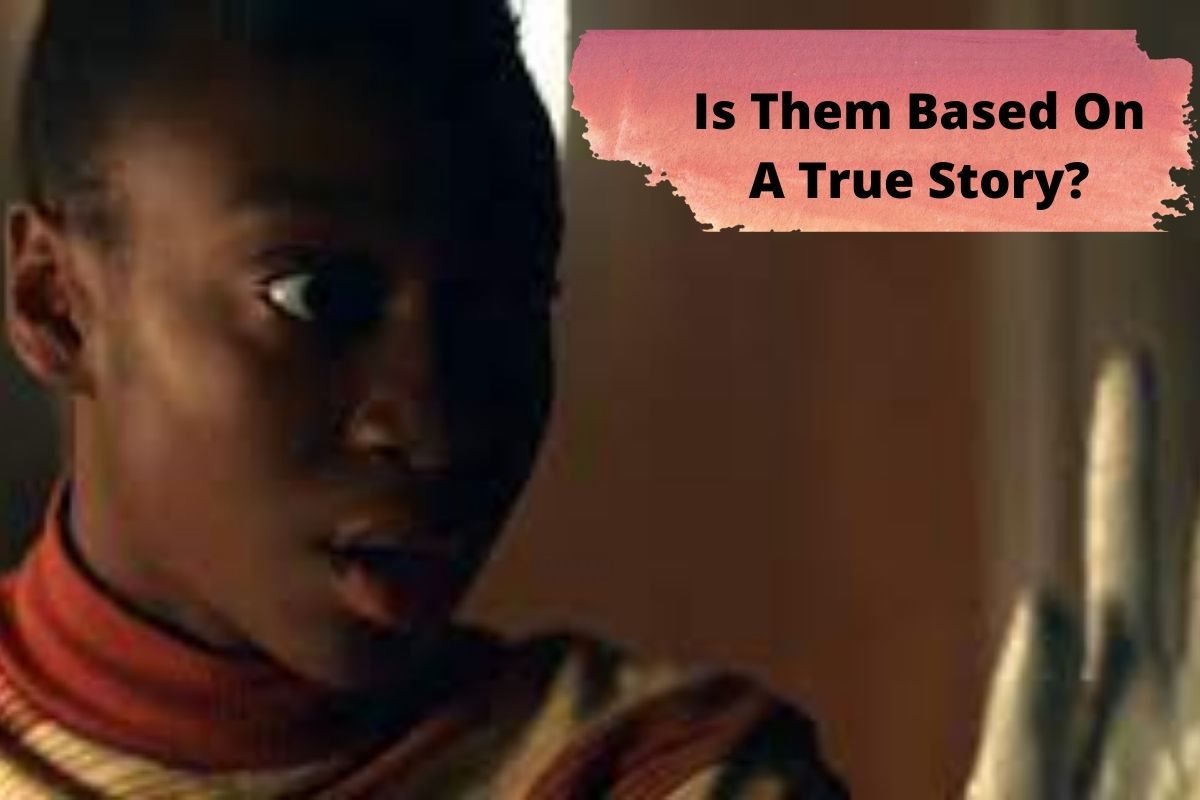 Is Them Based On A True Story? Those who binge-watched Them on Amazon Prime Video over the weekend may have a lot of questions regarding the show's origin and how well it reflects the 1950s Los Angeles of its setting. No need to jump on over to Wikipedia, though! We've got answers for you below.
What is Them About?
The first season's 10 episodes follow a fictitious Black family, the Emory—led by mom Livia (Deborah Ayorinde), known as "Lucky," and dad Henry (Ashley Thomas)—as they migrate from North Carolina to an all-white neighborhood in L.A. in 1953; precisely, the drama is set in Compton.
Soon after the Emory move in, though, they begin to feel tormented by their neighbors (especially one who lives across the street, Betty, played by former The Newsroom star Alison Pill), who all seem to want to terrorize them into leaving, as well as by supernatural forces living inside their house.
Is Them Based On A True Story?
The opening episode of the first season starts with title cards that note: "Between 1916 and 1970, roughly 6 million African-Americans relocated from the rural Southern United States to the Northeast, Midwest, and West. Widely known as the Great Migration, many black families were enticed to California by the promise of industrial opportunities and a chance to leave the Jim Crow South behind.
On September 14, 1953, Henry and Livia 'Lucky' Emory moved their family from Chatham County, North Carolina, to Compton, California." Because the show ostensibly presents the Emorys' plot as truth, you may have been fooled into assuming that the characters are based on genuine individuals. But there's no indication that the Emory or a family like them ever existed.
Read More:
In a recent interview with Essence, Them creator Little Marvin (who also co-executive produced the series with The Chi creator Lena Waithe) confessed that the characters aren't from the actual world, but were instead "born of my fears, of my anxieties, of my insecurities." He also said that he added information from his personal experiences as an African-American into the writings.
"There is a scene where Henry goes into a bathroom and stuffs paper towels down his throat to stifle a raging scream," Marvin said. "Have I done that? No. Have I wanted to? Many times. So sure, there's a small germ of fury and dread and anxiety in the play that is certainly born of my personal experience." However, the first half of those title-card claims is, in fact, true—although historians would remark that Them is explicitly set within what's widely referred to as the second wave.
That event took occurred from around 1940-to 1970; it varied from the first wave (1916-1940) because it predominantly comprised skilled labor workers from cities, not only rural farmers and because during the Second Great Migration, more African-Americans went to cities along the West Coast. (Want to learn more? Thomas recently told Collider that to prepare for his part as Henry.
He studied the book L.A. City Limits by author Josh Sides; as the book's subtitle says, it goes into "African-American Los Angeles from the Great Depression to the present.") Another significant detail: The first season of Them is entitled "Covenant"—a reference to the real-life limitations that sometimes barred African-Americans from owning land in particular residential areas, thereby informally maintaining racial segregation.
These so-called "covenants" were notably common in postwar America in cities like L.A. and can even still be seen now. Just a few months ago, CNN reported that a newly sold house in Beverly Hills featured wording in its title that read, "Said premises shall not be rented, leased, or conveyed to, or occupied by, any person other than of the white or Caucasian race."
Them Cast & Character Guide
Deborah Ayorinde As Livia "Lucky" Emory
Deborah Ayorinde portrays Lucky Emory, the mother of the family going to Compton. Lucky, a former teacher now focused on raising her two girls, is tormented by events that had happened in North Carolina as well as the presence in her house.
Ayorinde previously portrayed Candace in Luke Cage and Becca Hays in True Detective, and she also starred as Simone in Girls Trip and Rachel Ross in Harriet.
Ashley Thomas As Henry Emory
Ashley Thomas co-stars as Henry Emory, the father of the family, World War II veteran, and the first Black engineer recruited at his new firm. Thomas, a British actor, has acted as Isaac Carter in 24: Legacy, Jermaine in Top Boy, Calvin Hart in The Night Of, and Alonzo Carter in the short-lived Salvation.
Shahadi Wright Joseph As Ruby Emory
Shahadi Wright Joseph portrays the eldest daughter Ruby Emory, a teenager headed to a white high school after the family's move to Compton. She is most known as Zora Wilson in Jordan Peele's Us, and she also voiced the young Nala in 2019's The Lion King.
Them Supporting Cast & Characters:
Liam McIntyre as Clarke Wendell
Derek Phillips as Sgt. Bull Wheatley
Paula Jai Parker as Hazel
Christopher Heyerdahl as The Black Hat Man
Jeremiah Birkett as Tap Dance Man
Ryan Kwanten as George Bell
Sophie Guest as Doris
Melody Hurd As Gracie Emory
When is Them Launched?
CONFIRMED: THEM will be available on Amazon Prime Video on Friday 9th April. The series will be accessible to binge watch from launch, unlike other recent originals from the streaming site, such as The Boys and Invincible, which have been broadcast weekly.
This deserves a round of applause! 👏 Congratulations to all of the amazing @PrimeVideo talent that secured nominations at the 2022 Film Independent #SpiritAwards pic.twitter.com/6ZOmsWUrds

— Amazon Studios (@AmazonStudios) December 14, 2021
Will There Be A Them Season 2?
It appears likely because when Amazon Prime purchased the project back in 2018, it agreed to a two-season order of the series. The second season will undoubtedly contain a fresh subtitle, which may also entail an all-new setting and cast.
Them Trailer
Last month, Amazon Prime Video published the first full-length teaser for THEM, which introduces the Emory family and the frightening perils they face, both from their new neighborhood and the ghostly activities tormenting them:
For more information please visit our site Domaintrip.com