The nostalgia of the early 2000's skateboard culture that inspired many flawed decisions by teenagers worldwide, the reckless and hilarious stunt performers and professional skateboarders, popularly known as Jackass, are back with a new and mature film i.e., Jackass Forever.
Jackass Forever, which is directed and produced by Jeff Tremaine, is the fourth instalment of the title films created by the Jackass franchise. It perfectly embodies psychedelic and juvenile whimsy behaviours with street skating, hilarious pranks, and wild dares. With a more sober and aged cast, audiences cannot wait to see the hilarious and absurd magic between these old friends on the big screen again.
The original "Jackass" show had lasted well for just three seasons, but the crew kept swaying and actively working to turn their success into movie form.
Jackass Forever Release date
Initially scheduled for March of 2021, the release date for Jackass Forever has been postponed multiple times due to Margera's lawsuit. The date has been pushed back to July of 2021, then to September, then October, and finally, on February 4, 2022.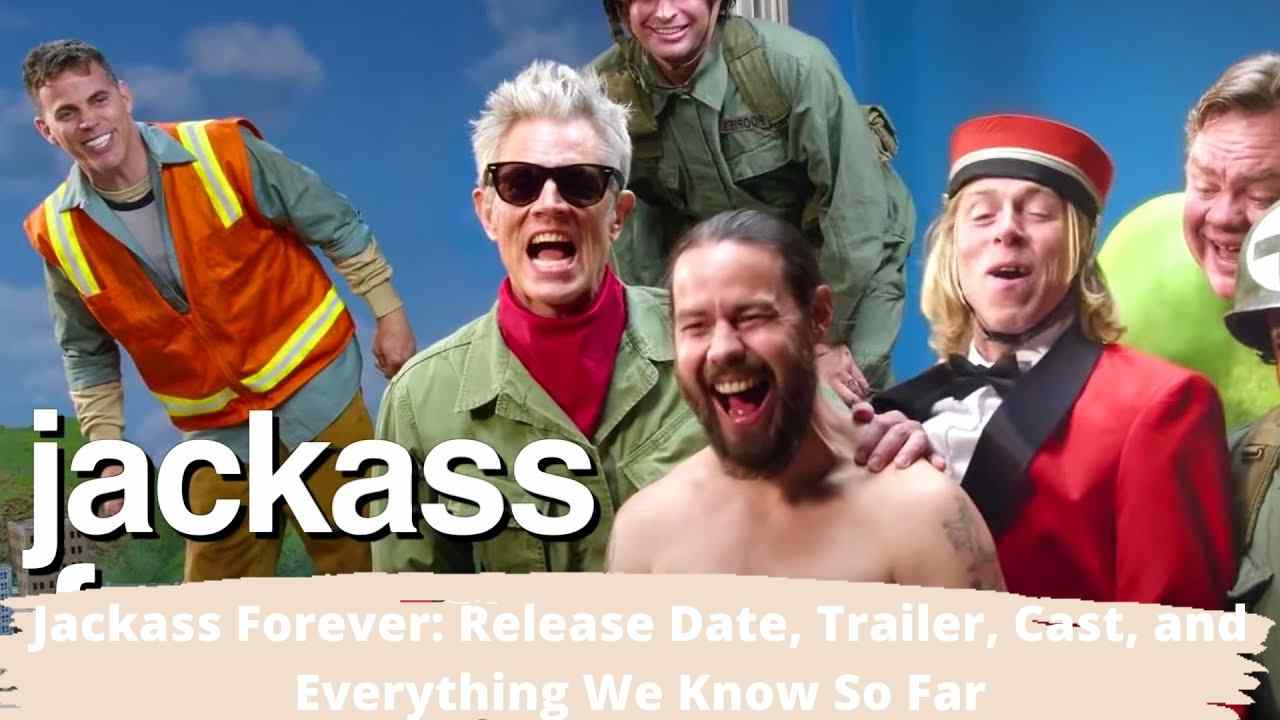 Jackass Forever Trailer
To catch a glimpse at the early look at the film, a trailer for Jackass Forever was released in July 2021, concentrating thematically on getting back together with old friends. Commencing with a sentimental look into the past, the trailer goes on to embark you on a journey with some of the hilarious and reckless stunts that the cast will be performing in this new movie. 
Jackass Forever Cast
Audiences and fans are excited to see the new cast members and their notorious antics. The trailer does not indicate any of the more gross skits for which the team is known.
With a gap of eleven years between the third and fourth films, fans of the original series wonder if they will see the same craziness in the stunts with a cast aged over a decade.
In the trailer, we can see Johnny Knoxville going hilariously face to face with a bull for the fourth consecutive time in the Jackass film series. This is one of the many ways that the fourth instalment will pay homage to earlier skits. In addition, Johnny Knoxville will be making an appearance as his Bad Grandpa character.
During an AltPress interview in 2018, Johnny Knoxville spoke about bringing new cast members onto the Jackass team, stating he wanted to get some fresh blood into it. Fans can expect to see familiar faces making appearances, such as comedian prankster Eric Andre, Jasper Dolphin of Odd Future, Machine Gun Kelly and many more. From the original series, Raab has been said to make a cameo appearance in the film, as will The Dudesons, a Finnish stunt group with a similar series, and longtime friends of the Jackass cast.
Additionally, professional skateboarder Tony Hawk, who also appeared in the first Jackass film, will be making a return appearance for Jackass Forever.
Unfortunately, some original cast members will not be returning, such as Ryan Dunn, who passed away in a tragic car accident in 2011. His best friend and CKY creator Brandon "BAM" Margera has recently been in and out of rehab.
Jackass Forever Plot
Doomlands Animated Series: Is This Series Renewed or Cancelled?
The plot of Jackass forever is merely a series of stunts sewn together. As such, it's still essentially a mystery how the cast will present themselves and each other this time around, though a few hints have been dribbling in.
We know that the movie will likely feature a stunt involving many marching band equipment and a treadmill because both Steve-O and Johnny Knoxville were hospitalized while recording it. The first-look photos show fans multiple other scenes of mayhem.
You can expect to see Knoxville once again venture inside a bullpen and get shot from a giant cannon into a body of water. The images also show a curious contraption featuring two plexiglass helmets connected by a tube and a scene involving mime costumes and a dangerous-looking snake. As per the official "Jackass" Instagram, there's also a strange water tank chair that features pyro work by "MythBusters" star Tori Belucci.
There's a whole lot of fun waiting in store with the new release of Jackass Forever.