Namescon Global 2019 in Jan'19 at Vegas
Namescon Global 2019 will be held in Vegas from 27-30 January, 2019. Pre-registration and early bird entry passes are now available. The entry tickets are in the range of $399 to $1349.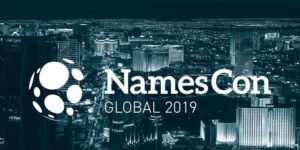 NamesCon, the Domain Name Industry Conference, is an annual event that brings together companies, representatives, and individuals in the Domain Name industry, especially Registries and Registrars.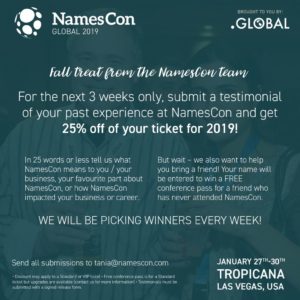 NamesCon's flagship event in Las Vegas has grown to be the largest and most anticipated domain industry event of the year. The event focusses on quality networking and compelling content to expand businesses.
The families of the professionals are also allowed to attend the event. Free entry for children below 16 years. Individuals under the age of 21 who are attending evening events will be given an identification wristband.
Unique email address has to be provided for each registration. Tickets to the event are transferable.
Invest in yourself at NamesCon Global 2019.