In the One Piece manga, Eiichiro Oda has finished the battle between Zoro and King. On the other hand, Sanji beat Queen after a long struggle, shifting the fight to Luffy's advantage. However, Monkey D. Luffy's war with Kaidou is still going on, and they've just recently begun to appreciate it. After the introduction of Zunesha in the previous chapter, things in the manga became even more exciting. It's no surprise that everyone is looking forward to reading the next manga chapter. So, let's go over all you need to know about One Piece Chapter 1038, including its release date and time.
One Piece Chapter 1038 Delayed
Eiichiro Oda returned with a new chapter earlier this week following the New Year's vacation. Other prominent mangas like My Hero Academia, Jujutsu Kaisen, and Black Clover were also on hiatus, in addition to One Piece.
One Piece is taking a pause once again this week. However, this time, it's because Oda is taking a break from writing.
One Piece Chapter 1038 Release Date
On Sunday, January 30, 2022, One Piece will return with Chapter 1038.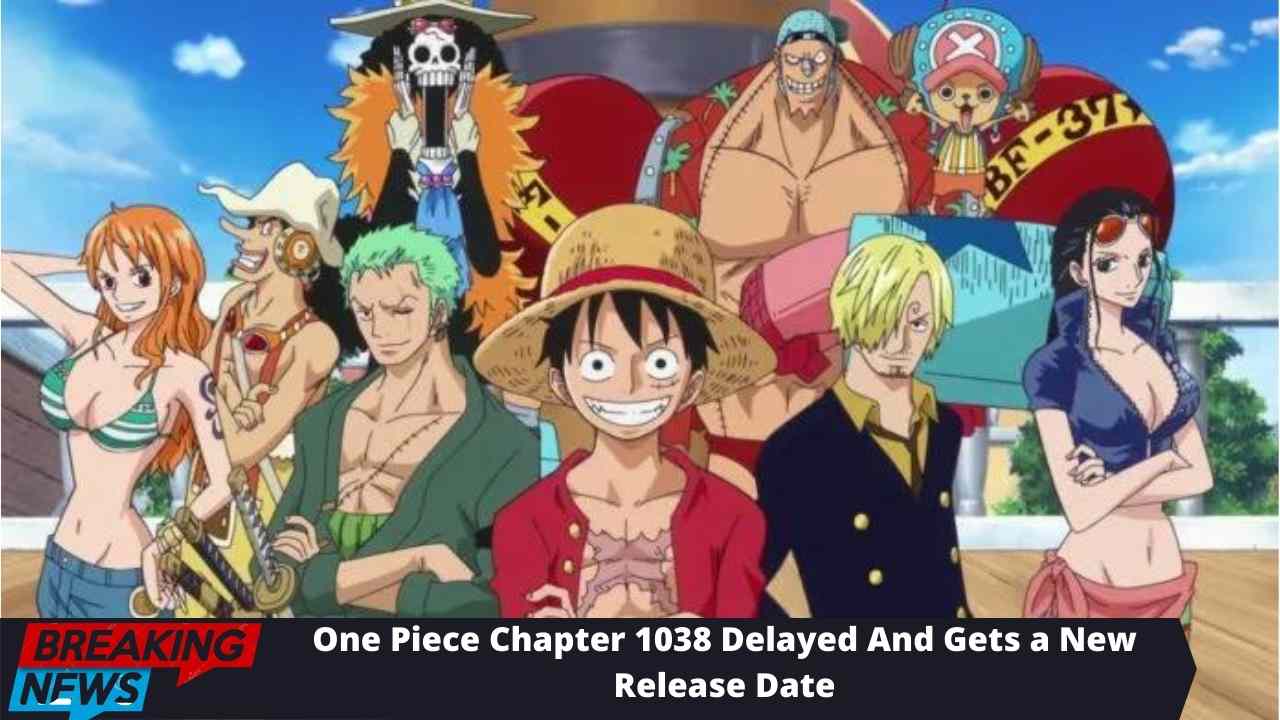 On their websites, Viz Media and Manga Plus have confirmed the release date and a comprehensive schedule. As a result, there's a slim chance that the chapter will be delayed any longer.
According to Manga Plus's official timetable, Chapter 1038 of One Piece would be available to read on January 30 at midnight JST. However, it's important to note that your location would determine the kick-off time, and the following are the times for various regions:
Pacific Time: 7 AM (January 30)

Eastern Time: 10 AM (January 30)

Central Time: 9 AM (January 30)

British Time: 3 PM (January 30)

India Time: 8.30 PM (January 30)

European Time: 4 PM (January 30)
Predictions for One Piece Manga 1038:
Kaido being inebriated and fighting unpredictably is unmistakably reminiscent of all the drunken combat methods seen in action films and comic books throughout the years. We all know that there is a secret inebriated method in martial arts.
Rock Lee employed it from Naruto, and it is a well-known fight.
Anyway, we anticipate One Piece 1038 manga spoilers to illustrate Kaido's inebriation's repercussions. Undoubtedly, the drunkenness of the guy who keeps the island afloat will have serious consequences.
Chapter 1037 Recap:
As the conflict between Luffy and Kaidou continues, the latter becomes drunk and experiences various emotions and mood swings. Meanwhile, the Five Elders debate the Wano dispute on Mary Geoise when they receive confirmation that Zunesha has arrived from one of the government ships stationed nearby. As they listen to the report, the Elders shift their focus to a fabled Devil Fruit that had not reawakened in ages; yet, one Elder points out that the fruit had been given a different name, most likely to erase it from history.
Luffy comes at him again, but Kaidou uses Tatsumaki Kaifu to deflect his attack, just as he transforms into his hybrid form and enters "Crying Drunk" mode, attacking Luffy with Raimei Hakke, which Luffy avoids by kicking him in the face with a Haoshoku Haki covered foot.
In the Holy Land, Mary Geoise and the Five Elders gripe about the Levely but quickly shift the conversation to the war in Wano and how Nico Robin should've been arrested or slain at this point how they must act now. The World Government ships surrounding Wano notice a massive shadow, which some mistake for an island. It turns out that the mink's island home is carried by the huge elephant Zunesha. The Five Elders are concerned since "that" Devil Fruit hasn't woken in millennia and should be a tale, according to them, while one of them points out that the World Government gave it a unique name to disguise its existence from history's annals.
Where to read One Piece Chapter 1038 online?
You may read all of the newest and prior chapters of One Piece online at VIZ's website, or you can go to Shueisha's English manga portal Mangaplus.
You may also download Mangaplus' official app or Viz's ShonenJump App using your Android or iOS smartphone. The final alternative is to wait for VIZ or your local licensor to release the book physically.