Travis McMichael testifies in his own defense in Ahmaud Arbery case
Ahmaud Arbery, 25, was shot twice and killed on February 23, 2020, by Travis Mcmichael. All of this happened in the Satilla Shores outside of coastal Brunswick in Glynn County where Arbery was chased by Greg McMichael, his son Travis McMichael and their neighbour Roddie Bryan. The murder trial is now about to reach an end as the state and defence present their closing arguments on Monday after 30 witnesses have given testimony in the past two weeks.
Travis McMichael's Attorney's Closing Argument
Travis McMichael and his father Greg McMichael along with their neighbour William 'Roddie' Bryan are charged with the murder of Ahmaud Arbery. Their defendants argue that the three of them were simply trying to make a legal citizen's arrest under the law of Georgia. Moreover, Travis says that he shot Ahmaud to protect himself. 
Defense Attorney Jason Sheffield stated in his closing statement that Travis has the right to shoot and kill Ahmaud during the fight. 
He added that his defence did not wake up with the intention of killing Ahmaud that day. However, he did so to protect himself. 
"You are allowed to defend yourself. You are allowed to use force that is likely to cause death or serious bodily injury if you believe it's necessary," Sheffield argued. "At that moment Travis believed it was necessary. This is a law that is for a person in Travis's situation."
Sheffield told the court about the Satilla Shores neighbourhood conditions prior to the shooting. He said the community was a safe space to live. However, a few weeks before the incident, neighbours reported break-ins and theft. He also told the jurors that McMichael had a previous suspicious encounter with Ahmaud. Thus, the second time that he saw him, he grabbed his gun and confronted him.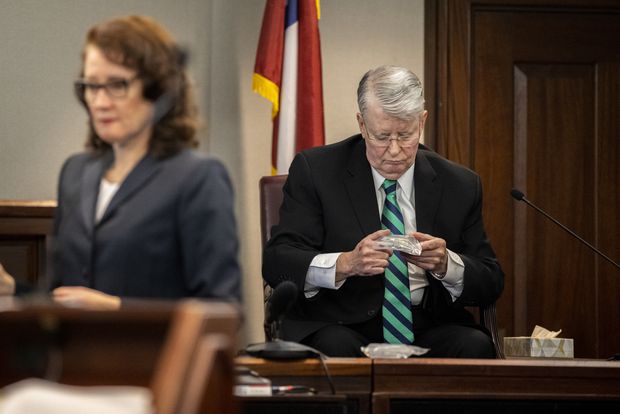 To end his argument, Sheffield said that McMichael was within his rights to detain Ahmaud until the arrival of the police due to his suspicious activity. He said,
"I think that if you've heard anything that I've said, there's only one decision. He is not guilty on all charges."
Prosecutor's Closing Statement 
Linda Dunikoski gave an hour-long closing statement on Tuesday. She argued that the defendants were not acting in self-defence as they initiated an encounter with Ahmaud. Thus, they can't claim to shoot him to protect themselves. 
Moreover, Linda added that the defendants did not have any proper reason to accuse Ahmaud of a crime. However, they still initiated a "citizen's arrest" under the law of Georgia. Defense lawyers state that the defendants grew suspicious of Ahmaud after thefts in their neighbourhood increased rapidly in the past couple of weeks. There was no evidence suggesting that he stole anything but the three still harmed him.
The prosecutor said, 
"All three of these defendants made assumptions, made assumptions about what was going on that day. And they made their decision to attack Ahmaud Arbery in their driveways because he was a Black man running down the street."
Linda constantly asked the jurors to use "common sense". She already knew that defendant's attorneys would close their argument saying Ahmaud was aggressive and the three men were acting in self-defence.
She also asked the court to notice that Ahmaud was unarmed and tried to run away from the assaulters several times.
"He ran away from them for five minutes," Dunikoski told the jurors. "No weapon. No threats. No way to call for help. Didn't even have a cell phone on him. Ran away from them for five minutes."
William Bryan's Attorney's Closing Statement 
Bryan's Attorney Kevin Gough defended his client saying he played no role in Ahmaud's death. He said that the victim would have died even if Bryan did not join the pursuit. 
"Roddie Bryan's presence is absolutely superfluous and irrelevant to the tragic death of Ahmaud Arbery," argued Gogh. 
In his 100-minute long closing statement, he asked, 
"Had Roddie Bryan stayed in bed that day if Roddie Bryan stayed on his front porch, would Ahmaud Arbery be alive today?"
He also added, 
"If the theory is that these men (the McMichael's) were vigilantes and harboured some ill will toward Mr. Arbery. Then what difference does it make whether Roddie Bryan was there or not?"
Gogh said his client is a simple man and no "no rocket scientist." He did not know his neighbours as he did not interact with them. He is not an attention seeker … He is an ordinary guy. He is not a vigilante."
Bryan had no way to know that the McMichael's were carrying weapons. He did not think that they would kill Ahmaud.
"I would submit to you that Mr. Bryan does not know that there's a gun until it goes off," he said. Additionally, Bryan willingly cooperated with the police after the killing and throughout the investigation. He also did not participate in the confrontation but merely documented it for the police. 
"Call it divine providence," Gogh said, "but something is guiding Mr. Bryan down this street to document what is going on."
The Defendants Charges
Gregory and Travis McMichael and William Bryan are charged with nine criminal counts by a grand jury. This includes felony charges along with murder, false imprisonment, and aggravated assault.
The three men have been accused of chasing and assaulting Ahmaud Arbery in their pickup trucks. They shot him with a 12-gauge shotgun which caused him to die. 
The Judge, Prosecutor, and Defense 
The Judge in charge of the Ahmaud Arbery case is Judge Timothy Walmsley. The lead prosecutor is Linda Dunikoshi. She is a senior assistant district attorney in Cobb County. Kevin Gough represents Bryan and Robert Rubin and Jason Sheffield represent Travis McMichael. Greg McMichael is represented by Defense attorneys Laura and Franklin Hogue.