Travis McMichael testifies in his own defense in Ahmaud Arbery case
Ahmaud Arbery, a 25-year-old black man, went out for a jog on February 11, 2020, when he was attacked and shot by Travis McMichael. However, the court did not examine the case until recently, when footage of the shooting went viral and aggravated millions of Americans. They held protests to get justice for Ahmaud. Thus, the court opened up the case to put the shooter behind bars. Travis Michael has testified in his defence in the Ahmaud Arbery case, saying. You can find out all about his testimony down below.
The Ahmaud Arbery Case
Ahmaud Arbery went for a run in his hometown when Travis McMichael shot him. The case has gained national attention, with people demanding justice for Ahmaud. However, McMichaels argue that they acted in self-defence. They thought Ahmaud was a robber. Thus, they wanted to confront him and accidentally ended up shooting him. 
Travis McMichaels Testimony
The Black Robber
McMichael defended his actions saying that crimes in southeast Georgia neighbourhoods were increasing rapidly. A few days before the shooting, he saw a black man "creeping through the shadows" from his vehicle. He got out of his car and confronted the man who "pulled up his shirt" and put his hand in his "pocket waistband area." Thus, he got scared and drove back home. 
Upon reaching his house, he confided in his dad. The two of them then went back to the area where McMichael saw the man and called the authorities. However, they were too late, and the man could not be found. McMichael testified that the police did not see or talk to the person that he saw. 
Chasing Ahmaud Arbery
McMichael testified that his father informed him on February 23, 2020, that, 
"The guy that has been breaking in down the road just ran by the house. Something's happened" I was under the assumption that it was the same individual that I saw on the 11th," Travis said while explaining his actions. He also testified that his dad asked him to grab a shotgun.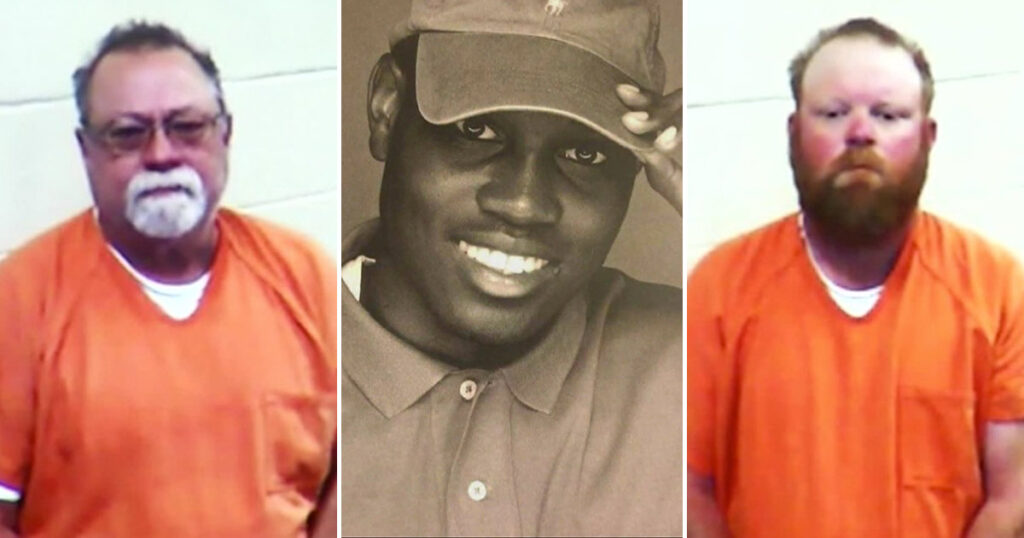 Travis said his goals were to "find out, to verify if it was the same individual I saw on the 11th."
The father-son duo got into their truck, and Travis asked his father to call the police. However, he found out later that his dad did not do this as he did not have his phone on him.
"I recognize … it is the same guy that I saw from the 11th," McMichael said. He added that he tried to talk to Ahmaud from his truck. However, Ahmaud ignored him and looked angry.
He testified that he tried to talk to Ahmaud again. He stopped the second time but started running again when he was informed that police were going. 
Then, Travis noticed another truck chasing Ahmaud. Prosecutors say that this wasBryan'sns truck who is the third defendant. He got in his truck and joined the pursuit, although he did not know what was happening.
The Shooting
Travis parked his vehicle and yelled at Ahmaud to "stop whereyou'reue at." He then reached for his gun! Seeing this, Ahmaud ran away but came back again.
When Ahmaud inched closer, McMichael pointed his gun at him. Seeing this, the victim "straightens up and starts running back straight to the truck where my father's at the back of it." 
McMichael went to the front of the truck. After that, he made his first contact with Ahmaud. Ahmaud tried to wrestle with him to get control of the gun.
Travis McMichael testified in court, 
"I shot him. He had. Heun, he struck me, it was obvious … that he was attacking me, that if he would have gotten the shotgun from me, then it was a life or death situation."
He also testified that he thought he shot the gun twice but later found out three shots. When asked why he shot the second and third time, he replied, "I was still fighting."
After the third shot, Travis "turned around" and "pulled Arbery'ss) hand under him and realized he was deceased."
Cross-Examining TravisMcMichael'sls Story
The defence presented their case on Wednesday. The testimony will be cross-examined on Thursday. Jason Sheffield, the defence attorney, said that the defence would call approximately 30 witnesses.
AhmaudArbery'sysFamily'sys Reaction 
Upon hearingMcMichael'sls testimony, Wanda Cooper-Jones,Arbery'ss mother, said,
"It gave my family and me some insight was thinking. Mr Travis McMichael killed my son all on assumptions. He had no real facts or where Ahmaud was coming from, what Ahmaud had done. He just took actions into his own hands."
She also added," He didn't have any facts on hand when he chose to pull the trigger. Not one time, but three times."
Bryan- The Third DefendantBryan's

ns attorney gave an opening statement beforeMcMichael'sls testimony. He said that Bryan did not mean to harm Ahmaud, and there is no evidence for it.
Kevin Gough, the attorney, presented surveillance videos to prove that Bryan only wanted to help McMichael without harming Ahmaud. He did not wish to assault Ahmaud in any way and thus, played no role in his death. "(Evidence shows Bryan) had no intent to strike or injure Mr Arbery", Gough explained to the jurors. 
According to the surveillance videos, Bryan was on his front porch when he saw McMichael chasing Ahmaud. He went inside his house to get his keys and cellphone. He did not get a rifle or gun, which "speaks volumes" about his intentions, argued the defence attorney. 
There is no evidence that Bryan wanted to assault Ahmaud using his vehicle. He only "creeped out of his driveway to try to cut off Mr Arbery," said Gough. 
Additionally, Bryan cooperated with the authorities after the incident. He handed over his phone with a video of the pursuit and shooting. 
Charges against the Defendants
The three defendants, Travis Michael and his dad and Bryan, face malice, felony murder and aggravated assault. They're also charged for criminal attempts to commit a felony and false imprisonment. 
All three defendants have pleaded guilty. If they are convicted, they will face a lifetime in prison with no parole.