Umbrella Academy season 3 Posters Teased the Fans with Expected Trailer Release Date Status
Umbrella Academy season 3 teaser may be coming soon, according to a fresh collection of character posters seen by Netflix.
As most fans already know, season 3 of The Umbrella Academy will debut on Netflix on June 22nd. The only footage we've seen leading up to Stranger Things 3 is a brief teaser that came along with the official release date.
Even if that can alter, it's still possible. New artwork, cast announcements, and the confirmation that Elliot Page's Vanya Hargreeves will come out as transgender in the upcoming season as Netflix ramps up its season 3 advertising push.
It's only a matter of time until we see an official trailer. In addition, a seemingly constant flood of new character posters suggests that an official trailer will be released online at some point this month.
News about Umbrella Academy Season 3 on Twitter
Christopher Hargreeves 7️⃣ Viktor Hargreeves pic.twitter.com/a22Q6B5rjc

— Umbrella Academy (@UmbrellaAcad) April 8, 2022
On Friday, April 8, The Umbrella Academy's official Twitter account issued two new one-sheets. Posters featuring Page's Viktor Hargreeves and Christopher, the psykronium cube hovering above the Sparrow Academy, may be seen above. Sir Reginald Hargreeves and his siblings refer to these figures as "Number Seven."
On Monday, April 11, Netflix published a second set of character posters for the upcoming series. This post has been removed from the timeline," said a sign next to a picture of someone known only as 'Number Six,' as Jayme from The Sparrow Academy.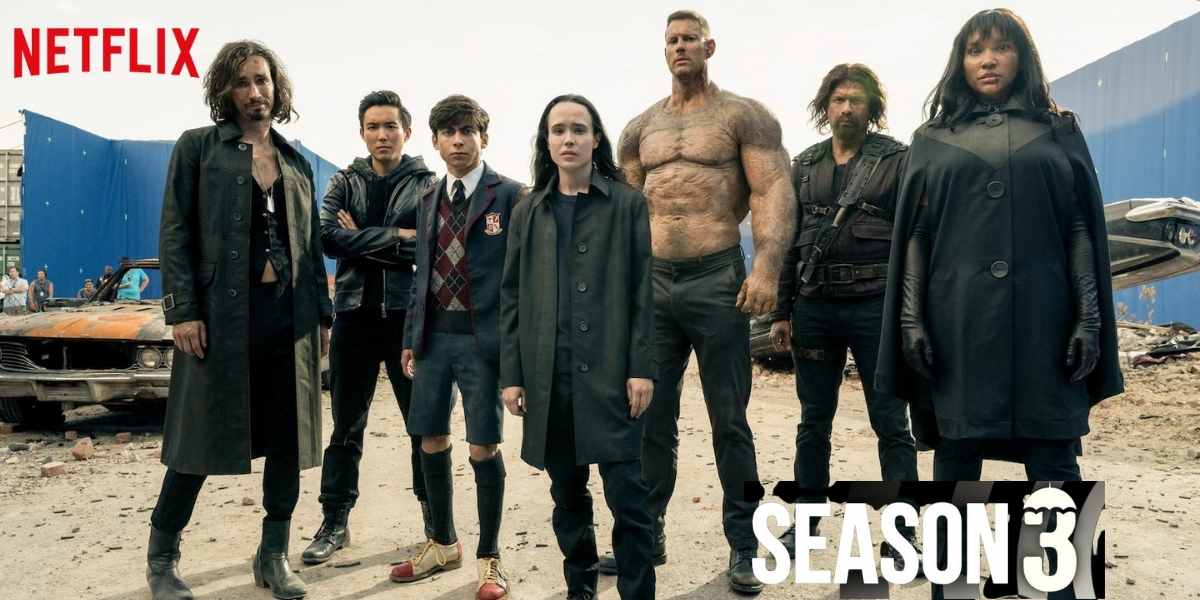 It's a nod to The Umbrella Academy's Ben Hargreeves in the second one-sheet. Who sacrificed himself (again) to save his siblings in season 2, episode 9. To see the most recent poster pair, click on the link provided below.
Jayme Hargreeves 6️⃣ *Sibling Not Found* pic.twitter.com/jFq7tZon3o

— Umbrella Academy (@UmbrellaAcad) April 11, 2022
Fans of the Umbrella Academy are understandably moved by the newest poster revelation, given the enduring popularity of Ben as a character. The posters are a countdown to an official trailer reveal, which we believe is Netflix's strategy to keep us distracted.
The posters for Viktor/Christopher and Jayme/Ben were released three days apart. Assuming Netflix follows a three-day release schedule, the next set of character posters should be available on Thursday, April 14th. Aidan Gallagher's 'Five' and Genesis Rodriguez's 'Sloan' will be included on those posters.
If that's the case, we expect the other four sets of posters to be issued every 72 hours, giving us the following release dates.
7th posters revealed – Friday, April 8
6th posters announced – Monday, April 11
5th posters potentially revealed – Thursday, April 14
4th posters potentially revealed – Sunday, April 17
3rd posters potentially revealed – Wednesday, April 20
2nd posters potentially revealed – Saturday, April 23
1st posters potentially revealed – Tuesday, April 26
Assuming we're correct, the Umbrella Academy season 3 teaser might debut on one of two days.
Umbrella Academy season 3 Trailer
A day after the last two posters are unveiled, the first teaser will be released on Wednesday, April 27. As an alternative, Netflix might choose to broadcast the trailer on Friday, April 29, as it has done in the past.
Assuming all goes according to plan, the teaser might be released just two months before the start of season 3. Netflix programmes like Ozark season 4 would follow a similar technique for releasing trailers. On November 17th, 2021, the first trailer for the crime drama was released online. A little over two months before the first half of season 4 premiered on Netflix on January 21st, 2022.
Even though Stranger Things season 4 part 1 will be published on May 27th, the first official trailer for the film will be revealed today (Tuesday, April 12). Netflix's technique for releasing trailers differs from time to time since it's just over six weeks until the movie premieres on Netflix.
Although our hypothesis predicts that a new trailer for The Umbrella Academy season 3 will be released before the month, nothing can be guaranteed. Even if the following two posters aren't unveiled on April 14, our idea might be proven wrong because we don't have any insider information. Even if they aren't, we recommend that you wait until late April for the official trailer's release.
You can check the latest updates released by Netflix's new upcoming series Nimona.