The domain registrar Uniregistry has changed its name to Uni.
Uniregistry is a web service provider and administers generic top-level domains.
The domain registrar had filed an application for obtaining "Uni" brand name from U.S. Patent and Trademark Office. The brand, Uni will now be used for several services including domain names, email and web hosting.
Uniregistry seems to be on a revamp. The brand name has been changed to "Uni". The logo on the website has been changed. A new Dashboard feature has been added.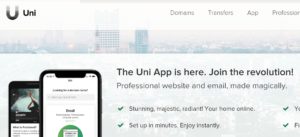 An app, Uni was launched recently. The app makes it easier to create website and handle domain portfolio.
Uniregistry Corporation was officially founded in 2012 by Frank Schilling. Uniregistrar Corporation became an ICANN-accredited registrar in Feb, 2013.
The corporation was launched under Uniregistry brand name in 2014.