Avengers series launched the official trailer for its latest sequel, Avengers:Endgame yesterday. Disney's movie is set to hit the screens on 26th April,2019.
Interestingly if you visit avengersendgame.com, you're brought to the official website for 'Once Upon A Deadpool'!!!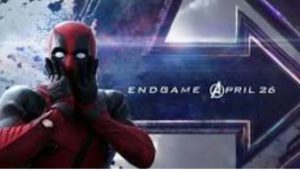 It's the PG-13 version of 'Deadpool 2',Marvel Studio, schedule to release on December 12th.
Turns out that the domain names, Avengersendgame.com and Avengersendgamemovie.com are owned by an individual and not Walt Disney!!
The domain owner is not known. All we know is that the domains were registered through Godaddy on 27th April, the day of release of Avengers Infinity War.
A tweet by account @AGuyInChair stated that he owns these domains. He is willing to hand them over to Disney in exchange for  premium tickets to the movie Avengers Endgame.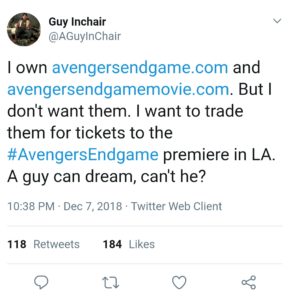 Walt Disney has made no comments on the tweet. No deal seems to be put forward for  for buying the domains.
Until any further development on the issue takes place, let's enjoy Marvel Studio on Disney ticket.