Alvin Kamara plays football for the New Orleans Saints in the NFL. He was picked by the team in the 2017 NFL Draft as the 67th pick in the third round.
Alvin had a great start, winning the NFL Offensive Rookie of the Year award in 2017 and making it to 5 Pro Bowls. He also made history by being the second player to score six rushing touchdowns in one game in 2020, playing against the Minnesota Vikings.
View this post on Instagram
Who is Alvin Kamara's Girlfriend?
Alvin Kamara has been dating his girlfriend Te'a Cooper since 2021. Te'a is a sports star who played for the Los Angeles Sparks in the Women's National Basketball Association (WNBA).
Although she's currently a free agent, she previously attended the University of Tennessee before transferring to the University of South Carolina.
Ultimately, she completed her college basketball journey at Baylor University in Texas. Previously, Te'a Cooper was married to NBA player Dwight Howard.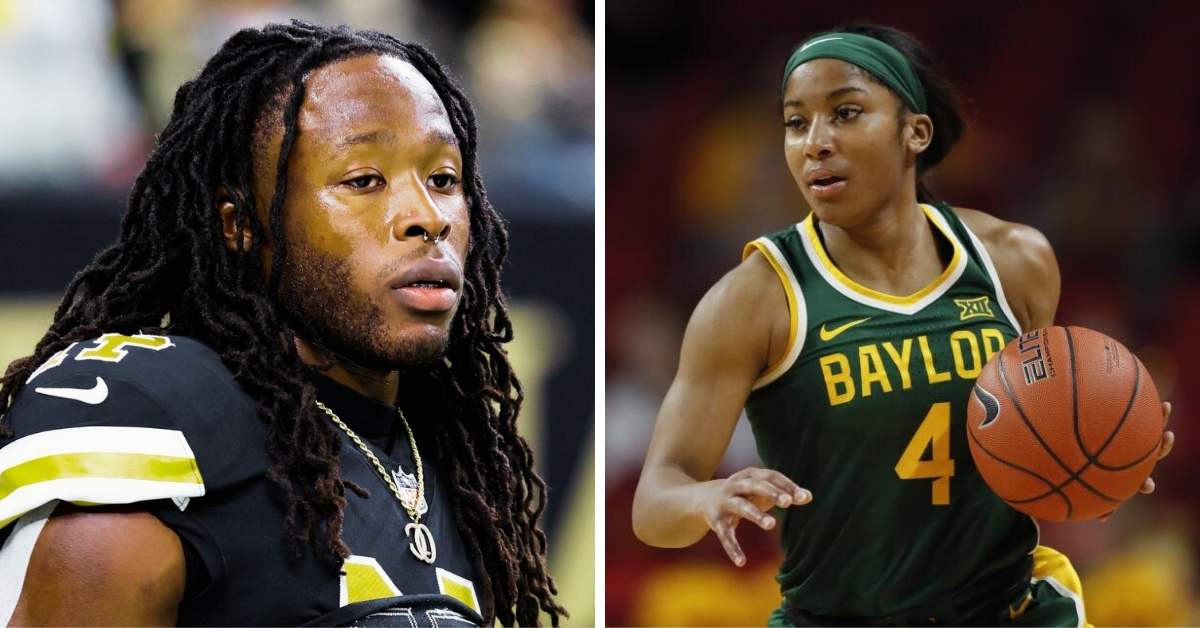 Find out more about your favorite celebrities' girlfriends in the latest articles below:
What is Te'a Cooper's Profession?
Te'a Cooper is a professional basketball player. She used to play for the Los Angeles Sparks in the WNBA and is currently looking for a new team as a free agent. Initially, she was chosen by the Phoenix Mercury as the 18th overall pick in the 2020 WNBA Draft.
However, because of the pandemic, the team had to let her go. She then joined the Los Angeles Sparks, where she played as a point guard.
When Did Alvin Kamara And T Cooper First Meet?
Te'a Cooper and Alvin Kamara began dating in early 2021 but kept their relationship private for most of the year.
Te'a was previously married to NBA player Dwight Howard and separated from him at the start of 2021. Alvin Kamara had also ended his relationship with his former girlfriend Just Ace.
Te'a confirmed her divorce by April 2021, and she might have started dating Alvin Kamara around that time.
However, Alvin Kamara only publicly confirmed their relationship in September 2021. Since then, the couple has been open about their romance.
Te'a Cooper's Family Background
Te'a Cooper was born in Newark, New Jersey on April 16, 1997, to Omar and Kindall Cooper. She grew up in Georgia alongside her three siblings.
Te'a's dad, Omar, is the CEO of LifeStyle Sports Agency and LifeStyle Sports Bistro in metro Atlanta. The bistro is a unique spot for sports enthusiasts to socialize while watching their favorite games.
Omar manages LifeStyle Sports Agency, representing various talented athletes, including Isaac Okoro of the Cleveland Cavaliers and Olivia Nelson-Ododa of the Los Angeles Sparks.
He's known for his dedication and success in the business world. Beyond his professional achievements, Omar is a supportive father to his four children.
Te'a's mother, Kindall, works as a cash application specialist in the Atlanta metropolitan area. Her LinkedIn profile reflects her extensive experience, having worked for companies like YKK Corporation of America and ThyssenKrupp Elevator.
Stay connected with domaintrip.com for more exciting updates on your favorite celebrities and their relationships.