Four Proud Boys Found Guilty of Seditious Conspiracy!
In connection with the attack on the U.S. Capitol on January 6, four members of the far-right Proud Boys organization were convicted guilty on Thursday of seditious conspiracy.
In accordance with a Civil War-era law, Enrique Tarrio, Joseph Biggs, Ethan Nordean, and Zachary Rehl were found guilty of the unusual accusation of seditious conspiracy.
Another gang member, Dominic Pezzola, was cleared of any seditious conspiracy charges. A mistrial was declared on the conspiracy to obstruct an official proceeding charge against Pezzola after the jury indicated it could not reach a verdict.
Tarrio, Biggs, Nordean, and Rehl were also found guilty. All five Proud Boys were charged with nine counts in relation to the assault on January 6, 2021, while Pezzola was charged separately with a 10th count of stealing the Capitol Police shield and was found guilty on Thursday.
Pezzola was seen on video smashing a window with the police shield during the breach. The four other defendants were acquitted on the accusation of assaulting, obstructing, or refusing to submit to particular police, although Pezzola was also found guilty on that count.
Kelly ordered a mistrial on seven additional counts where the jury was deadlocked after rendering only a partial judgment. Jury selection began in December, and opening statements began in early January. The trial lasted four months.
Here are some articles related to this post:
Six far-right Oath Keepers organization members, including its founder Stewart Rhodes, were found guilty of the allegation in two separate trials held in November and January. This was the third seditious conspiracy case to go before juries since the Capitol attack.
As part of a plea agreement, Jeremy Bertino, a high-ranking Proud Boys member who admitted guilt to seditious conspiracy in October, gave testimony for the prosecution in this most recent trial. He explained to the jury that Proud Boys thought they "had to do anything that was necessary to save the country."
According to the prosecution, the Proud Boys planned to use "any means necessary, including force" on January 6 to prevent the certification of President Joe Biden's victory.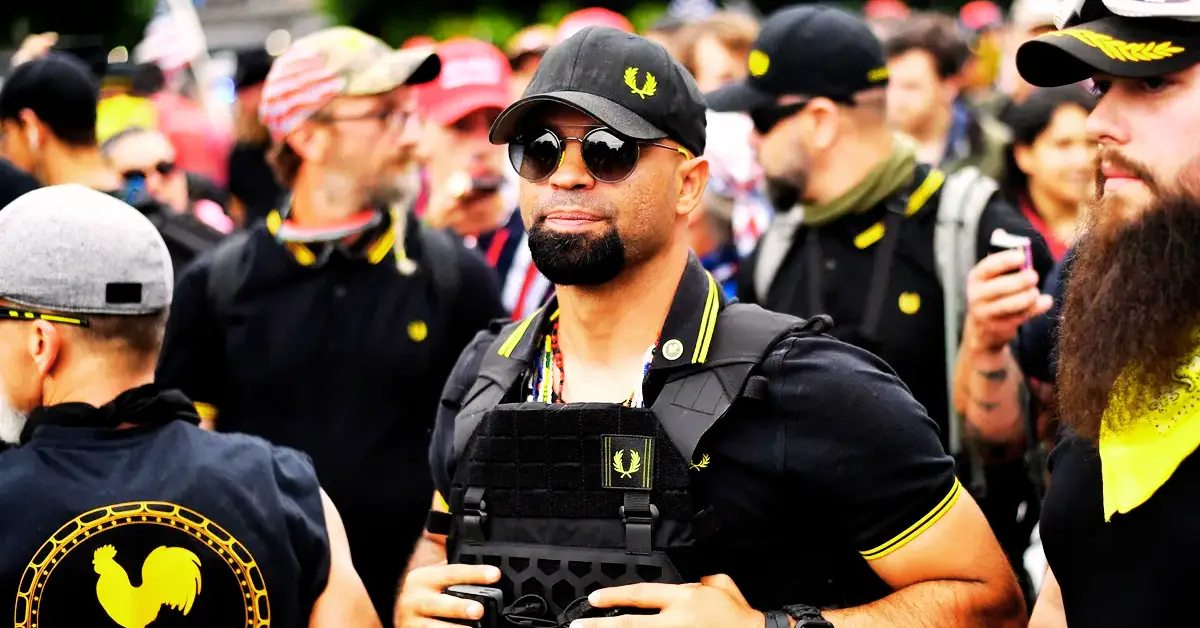 Defense counsel replied that the Justice Department was using the organization as a scapegoat for Donald Trump, who should have been held accountable for what happened on January 6.
Rehl, the organization's Philadelphia chapter leader, and Pezzola, a New York-based floor installer known to the group as "Spaz," both accused, gave testimony during the trial. Online sleuths discovered videos just before Rehl was to be cross-examined that appeared to show him spraying pepper spray at policemen;
Rehl, who was not charged with assaulting police, denied it in court. Pezzola became agitated while testifying, bringing up conspiracies involving Ray Epps, another Jan. 6 participant, and raving about the "fake" accusations and the "phony" trial.
Given that Tarrio, the former Proud Boys chairman, spent Jan. 6 at a hotel after being barred from Washington the day before, prosecutors' biggest hurdle was persuading a jury that he was a participant in the conspiracy.
Tarrio acknowledged receiving a message from someone wishing to "storm the Capitol" in encrypted texts made public during the trial. Still, he did not support that strategy, and the prosecution appeared to accept that much of what occurred on January 6 was spontaneous.
They proved that Tarrio desired a "spectacle" on January 6 and cheered the Capitol attack after it occurred, attributing the breach to the Proud Boys. One Proud Boy went to trial while the bigger seditious conspiracy trial was going on, and several other Proud Boys have already entered guilty pleas for their behavior on January 6.
In August, a Washington, D.C., bartender named Joshua Pruitt received a 4.5-year prison term for joining the Proud Boys and storming the Capitol. The Proud Boys' Hawaii chapter's founder, Nicholas Ochs, was given a four-year prison term in December.
We hope this article will satisfy your needs and that you will enjoy it. If you found this post helpful, kindly comment in the area below. We appreciate your support and hope you continue to see our articles as informative and helpful.