The Butler-Jordan Connection: Is Jimmy Butler Truly the Son of Michael Jordan?
Fans compared Jimmy Butler to the legendary Michael Jordan after his postseason career-high 56-point performance against the Milwaukee Bucks in Game 4. The playoffs have always shown off Butler's talent much more than the regular season.
The Miami Heat's march to the 2020 NBA Finals and the 2022 Conference Finals was primarily made possible by the former Chicago Bulls standout. As the No. 8 seed, he is now leading their effort to pull off one of the biggest upsets in recent memory against the Bucks.
With a 3-1 lead, Miami only needs one more victory to advance to the next round and eliminate the Bucks from the playoffs. Due to Jimmy Butler's performance in Game 4, reminiscent of Michael Jordan's, old internet claims that he was the latter's child have resurfaced.
Fans are speculating whether this claim is valid because several images suggest they resemble one another and have the same competitive spirit. But the theory is still untrue. Jordan and Butler are not related.
You can also take a look at the tweet provided by Joey Vamvakidis below:
Back on the Jimmy Butler is Michael Jordan's son train. There's no other explanation to how he turns into Superman every playoffs #NBA #NBAPlayoffs pic.twitter.com/18pXm3jxwH

— Joey Vamvakidis (@JoeyVam_) April 25, 2023
Marcus, Victoria, Ysabel, Jeffery, and Jasmine are among Michael Jordan's five children. Jimmy Butler was born to Londa Butler and Jimmy Butler II. The top player for the Heat once acknowledged that Jimmy and Londa are his parents while recalling his strict upbringing.
When Butler was a little child, his father abandoned the family, and when he was 13 years old, his mother left him. The six-time All-Star acknowledged these occurrences and expressed his love and continued communication with his parents.
You can also read about other celebrities' family details we have covered on our website, you can read here like:
Is Jimmy Butler Quite Close to Surpassing Michael?
The Miami Heat defeated the top-seeded Milwaukee Bucks in Game 4 119-114 with Jimmy Butler's 56 points. Butler had nine rebounds in addition to shooting 67.9%. The number of points scored by Butler was tied for the fourth-highest in NBA postseason history.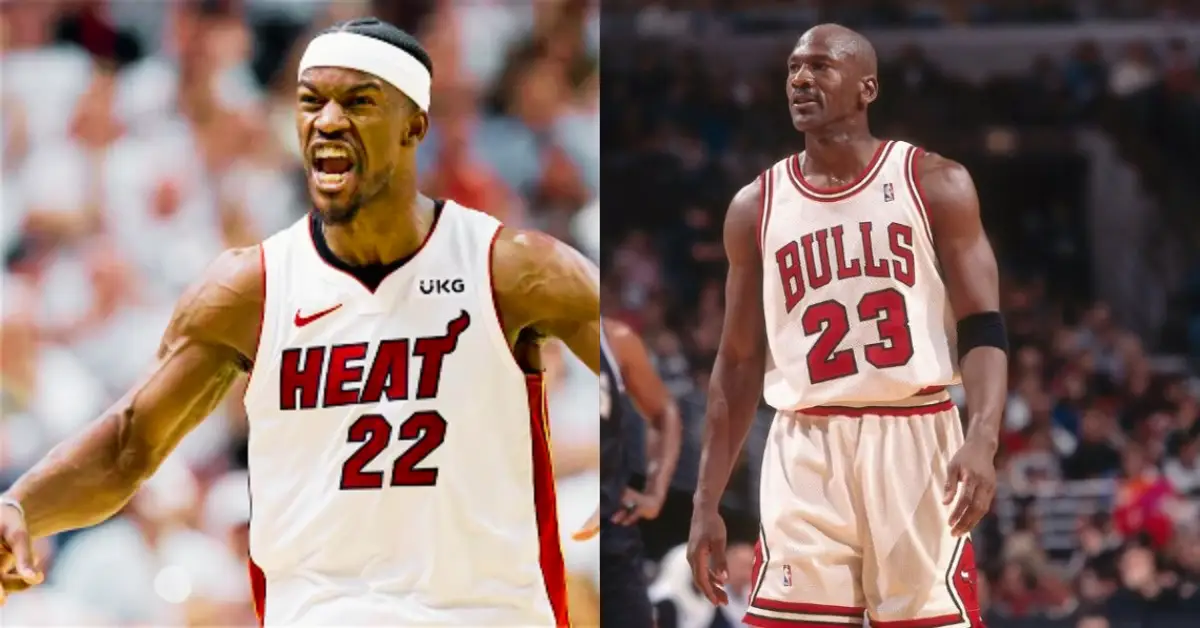 In the 1983 playoffs, Michael Jordan set a record by scoring 63 points against the Boston Celtics. With 61 points, Elgin Baylor is in second place; Donovan Mitchell is third; Butler, Charles Barkley, Michael Jordan, and Wilt Chamberlain are tied for fourth place with 56 points each in a playoff game.
Butler has again demonstrated his mettle as one of the best postseason performers. When the stakes are more significant, the former Sixers forward always finds a way to make an impact.
In the knockout rounds, Butler's averages have dramatically increased. His poise and sense of when to strike remain unmatched. Other teams will have to be on guard about Miami just because of his presence if he can help the Heat secure a first-round series upset victory over the Bucks.
Thank you for choosing us as your source of information. We hope to continue to be your go-to platform for exciting and informative content. Again, thank you for reading, and we look forward to hearing from you soon!  If you found this helpful post, please provide feedback in the section below.