What Is JK Rowling Net Worth In 2022? How Much Money Did Rowling Make From Harry Potter Movies?
JK Rowling Net Worth: She never in her wildest thoughts imagined that a delayed train from Manchester to London would permanently alter her life! J. K. Rowling, sometimes known as Joanne Rowling, is one of today's top-selling authors and the brains behind the Harry Potter series.
Rowling's journey is a classic "rags to riches" one; she went from receiving government assistance to becoming a multimillionaire author. Her life completely changed when the first Harry Potter book, also known as "Harry Potter and the Philosopher's Stone," appeared on the shelves.
Even the most seasoned readers were kept spellbound for more by the mischief of the bespectacled youngster and the exquisite vision of the magic world. Harry Potter's journey with his author began at King's Cross Station, and it took both of them a long time to achieve their pinnacles of fame and accomplishment.
The Harry Potter series, which consists of 7 novels and 8 films and is now valued at billions of dollars, is the best-selling and most successful film franchise in history.
JK Rowling Early Life
James and Anne Rowling gave birth to J.K. Rowling as Joanne Rowling in Yate, Gloucestershire, England. Just a month before Joanne turned two, her parents welcomed another daughter, Dianne.
She attended St. Michael's Primary School and was a strong student before enrolling in Wyedean School and College.
She enrolled herself for further education at the University of Exeter to pursue a BA in French and Classics. She began experimenting with fiction writing when she was five years old; her first story was titled "Rabbit."
She's been writing numerous stories ever since, pursuing her passion for writing. After earning her degree in 1986, she relocated to London and began working as a bilingual secretary and researcher for Amnesty International.
She also wrote a brief essay called "What was the Name of that Nymph Again? or Greek and Roman Studies Recalled," which was printed in the Pegasus journal of the University of Exeter.
JK Rowling's Personal Life
On October 16, 1992, she got married to journalist Jorge Arantes from Portugal. They received a baby girl the following year as a gift. However, they did not remain partners for very long before splitting up on November 17, 1993.
In August 1994, she made a divorce application. She wed Neil Michael Murray, an anesthetist by profession, for a second time in 2001. David Gordon Rowling Murray, a son, and Mackenzie Jean Rowling Murray, a daughter, were born to the couple.
She has supported numerous charities including Comic Relief, One Parent Families, the Multiple Sclerosis Society of Great Britain, and Lumos. She is a well-known philanthropist. You may also check Paulina Porizkova and Robin Quivers.
JK Rowling Career
She had a bold concept while travelling from Manchester to London that caught her heart and thoughts like never before. She then dreamed a little more, which led to the creation of the caricature of the bespectacled youngster Harry Potter and his antics.
She was so confused by the wizardry youngster and his universe that she didn't waste time writing down her thoughts, preferring to keep coming up with a more specific notion instead. She began writing "Philosopher's Stone," the first book in the Harry Potter series, the same evening.
She moved to Portugal due to a teaching position opening, where she spent the evening teaching English. She wrote the first three chapters of her novel and absorbed insights throughout the day.
She relocated to Scotland in 1993 to be closer to her sister Dianne because of internal difficulties. With no work and a seriously disrupted personal life, she found the inspiration to write because it was the one interest she still had.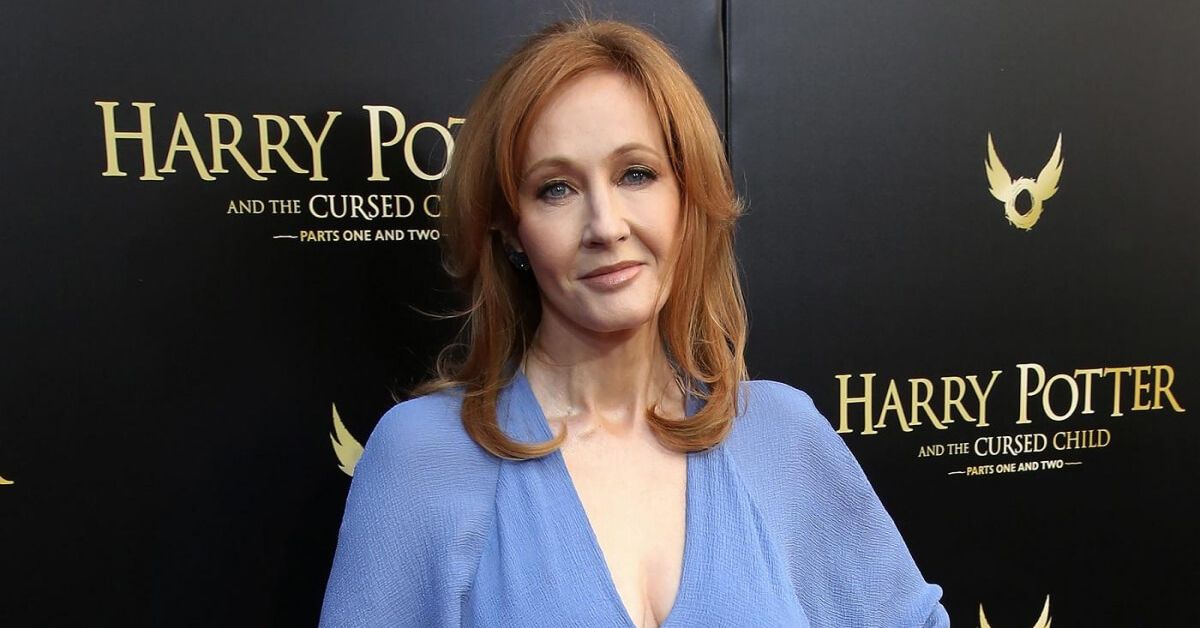 She finished writing the iconic novel "Harry Potter and the Philosopher's Stone" in 1995. She had received rejection letters from roughly 12 publishers and editors before Barry Cunningham of Bloomsbury gave her the go-ahead.
She enrolled in a teacher training program at Edinburgh University's Moray House School of Education in the interim to help support herself financially. The first edition of the book was printed in 1000 copies, of which 500 were given to libraries.
She was able to secure an £8000 grant from the Scottish Arts Council thanks to the phenomenal popularity of the first book in the Harry Potter series. She also made money when she gave Scholastic Inc. the right to publish the book in the US.
After relocating to an apartment in Edinburg, she immersed herself even more in the series, writing about the adventures of Harry Potter, his time at Hogwarts School of Witchcraft and Wizardry, and his pals Hermione Granger and Ron Weasley.
In 1998, she published the book's sequel, which was titled "Harry Potter and the Chamber of Secrets." Similar to its predecessor, the book was highly received and enthralled the audience, leaving them wanting more.
The third book in the series, "Harry Potter and the Prisoner of Azkaban," was released in 1999, so the wait wasn't too lengthy. The three of the seven-book series had made $480 million in sales by the summer of 2000, and there were over 35 million copies in print across 35 different languages.
She had to remove the fourth book in the Harry Potter series from consideration to give the other novels a fair opportunity because the hype and fandom around the series had grown enormously. The Harry Potter series is currently the most lucrative franchise for movie producers due to its enormous success.
To create a cinematic version of the same, Warner Bros. inked a contract with her. This was done to capitalize on the success of the written works. Her fourth book, "Harry Potter and the Goblet of Fire," was published on July 8, 2000.
"If [feminists] are right, then women's sex-based rights and the safeguarding of vulnerable children hang in the balance. If we are wrong, then our concerns deserve to be refuted with evidence. Either way… the public deserve an open and sensible debate."https://t.co/K8HZvAcNom

— J.K. Rowling (@jk_rowling) November 30, 2022
The book shattered all prior benchmarks and established new ones in the field of fiction writing. On its first day, it sold as many copies as "Prisoners of Azkaban" did in its first year! "Harry Potter and the Philosopher's Stone" was made into a movie and released in 2001.
The movie did quite well at the box office, taking in $90.3 million alone in its opening weekend. The following movie in the series, "Harry Potter and the Chamber of Secrets," was released in 2002. "Harry Potter and the Order of the Phoenix," the fifth book in the series, was released in 2003, and "Harry Potter and the Half-Blood Prince," the sixth book, was released in 2005.
By selling nine million copies on its first day alone, it further broke literary records. The desire for the novel-to-film adaptation also peaked during this time. Harry Potter and the Prisoner of Azkaban was published in 2004. Harry Potter and the Goblet of Fire was published in 2005.
On July 21, 2007, the series' penultimate novel, "Harry Potter and the Deathly Hallows," was released. With 11 million copies being sold on the first day of sale in the US and the UK, it became the fastest-selling book of all time.
The movie adaptation of "Harry Potter and the Order of the Phoenix" was released that same year. The movie "Harry Potter and the Half-Blood Prince" was released in 2009. Two parts were used to adapt the series' last novel.
The second and final parts of the film were released in 2011, while the first portion was released in November 2010. She took a break from writing following the phenomenal success of the Harry Potter series, but she later made a comeback in 2012 with the adult novel "The Casual Vacancy."
Despite receiving mixed reviews, the book's dark comedy about a local election in the small English town of Pagford managed to sell about 1 million copies in its first three weeks on the market. She created the website Pottermore in 2012, which contained some previously unreleased details about the people, places, and things in the Harry Potter universe.
She even started writing numerous unpublished notes and resources for the Harry Potter encyclopedia. Under the pseudonym Robert Galbraith, she wrote "The Cuckoo's Calling," another book for adults, in 2013. It was initially modestly received on the bookstands as a crime detective novel.
Sales increased by 4000% after it was revealed that Rowling was the book's real author.
She is allegedly working on two different types of novels right now, one for children and the other for adults. The audience for the children's book is younger than that of the Harry Potter readers.
Incredible. The Harry Potter audiobooks have now been listened to for over one billion hours on Audible – the equivalent of going through Hogwarts 14,000 times. Thank you, Stephen Fry and Jim Dale, for being the voice of so many childhoods ❤️🪄⚡️https://t.co/d6qFVYG52b

— J.K. Rowling (@jk_rowling) November 29, 2022
JK Rowling's Net Worth
JK Rowling, a British author and producer of motion pictures, has a $1 billion net worth. JK Rowling is the first author to reach a net worth of $1 billion and one of the wealthiest private people in the United Kingdom.
It should be remembered that J.K. has denied being a billionaire and is quite secretive about her personal affairs. If she had covertly given away a significant percentage of her wealth to charity, it might be plausible.
She has reportedly given at least $150 million to the charity thus far, just for the record. As you undoubtedly already know, she became well-known and wealthy for creating the fantasy "Harry Potter" series, which has sold 500 million copies since its release in 1997.
The books gave rise to a multibillion-dollar empire of movies, merchandising, and theme parks. J.K. makes between $50 and $100 million a year from her numerous projects. She made $90 million from June 2018 to June 2019.
As a single mother without a job who was receiving aid, she authored the first book. Nearly as remarkable as the several award-winning, multibillion-dollar book series she wrote is J.K. Rowling's tale of rising from practically penniless to billionaire best-selling novelist in less than five years.
J.K. Rowling, the author of the wildly successful "Harry Potter" books, started writing the series in her spare time while unemployed, parenting her daughter alone, and trying to finish a second degree in education.
The series' first book was released in the UK in 1996 by its lukewarm publisher, Bloomsbury, with little excitement or expectation. The global "Harry Potter" mania started when Scholastic, Inc. purchased the US distribution rights for $105,000 a year later.
J.K. Rowling is the author of a $15 billion franchise currently after publishing seven books, winning numerous accolades, creating a hugely popular film series, and breaking the record for the fastest-selling book of all time.
She has produced numerous add-ons to the "Harry Potter" universe since the conclusion of the "Harry Potter" series, and her first adult novel, "The Casual Vacancy," was published in 2012.
Frequently Asked Questions
What is J. K. Rowling's weight?
J. K. Rowling the successful Author, Philanthropist, Producer, and Screenwriter weighs 54 kg.
How tall is J. K. Rowling?
J. K. Rowling is an Author, Philanthropist, Producer, and Screenwriter who stands 165 cm tall.
How old is J. K. Rowling?
 J. K. Rowling is 57 years old.
Final Lines
We have high hopes that you will find this topic to be entertaining. This article contains all the information regarding JK Rowling's net worth. If you like this article, share it with your friends and family. You can read more articles about Tim Burton and Paula Abdul on our website, domaintrip.com.