Officials Responding to the Death of State Representative Quentin Williams
Officials Responding to the Death of State Representative Quentin Williams: The flag of the state of Connecticut will be lowered to half-staff in memory of State Representative Quentin "Q" Williams (D-Middletown), who was killed in a car crash on Thursday morning.
Williams was 39 years old. Legislative leaders in Connecticut's House of Representatives have canceled Thursday and Friday's sessions in response to the untimely death of one of their own.
This article concludes with information about Officials Responding to the Death of State Representative Quentin Williams. So, read the complete article to know detailed information.
Read more:-
Officials Responding to the Death of State Representative Quentin Williams
A close friend of Williams's said the governor has ordered the state flags to be lowered in his honor after he was killed in a car accident on Route 9 in Cromwell early on Thursday morning.
Williams, who represented Middletown's 100th District, was just appointed head of the House Labor Committee. On Wednesday, he took the oath of office for his second term.
Rep Quentin Williams was the model of a public servant and his tragic death has us all in mourning.

Q was a dear friend to so many in government and his community. His smile lit up a room, and he was admired and respected by all.

We send our deepest condolences to his family. pic.twitter.com/TytHd96MNF

— Connecticut Dems (@CTDems) January 5, 2023
Williams's wife, Carrissa Williams, will miss him dearly.
He attended public schools in Middletown and went on to get a BA in business administration from Bryant University, an MPA from Villanova University, and a certificate in diversity and inclusion from Cornell University.
He belonged to the Alpha Phi Alpha Fraternity, Inc. — Beta Sigma Lambda Chapter — in Hartford and was a student at Harvard University's Kennedy School of Government.
All legislative action for tomorrow has been called off, as announced by Senate President Pro Tempore Martin Looney (D-New Haven) and House Speaker Matt Ritter (D-Hartford).
"In honor of our friend and colleague, Representative Quentin "Q" Williams, we will be closing the Legislative Office Building and the State Capitol on Friday, January 6, and there will be no legislative business. On Monday, January 9, both buildings will open again and parliamentary business will resume.
During this tragic time, may God comfort Q's family and friends, as well as the entire General Assembly family." This is what Looney and Ritter said in their joint statement.
The governor has ordered all state flags to be lowered immediately and flown at half-staff until sundown on the day of interment. In the following days, information on services will be made available. The following are just a few of the many comments that have been sent in.
Read more:-
New Jersey Governor Ned Lamont
I am deeply grieved by this tragedy and this shocking news," Lamont said in a statement. "Quentin's upbeat spirit was contagious, and he relished the chance to speak for Middletown, his hometown, in the State House. He lived for public service and tirelessly fought for the betterment of his community.
Genuine people with genuine souls like him are rare and will be sorely missed. His friends and colleagues in the United Nations Assembly, as well as his mother Queen, and wife Carrissa, are in my prayers.
— Connecticut Dems (@CTDems) January 5, 2023
William Tong, Attorney General
When I think about Q, the only word that comes to mind is hopeful. I first met him before he was a state representative when he was an advocate for a local school in Stamford. Q had an endless supply of hope and potential. His outlook on life was perpetually upbeat and ambitious.
The fact that we are now more dependent on his illumination makes his loss all the more painful. Tong added, "I express my sincere condolences to his wife and family and the community that he loved and served.
Read more:-
Dr. Stephanie Thomas, Secretary of State
A champion for Connecticut's residents has passed away today. Q's unwavering commitment to making Connecticut more equal for all citizens served as a model for politicians everywhere "A statement from Thomas reads. "How fortunate I am to count Q as a friend. His infectious enthusiasm and fiery personality will be sorely missed. My condolences go out to his loved ones."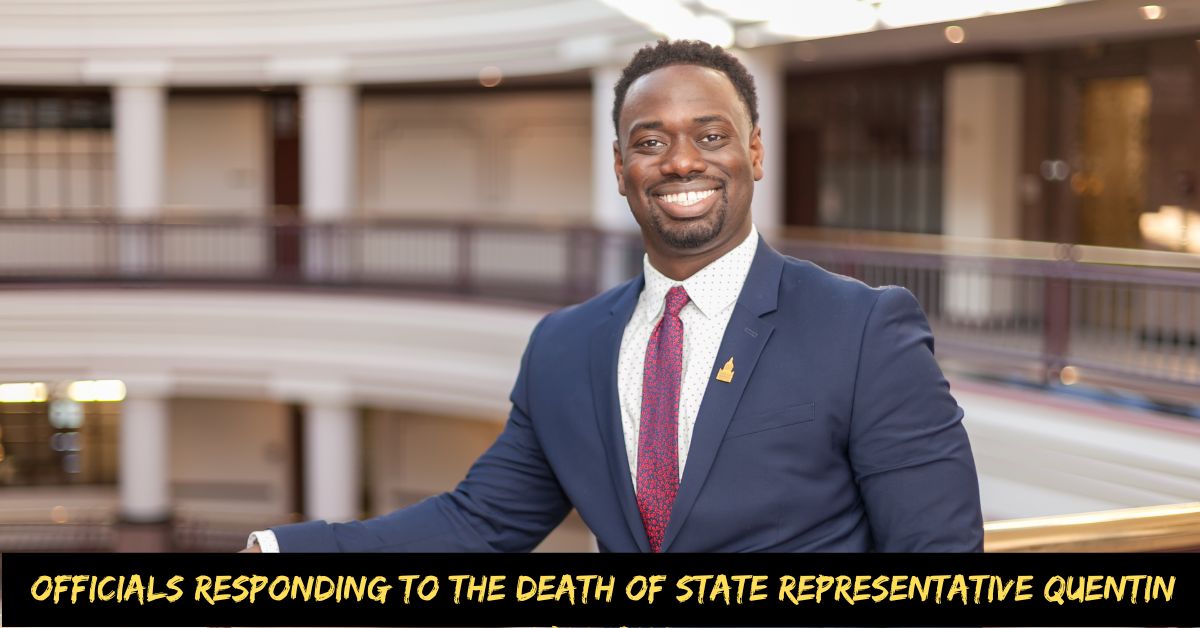 Benjamin Florsheim, the mayor of Middletown
Representative Williams was the epitome of the term "bigger than life." The joy he brought with his laughter, grin, and presence was palpable in any room he entered. His loss of him is devastating to our society.
Today, a candle was extinguished. "While we are heartbroken, the community he loved so much—and where Q was loved so much in return—will continue the struggle for equity, education, worker's rights, and justice in all its manifestations," Florsheim said in a statement.
Matt Lesser, Senator
To represent the Williams family, Senator Matt Lesser (D-Middletown) is speaking out.
Even as I write this, Q's demise is still terrible and unbelievable; he was a dear friend. His family has been very important to us and to the Middletown neighborhood. He served with great dedication and enthusiasm in the state legislature, and his thoughtfulness and kindness helped to improve both the state and the legislature.
He broke new ground by becoming Middletown's first African-American state legislator. As he and his family deal with the unthinkable, my prayers are with Carrissa, his mother Queen, and their entire family "To say less.
Speaker Matt Ritter (D-Hartford) and Majority Leader Jason Rojas
"I am in shock," remarked Speaker Ritter (D-Hartford). Q was my best buddy, and his untimely death has left me with deep wounds. In the coming weeks, we will be able to reflect on Q's legislative career, but for now, I am truly mourning my buddy and sending my love to Carrissa, Queen, and the rest of Q's family. When Q leaves, he will be sorely missed.
Rep. Williams was a remarkable person. His effervescent grin could brighten anyone's day. He was a wonderful companion, pal, and coworker. He had a deep passion for helping people and contributing to society. Definitely a good buddy to everyone who met him.
There has been a terrible tragedy and a significant loss to our state as a result of this. My deepest condolences go out to Q's wife and children. It's a loss for us, In a statement, Rojas (D-East Hartford, Manchester) argued.
Those two guys, Ritter and Looney On Thursday, the Capitol was closed and all scheduled legislative meetings were canceled.
Read more:-
Vincent Candelora, Leader of the Minority in the House
"Our thoughts and prayers are with State Representative Quentin Williams' family and friends as well as his Democratic colleagues and staff in the House who are all experiencing unthinkable grief today. Rep.
Williams was a rising star in the House of Representatives and in his community who struck a fine mix between foresight and enthusiasm in his legislative and community service. The devastating news of his passing has rocked the General Assembly, Middletown, and the entire state of Connecticut "stated Candelora in a statement.
Senate Majority Leader Bob Duff (D-Norwalk) and Senate President pro-Tempore Martin Looney (D-New Haven) "It is with profound sorrow and unfathomable sadness that we learn of the passing of our friend and colleague, Representative Quentin "Q" Williams. He was a great guy with a contagious laugh and a lot of brains and talent.
In his position as a public servant, he felt privileged and was constantly full of life and enthusiasm. An important and influential lawmaker has passed away. His wife, Carrissa, and his family and friends are in our prayers at this tragic time. This is terrible news for everyone who knew him "As Looney and Duff put it in their joint statement.
Rep. Jan Hochadel (D-Meriden)
Hochadel expressed his sadness at the passing, saying, "This is such a significant loss for our community and family here in the legislature." "Representative Williams was an example of optimism and motivation. He worked tirelessly to help the people of his area and all of Connecticut. He served the people of Middletown with honor and took his leadership responsibilities seriously.
To commemorate his legacy, I intend to represent Middletown residents with the same zeal he showed. I will always remember Representative Williams and the job he did and the example he established. My heart goes out to him and his loved ones at this difficult time.
We are overcome with disbelief and heartbreak at tragic news of the loss of Representative Quentin Williams ("Q") last night. A champion for Middletown and CT, Q had just yesterday been sworn in and appointed House Chair of the Labor and Public Employees Committee. pic.twitter.com/Hbsps3xp82

— CT House Democrats (@CTHouseDems) January 5, 2023
The Mayor and City Council of Meriden
"Through our collaboration with Middletown, we've come to know Q to be a dedicated congressman whose objective is to provide a better future for children and families, a mission he pursues with his trademark tenacity, charisma, and good humor.
At this moment, our hearts and prayers go out to his loved ones and coworkers. In a joint statement, Mayor Kevin M. Scarpati of Meriden and the state delegation from Meriden remarked on the numerous people whose lives he has impacted.
House of Representatives Member Geoff Luxenberg (D-Manchester)
I found out that my close buddy of nearly 20 years, Quentin "Q" Williams, had died in a freak accident. His modesty, his dedication to social justice, and his enthusiasm for life are impossible to put into words, and no amount of praise from his friends, colleagues, politicians or anyone else could do them justice.
Q had a unique, booming laugh that resonated with your very being when he was happy. The room became brighter as soon as he smiled. Everyone paid attention when he spoke.
The core of his work as Chair of this Housing Committee, or in any legislative capacity, was a passion and love for the people of Connecticut that was deeper, more sincere, and more real than anybody else's. There will never be another state legislator named Q, but there have been many.
Although many articles will soon be written about his many achievements, he will be remembered most for his remarkable humility by the institution, the state of Connecticut, and the Housing Committee, which he chaired until Wednesday.
Last night, Q Williams was so full of energy, joy, and passion for his new role and the work ahead. Heartbroken by the news this morning. pic.twitter.com/DIHiYZwFOg

— Luke Bronin (@MayorBronin) January 5, 2023
Q was a friend and humble public servant, a man of the people, someone who fought the toughest injustices in this world and, through to his Texas-sized heart and smart mind, won more than most, said Luxenberg, chair of the House Committee on Housing and Urban Development.
Connecticut State Council of Labor Unions
Our hearts break at the news of Representative Williams's untimely passing this morning. The last time we spoke with Q was yesterday night at the inaugural ball, and he was just as upbeat and charismatic as usual. Q was an outstanding representative of Middletown's residents and, by extension, all of Connecticut's working people.
As the new chair of the House Labor and Public Employees Committee, we were looking forward to working with him. The world will mourn his passing very seriously for a very long time. Carissa and their family are in our prayers, as are all of us at the Connecticut AFL-CIO, said Ed Hawthorne and Shellye Davis.
Final Words:  We hope you have found all information about Officials Responding to the Death of State Representative Quentin Williams. Stay tuned with us here at Domaintrip.com for more latest news and information.