Zac Efron is a famous American actor and producer. He got his start in the early 2000s and became really famous in the late 2000s for playing the lead role in the High School Musical movies. He's been in a bunch of other movies like Hairspray, 17 Again, and The Greatest Showman.
Born on October 18, 1987, in Arroyo Grande, California, Zac grew up with his parents, David and Starla, and his younger brother, Dylan. Even though his last name has Hebrew roots, he wasn't raised in any particular religion.
Zac was a good student but also liked making people laugh in class. He was into acting from a young age, doing things like singing lessons and being in school plays. After graduating from high school in 2006, he decided not to go to college and instead moved to Los Angeles to pursue acting.
His big break came with High School Musical in 2006, which became a huge hit. After that, he starred in more films like Hairspray, 17 Again, and The Lucky One. Zac also produced films, including a Netflix series called Down to Earth with Zac Efron, which won him a Daytime Emmy Award in 2021.
In 2019, he played the infamous Ted Bundy in Extremely Wicked, Shockingly Evil and Vile, earning praise for his performance. Zac Efron has become a major figure in Hollywood, known for his acting skills and success as a producer.
View this post on Instagram
Did Zac Efron Have Surgery to Change His Jaw?
No, he didn't. His jaw got messed up in a bad fall in 2013, and he needed surgery to fix it. After the surgery, he did exercises to help his face muscles recover.
But later, he stopped doing those exercises, and his jaw muscles got bigger than normal. People started saying he had plastic surgery in 2021 because his jaw looked different in a video with Bill Nye for Earth Day.
Zac Efron says it's not true. He never had plastic surgery. His swollen jaw is from the accident in 2013. He also mentioned he doesn't care what others think about how he looks and that worrying about it would mess with his job.
What Happened to Zac Efron's Jaw?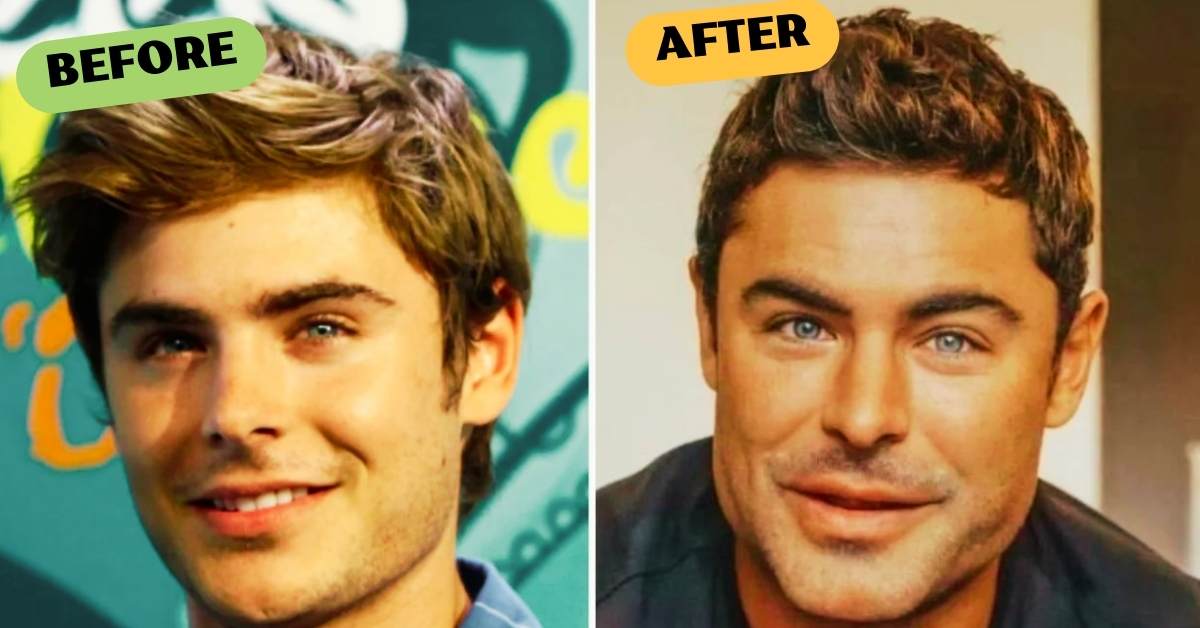 Well, in 2013, he had a bad accident where he slipped and hit his face on a fountain. This broke his jaw, and he had to keep his mouth wired shut for six weeks. After the surgery, he did exercises to help his jaw get better.
But then, he stopped doing those exercises, and his jaw muscles got bigger. In 2021, when he was in a video for Earth Day, some people thought he had plastic surgery because his jaw looked different. But Efron explained that it's just from his accident and not surgery.
He doesn't really care what people think about his jaw. He just wants to be healthy and happy. And he's thankful for his health and the chance to keep working as an actor.
You know which celebrities have Plastic Surgery here we know some news about them which are given below:
Zac Efron Has Faced Some Health Challenges
Alcoholism and substance abuse: Zac has been honest about his difficulties with alcohol and drugs. He went to get help in 2013 and has been staying away from them since then.
Broken jaw: In November 2013, Zac broke his jaw in a fall at home. His jaw had to be wired shut, and it was a really serious situation. This incident also caused his face to swell, which people noticed in a video for Earth Day in 2021.
Serious illness: While filming a show in Papua New Guinea in December 2019, Zac got a severe illness that could have been life-threatening. He was taken to a hospital in Brisbane, Australia, got treated, and thankfully got better without major problems.
Mental health issues: Zac has struggled with mental health, dealing with problems like insomnia, agoraphobia (fear of certain places or situations), and depression. His insomnia and depression came after using diuretics for a long time to prepare for a role in Baywatch.
Despite these challenges, Zac is open about his experiences, hoping to help others facing similar issues. He's a strong person who has overcome a lot, becoming an inspiration for many.