Who Is Matty Healy: Everything Regarding The 1975 Frontman Who Is Allegedly Dating Taylor Swift
The leader of The 1975, Matty Healy, and Taylor Swift are making news for allegedly deepening their bond.
The 33-year-old "Bad Blood" singer and the 34-year-old Healy have been linked for about ten years, and rumors of a romance between them date back to 2014. Following stories that Swift had broken up with her longtime boyfriend, actor Joe Alwyn, there were rumors of a budding romance between the two in May.
The suspicions flew into overdrive when Swifties on TikTok saw that both performers had lately mouthed the same cryptic romantic message while performing. Healy addressed the audience while performing in Manila, Philippines, on May 3. He grimaced, "This is about you, you know who you are. I cherish you.
Days later, when performing in Nashville, Swift appeared to say the same statement while looking into the camera. Healy just so happened to be there, standing alongside Swift's friends like Gigi Hadid and Lily Aldridge in the audience and accompanying opening act Phoebe Bridgers onstage.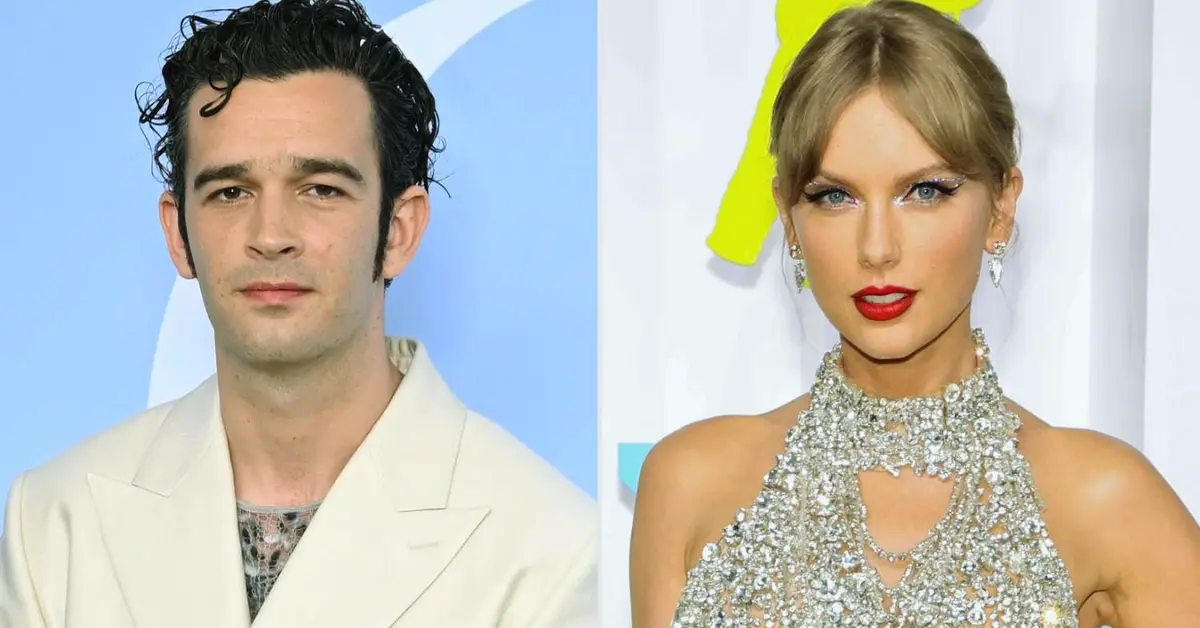 Later in May, they were seen holding hands in New York City. Here are details regarding this potential leading man in Swift's romantic life.
Who Is Matty Healy?
Matty Healy, the son of British actors Tim Healy and Denise Welch, rose to stardom in 2013 after The 1975's self-titled debut album was made available. The Grammy-nominated Manchester, England-based group is most known for its popular songs "Chocolate" and "Robbers."
Healy spoke up to GQ in 2019 about his battle with heroin addiction. "Honestly, it's difficult for me because my real fear was becoming a beacon of sobriety and I'm not that anyway. And, you know, I've had my issues over the last two years."
The singer, who checked into treatment in 2017, continued, "I've not had a habit at any point and I've not really gone back to it, but I've had a slip or two. But I'm getting better with it every day, really."
What Is Matt Healy Like As A Performer?
Healy is known for his crazy stage antics. According to Paper, he has been known to kiss fans during performances.
A shirtless Healy confused concertgoers in New York's Madison Square Garden in November 2022 by eating what looked to be an entire raw steak onstage while groping himself, according to the music website Stereogum.
According to Billboard, Healy got a tattoo the next month while performing live.
How Did Swift And Healy Meet?
When it became apparent that the two performers were listening to one another's work, relationship rumors about the pair started circulating in November 2014.
Page Six reports that Healy appeared onstage in Milwaukee while sporting a T-shirt with the "1989" album cover.
Days later, according to a tweet Swift sent at the time (and subsequently deleted), she attended The 1975 concert at the Hollywood Palladium in Los Angeles with Selena Gomez and Ellie Goulding while sporting one of the band's T-shirts.
What Did Healy Say About Meeting Swift?
Healy discussed Swift on the Australian radio program Shazam Top 20 after getting to know the "Shake It Off" singer in 2014, according to E! News. "I met Taylor Swift, that was really nice," said the musician. "We exchanged numbers. Let's see what happens."
Pop Base shared a tweet on March 12, 2023, In which Matty Healy and Taylor Swift were spotted out of dinner.
Taylor Swift and Matty Healy spotted out for dinner with Jack Antonoff. pic.twitter.com/PCgOQToxav

— Pop Base (@PopBase) May 11, 2023
In response, the host predicted that Swift and Healy would date.
"You're calling that, are you?" asked Healy. "Let's just see what happens."
"I mean bloody hell, what am I going to do?" he added. "Go out with Taylor Swift? She's a sensation, I wouldn't say no." 
Swift was reportedly photographed at another The 1975 event in New York City the following month, according to E! News.
Take a look at the other celebrity details we have provided below links:
Healy concluded that dating Swift would have been "emasculating" in 2016 while speaking to Q magazine (via Elle).
"It's just interesting to me how interested the world is about Taylor Swift," he said. "The reason I mention that is because if I had (properly) gone out with Taylor Swift, I would've been, 'F—– hell, I am not being Taylor Swift's boyfriend. You know, 'F—. That.' That's also a man thing, a demasculinating, emasculating thing."
Soon after, Healy changed his mind, saying to followers in a since-deleted Twitter thread (again, via Elle), "I have said on countless occasions that I found (Swift) to be one of the most gracious, hard working, creatively gifted, and beautiful women that I have had the pleasure to meet. I personally have a lot of respect and admiration for her. Why would I not?"
He added, "I didn't even date Taylor, but the media's incessant and brutal obsession with her has meant that even a guy who DIDN'T DATE HER has been so battered by their never-ending questions that he's inevitably said something that can be lifted and molded into something that resembles 'shade'. It's really sad."
So What Are Healy And Swift Saying About Each Other These Days?
They might not speak much but have been in each other's sphere of influence.
According to Pitchfork, Swift made a surprise cameo at The 1975's concert in London in January and sang her song "Anti-Hero" for the first time. The 1975 proudly posted a video of "Taylor's version" of their song "The City," which she also covered, on Instagram.
Following the show, Healy's mother shared a sweet Instagram snapshot of herself cuddling up to Swift.
Healy was spotted in the VIP area during Swift's concerts at Nissan Stadium in Nashville the first weekend in May, which fueled rumors that the two have been dating.