Dune 2 Release Date, Cast, Plot: When Can We Expect To See Dune Part Two?
Dune 2 Release Date: The sequel, Dune 2, often known as Dune: Part Two, is now under production and will return to Arrakis in 2023. Zendaya gave us an incredible behind-the-scenes glimpse of filming in November 2022 to promote the next sequel, which we haven't seen much of. Since the original film was such a smash blockbuster, not much hype is necessary.
Fortunately, Denis Villeneuve divided Frank Herbert's book into two parts; Part One ended on a massive cliffhanger, so we're all happy a sequel is coming to wrap up the tale. Villeneuve can make a trilogy by adapting Herbert's Dune Messiah for the third film, although it will probably rely on how well the sequel does at the box office. Here is everything you need to know about Dune: Part Two before we jump forward too much.
Dune 2 Release Date
Dune: Part Two's new release date is November 3, 2023, following a few modifications to the original date. It was initially slated for October 20, 2023, but Warner Bros moved it back to November 17, 2023, before moving it forward to the current date. We can only hope that the release date won't alter, but anything can happen.
The sequel is most likely to have an exclusive theatrical release in the US rather than a day-and-date streaming release, unlike the previous film, which was made available on HBO Max the same day it was released in US theaters. As previously reported, the sequel will be shot on location in Budapest, Abu Dhabi, Jordan, and Italy starting on July 18, 2022.
We'd like to believe that we'll all be returning to Arrakis in November 2023 as scheduled if there are no delays with the filming. Crossing fingers.
Dune 2 Cast
We received the formal confirmation of those returning for the sequel and the introduction of the new cast members when filming was confirmed. As Paul Atreides, Timothée Chalamet is returning, and Zendaya's Chani, who we knew would have a more significant role to play in Part Two after Paul finally met Chani at the end of the first movie, will be his co-lead in the sequel.
Rebecca Ferguson as Lady Jessica, Javier Bardem as Stilgar, Stellan Skarsgrd as the evil Baron Harkonnen, and Dave Bautista as the Baron's nephew Glossu Rabban (also known as "The Beast") are among the returning cast members. Like Zendaya, Bardem will have a more significant part in the follow-up, as he disclosed to Vanity Fair that Villeneuve had included the increased sequel role in his pitch.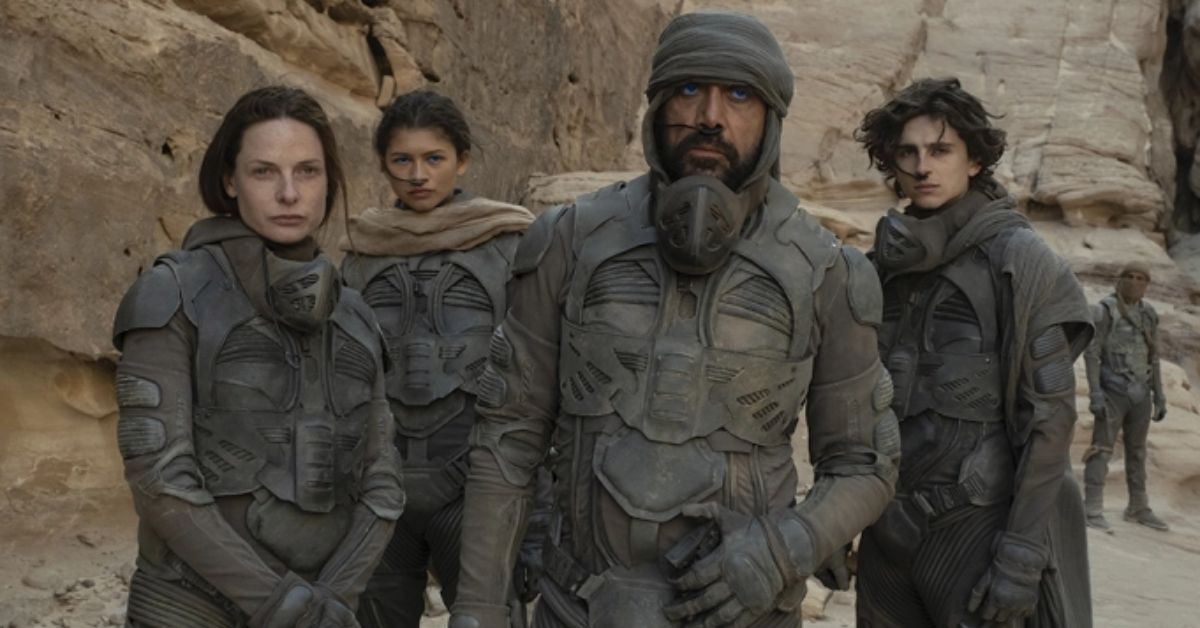 "I have a small role if there is such a thing; however, the role will be larger in the second installment of the book, and I would love for you to do it if you want to. I responded, "Of course, I want to." Whether or not there is a sequel is irrelevant to me, "He remembered.
However, given that they were all killed in the previous movie, don't expect to see Babs Olusanmokun or Oscar Isaac as Duke Leto Atreides or Jamis. However, book readers will be aware that Jason Momoa may return as Duncan Idaho later in the series, but presumably not in the follow-up.
After House Harkonnen's raid on Arrakis, the fates of Josh Brolin's Gurney Halleck and Stephen McKinley Henderson's Thufir Hawat were unknown, but they have been confirmed they will both appear in Part Two.
Read More: 
There will also be several fresh faces in the cast, with Austin Butler, who played Feyd-Rautha in the Elvis movie, Florence Pugh, Christopher Walken, and Léa Seydoux playing the roles of Emperor Shaddam IV and Lady Margot, respectively, in Part Two.
Pugh's performance in the film—the pair's second collaboration—has already garnered high praise from Chalamet: "She is a fantastic actor. She was truly remarkable when she played Dune. She infused the part with seriousness."
He undoubtedly had positive things to say about Zendaya, praising her for her more significant part in the sequel and saying that she was "bringing precisely what she did to the previous one — which was wonderful — but in greater abundance."
The last person to join the cast was Souheila Yacoub, who will play the Fremen warrior Shishakli. However, now that production has begun, perhaps more surprises will be revealed.
Dune 2 Plot
After the sequel's confirmation, we learned the following about its first plot summary: "This follow-up movie will examine Paul Atreides' mythological odyssey as he joins Chani and the Fremen and embarks on a warpath of vengeance against the criminals who killed his family.
He tries to stop a terrible destiny that only he can predict when forced to choose between his beloved and the destruction of the known universe. The first movie finished when Paul and Lady Jessica were admitted into the Fremen and on their journey to Stilgar's house, covering little over half of Herbert's book.
With House Atreides essentially destroyed, the sequel will pit them against the Empire. As he leads a revolution against the Empire, we may expect to see more of Paul's ideas of his future come to life. Villeneuve admitted that he briefly considered ending the film later to match the book's time shift but decided that his "initial inclination" to conclude the film after Paul encounters the Fremen was the best choice.
Because of Paul's gift for prophecy, the first movie had thrilling glimpses of what will happen in the character's future as he struggles with his ultimate destiny, which might be related to Chani and the Fremen of Arrakis. Villeneuve hinted that specific details, such as the Feyd-Rautha mentioned above, might be "a little bit deeper explored" in the sequel.
He remarked, "It's like a game of chess." "In the second half, some new characters will be introduced." Even if you have read the novel, Javier Bardem has hinted that the sequel won't be a straightforward adaptation, so don't take your theories as gospel.
Dune 2 Trailer
Although Dune: Part Two filming may have begun, it will still take some time before we see any footage, which we don't anticipate until the following year.
Frequently Asked Questions
Is Dune 2 confirmed?
On October 26, 2021, Villeneuve affirmed that Dune Part Two would undoubtedly be released. Because Blade Runner 2049, the last high-budget genre movie Villeneuve directed, had a poor box office performance, there is a lot of doubt about whether Warner Bros. will approve this sequel.
Is Dune going to be 2 or 3 movies?
The sequel, Dune 2, often known as Dune: Part Two, is now under production and will return us to Arrakis in 2023. Zendaya gave us an incredible behind-the-scenes glimpse of filming in November 2022 to promote the next sequel, which we haven't seen much of.
Is Dune Part 2 coming out soon?
Following the first movie's critical and financial success, Warner Bros. and Legendary Entertainment gave the project their blessing in October 2021. Budapest-based production commenced in July 2022 and was completed by December 2022. The second installment of Dune will be released on November 3, 2023.
Final Lines
We hope you have found all the relevant information about the Dune 2 Release Date. For the latest news and information, stay tuned with us here at Domaintrip.com.