Gwyneth Paltrow Takes the Stand: The Inside Story of Her Ski Crash Trial
Actress Gwyneth Paltrow appeared in a Park City courthouse on Tuesday for the start of a trial over a 2016 skiing mishap in Utah.
Paltrow is accused of colliding with Terry Sanderson seven years ago as they were both skiing on a beginner route at Deer Valley Resort, leaving him with multiple severe injuries and fleeing the scene.
On YouTube, the trial is being broadcast live.
Three years after the crash on the mountainside, Sanderson, a retired optometrist, filed the lawsuit. He has since claimed that the incident caused him to sustain a brain injury, four broken ribs, and emotional harm.
Sanderson reportedly claimed Paltrow left the scene without giving him her name, contact information, or phone for aid.
Lawrence Buhler, an attorney for Sanderson, began opening arguments by stating, "Distracted skiers cause crashes. Defendant Gwyneth Paltrow knew that looking up the mountain and to the side while skiing down the mountain was dangerous."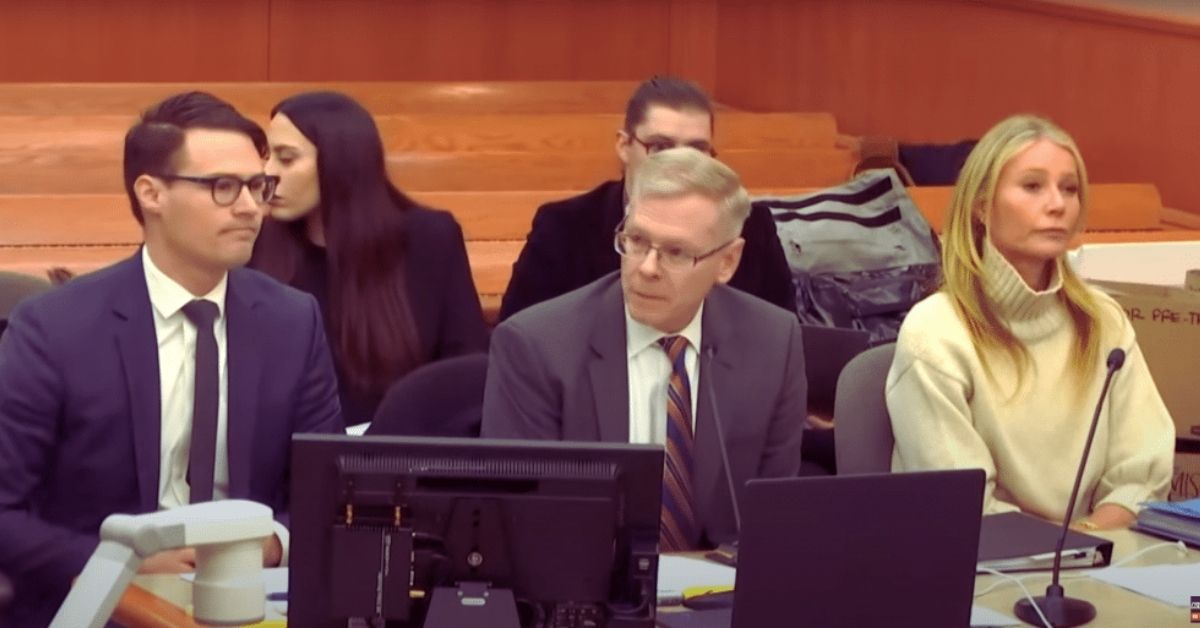 Paltrow's attorney Stephen Owens told the jury that Sanderson's accusations that the actress rushed off the mountain after driving into him were utterly manufactured.
"We believe it to be utter B.S.," Owens said. However, he informed the jury that Sanderson's defense team had the burden of proof in the case, not the actress.
New York Post Twitted on Twitter,"

Gwyneth Paltrow,

ski crash victim can't enjoy wine tastings due to injuries." 
Gwyneth Paltrow ski crash victim can't enjoy wine tastings due to injuries, expert says https://t.co/FtPYx5Psxh pic.twitter.com/eDI8mvTgPf

— New York Post (@nypost) March 22, 2023
"You're going to feel sorrow for [Sanderson] but that's not why you're here. You're here to figure out if someone negligently crashed into someone or if no one did," he noted.
"Skiing has inherent risks," he continued.
In an initial version of the claim, Sanderson sought $3.1 million in damages, KSL.com reported. However, according to the news source,
Third District Judge Kent Holmberg rejected part of Sanderson's allegations against Paltrow in May 2022, concluding that it was not a "hit-and-run ski crash." Now demanding $300,000 in damages is the 76-year-old.
Meantime, the Oscar-winning actress and entrepreneur filed her countersuit about a month after Sanderson in 2019. She described the day's events, blaming him for the tragedy.
The following news is similar to the one you just read:
She told him being uphill from her and her family when he suddenly plowed into her back, delivering a "full body blow." According to Paltrow, she was angry with Sanderson and he apologized. Each party wants the other to fund its legal costs. Paltrow is demanding $1 in damages.
Although Paltrow's counsel informed the jury that certain family members who were skiing with her at the time of the event would testify, it is unknown if Paltrow will take the stand.
We have worked hard to provide you with helpful information. Therefore, it would mean a lot to us if you would check out —where you may read articles directly related to your quest. If you have any questions or feedback, please don't hesitate to let us know in the comments below.