Rihanna Net Worth 2022: How Does She Make A Billionaire?
Popularly known as Rihanna, Robyn Rihanna Fenty is a Barbadian singer-songwriter who is responsible for songs including "Pon de Replay," "SOS," "Umbrella," and "Take a Bow." She has sold over 150 million songs and over 41 million albums worldwide, making her one of the best-selling artists of all time while still in the prime of her career.
She was raised on reggae music and began singing at a young age. She was born in Barbados. She became deeply involved in music after becoming disturbed by her dysfunctional home and her parents' ongoing conflicts and soon decided that she wanted to be a professional singer.
While still in high school, she started a band and had the chance to audition for music producer Evan Rodgers, who was very taken with the teen's abilities. He invited her to go to New York so she could pursue a full-time career as a singer, and she eagerly accepted.
Soon after the publication of her debut album, Rihanna rose to fame as a singer. The popularity of her upbeat, foot-tapping tunes among young people inspired her to try her hand at acting in movies.
She is now considered a teen idol and a fashion icon since she is attractive, young, and incredibly skilled. Also making excellent use of her stardom, Rihanna is actively involved in many humanitarian endeavors.
Rihanna Early Life
Robyn Rihanna Fenty was born on February 20, 1988, in Saint Michael, Barbados, to Ronald Fenty, a warehouse manager, and Monica Braithwaite, an accountant. She has an exotic appearance because of her mixed origin.
She has three half-siblings in addition to two siblings. Because of her parents' ongoing fights and ultimate divorce, she had a tough childhood. Her father struggled with alcoholism and cocaine addiction before overcoming them.
She attended Combermere High School and Broome Memorial Primary School for her education. She started singing when she was seven and has always liked music. Later, when she was a high school student, she formed a musical trio with several classmates.
In 2003, she met American record producer Evan Rogers  by happenstance and sang a few songs for him. Because of the teen's talent, the record producer invited her to New York to record some demo tapes that could be sent to record labels.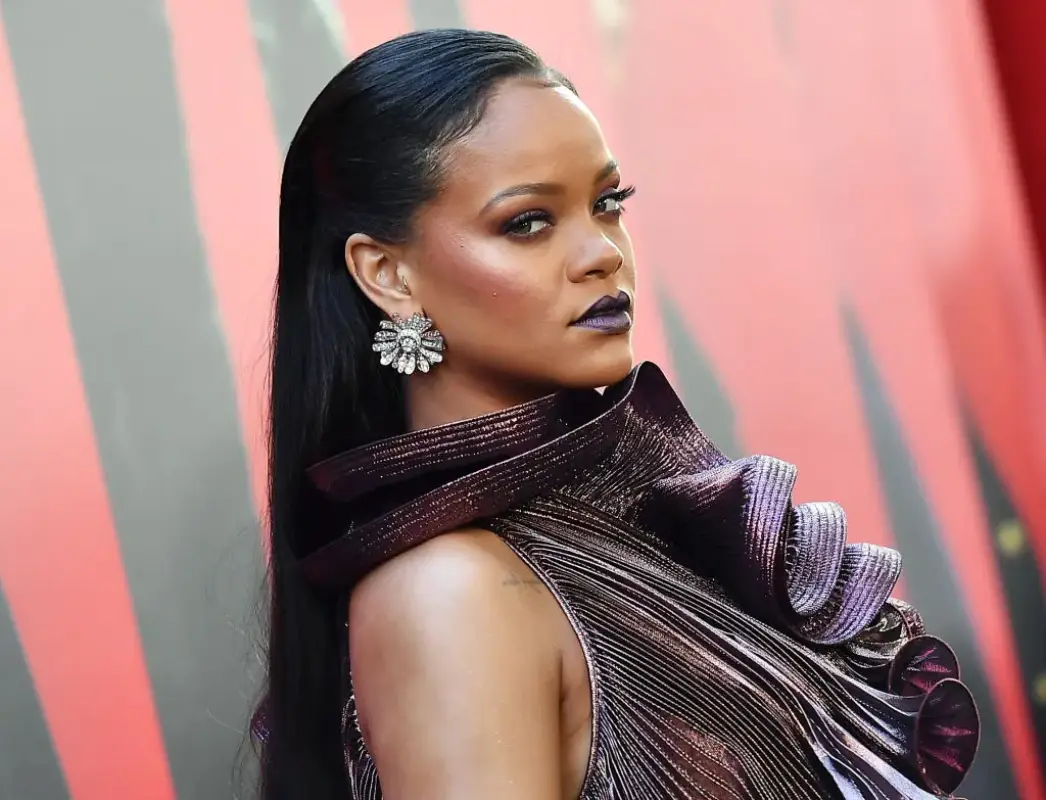 Rihanna Personal Life
Rihanna has dated many high-profile men, including Saudi businessman Hassan Jameel and artist Drake (on and off from 2009 to 2016). (2017 to January 2020). However, she had a special connection with the artist Chris Brown.
According to reports, she reportedly suffered physical abuse from her ex-boyfriend Brown in 2009. Later, leaked images of Rihanna with apparent face injuries corroborated those reports.
Brown was charged with felony assault and making criminal threats; after accepting a plea agreement, he was sentenced to community service and five years of treatment. In 2013, Rihanna and Brown had a brief comeback.
Rihanna Career
Music Career
Rihanna was asked to audition for rapper Sean Carter, aka Jay-Z, who was the CEO of Def Jam Records at the time, after he heard her demo. In 2004, she was instantly given a record deal for six albums. Jay-Z was one of a group of producers she worked with to create her debut studio album, "Music of the Sun" (Aug. 2005).
This was swiftly followed by "A Girl Like Me," Rihanna's first album to receive a platinum certification from the RIAA (April 2006). The lead song from the 2007 album "Good Girl Gone Bad," "Umbrella," sold more than 8 million copies globally and earned her and Jay-Z the Grammy Award for Best Rap/Sung Collaboration in 2008.
"Rated R" (2009), "Loud" (2010), "Talk That Talk" (2011), "Unapologetic" (2012), and "Anti" are some of her later albums (2016).
The other prominent tracks she has worked on with other artists are "Take Care" (2012) with Drake, "Take This Town" (2016) with Calvin Harris, "Love the Way You Lie" (2010) with Eminem, "Princess of China" (2012) with Coldplay, and "This Is What You Came For" (2016) with Calvin Harris.
Rihanna has won various honors, including 8 People's Choice Awards, 12 Billboard Music Awards, 9 Grammy Awards, and 12 Billboard Music Awards.
Acting Career
The movie "Bring It On: All or Nothing" from August 2006 included Rihanna in a cameo as herself. Her television show "Styled to Rock" debuted in the UK in 2012, while the American version of the program debuted in 2013.
Battleship (2012), Valerian and the City of a Thousand Planets (2017), Ocean's 8 (2018), and Guava Island are some of the other movies she has appeared in (2019). In addition, she provided the voice of Tip in the animated film "Home" in 2015, along with a concept album soundtrack.
Business Career
Rihanna has successfully tapped into her stardom to launch several lucrative business endeavors. She agreed to a $25 million deal with Samsung in 2015 to advertise their Galaxy line of products. Secret Body Spray, MAC Cosmetics, Budweiser, Armani, Dior, Cover Girl, Gucci, Clinique, and River Island, are just a few of the other companies she has worked with.
After joining Puma as creative director in 2014, she oversaw the company's women's line and introduced collaborations for garments and footwear that quickly sold out. Along with other famous people, including Jay-Z, Madonna, and Kanye West, she is also a co-owner of Tidal's music streaming service.
In collaboration with LVMH's Kendo Brands, Rihanna debuted her Fenty Beauty makeup brand in September 2017. The brand generated $100 million in sales in its first two months. The line brought in $570 million in 2018. Based on a 7X revenue multiple, the brand's overall value might be between $2 and $3 billion.
According to rumors, Rihanna owns 50% of the company. The pre-tax value of Rihanna's investment is $1 to 1.5 at these valuation levels. In addition to Fenty Beauty, Rihanna shares ownership of the 2018-launched lingerie line Savage X Fenty.
Her share of this company is 30%. Savage x Fenty is currently worth $1 billion. She formerly owned the clothing and accessory company Fenty. This company was shut down.
Philanthropy
Rihanna frequently ranks among the world's most charitable celebrities. She made an $8 million donation in 2020 to help with coronavirus alleviation. She has donated $5 million to other charities and more than $2 million to support abuse victims in Los Angeles through her Clara Lionel Foundation.
Rihanna Net Worth
Rihanna is a singer, songwriter, actor, and businesswoman born in Barbados. Rihanna has a net worth of $1.7 billion as of August 2021. She is now the world's wealthiest female musician as a result.
One of the most well-known and financially successful musicians working today is Rihanna. Her association with the luxury goods giant LVMH to create the Fenty Beauty Line has added significant value to her net worth.
The company brings in well over $100 million annually. It is said that Rihanna owns 50% of the partnership, and the brand is valued between $2 and $3 billion. She also holds a 30% stake in Savage X Fenty, a lingerie company with an estimated $1 billion market value.
Rihanna's burgeoning business brings in somewhere between $40 and $80 million yearly. For instance, she made $65 million between June 2018 and June 2019. Her earnings from June 2019 to June 2020 were $45 million.
Read other trending topics related to net worth: Woody Harrelson and Zendaya Net on our website domaintrip.com.