Calvin Broadus is an American rapper and media personality known by his stage name, "Snoop Dogg." During the 1990s, he was one of the most well-known people in gangsta rap. Even though he is best known as a singer, Snoop has also been in many movies and TV shows throughout his career.
He was born in the United States and liked to sing and rap from a young age. However, he spent a lot of time in jail as a teenager for drug possession before he decided to try to make a living as a hip-hop artist. Dr Dre, a famous producer and rapper, saw his talent and put out Snoop's first album, "Doggystyle," which brought him into the world of music.
With songs like "Who Am I (What's My Name)?" and "Gin and Juice," he became known for his relaxed way of rapping, and his name came to be associated with gangster rap in the 1990s. He has kept his success going over the years with albums like "The Doggyfather," "No Limit Top Dogg," "R&G (Rhythm & Gangsta): The Masterpiece," and "Doggumentary."
During his long career, Snoop has also been in many movies and a frequent guest on TV shows. He has also been accused of several crimes during his life, but all of the accusations were later dropped. Since the beginning of his career, he has been in the news because of his great music and legal problems.
Snoop Dogg Early Life
Cordozar Calvin Broadus was born in Long Beach, California, on October 20, 1971. Three months after Snoop was born, his parents, Vernall and Beverly, broke up. His father didn't spend much time with him. His mom got married again. Because he liked the Peanuts character Snoopy so much, his mother and stepfather called him "Snoopy."
He was the second of three sons that his mother had. When he was young, Snoop started singing and playing the piano at the Golgotha Trinity Baptist Church. He started rapping in the sixth grade. As a kid, Calvin sold candy, delivered newspapers, and bagged groceries to help his family make ends meet.
Even though his mother did everything she could to keep him from gang banging and running the streets when he was a teenager, he started doing those things anyway. He was part of Long Beach's Eastside Rollin' 20s Crips gang. Not long after graduating high school, he was caught with cocaine and imprisoned. Stayed in and out of jail or prison a lot over the next three years.
Snoop made tapes with his cousins Nate Dogg and Lil' 1/2 Dead and his friend Warren G. At the time, the area code for Long Beach was 213, so they called themselves "213. One of Snoop's first solo freestyle songs, "Hold On," was on a mixtape that Dr Dre had. He was so impressed that he asked Snoop to try out and put him in touch with NWA member The D.O.C., who taught him how to put together verses, hooks, and choruses.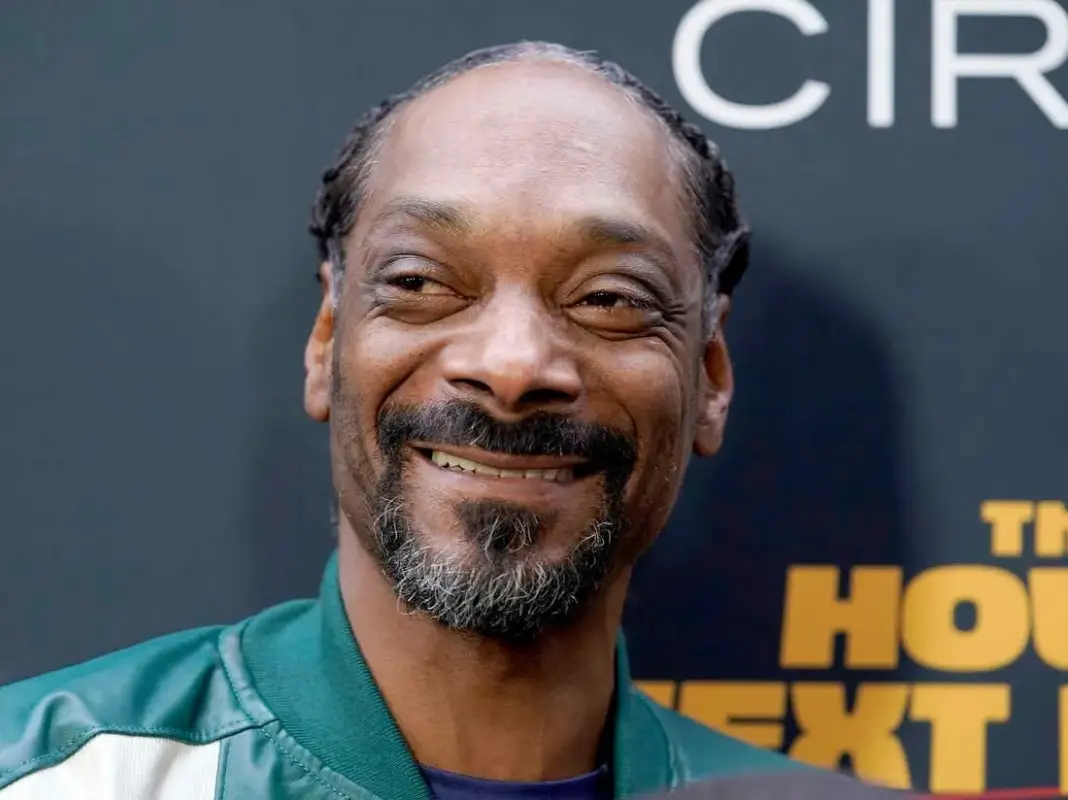 Snoop Dogg's Personal Life
On June 12, 1997, Snoop married Shante Taylor, his high school sweetheart. In May 2004, they asked to end their marriage. In January 2008, they returned and said their wedding vows again. They have two sons, Corde (1994) and Cordell (1997), and a daughter, Cori (1999).
Snoop also has a son with Laurie Helmond, Julian Corrie Broadus, who was born in 1998. In 2015, Snoop became a grandfather when Corde's girlfriend, Jessica Kyzer, gave birth to a son. Brandy and Ray J, both R&B singers, and Sasha Banks, a professional wrestler, are Snoop's first cousins.
Since the beginning of his career, Snoop has been a pot smoker, which has become a trademark of his image. In an interview in 2006, Snoop said that he worked as a pimp in 2003 and 2004. He said, "I was born to do that stuff, and once I started doing it, it was fun. I felt like I was making layups. I was always making them."
He went on to say that some pimps he knew told him to stop being a pimp so he could spend more time with his family. Dogg works with city officials to give turkeys to people in Inglewood, California, who don't have much at Thanksgiving. In 2016, he gave away 3000 turkeys.
Snoop Dogg Career
Dr Dre made Snoop's first album, Doggystyle, which came out in 1993 on Death Row Records. The Billboard 200 and Billboard Top R&B/Hip-Hop Albums charts put the album at number one when it came out. "What's My Name?" and "Gin & Juice" were hit singles from the album.
Doggfather, Snoop's next album, came out in 1996 and went straight to the top of both Billboard charts. Snoop left Death Row and signed with No Limit Records for his following three albums. He put out Da Game Is to Be Sold, Not to Be Told in 1998, No Limit Top Dogg in 1999, and Tha Last Meal in 2000.
After that, he signed with Priority/Capitol/EMI Records in 2002 and put out Paid the Cost to Be da Boss. In 2004, he signed with Geffen Records and put out R&G (Rhythm & Gangsta: The Masterpiece, That Blue Carpet Treatment, Ego Trippin, Malice 'n Wonderland, and Doggumentary).
He also coaches a football team for kids and a football team for high schoolers. EMI hired Snoop as the chairman of Priority Records in September 2009. After a trip to Jamaica in 2012, Snoop announced that he had become a Rastafarian and would now be called Snoop Lion. He put out a reggae album called Reincarnated and a documentary about his time in Jamaica with the same name.
In 2015, he changed his name back to Snoop Dogg and put out a record called Bush. In 2018, Snoop said he was a "born-again" Christian and put out Bible of Love, his first gospel album. I want to Thank Me, his 17th solo album, came out in 2019.:
In addition to making music, Snoop has directed several adult films under the names Michael J. Corleone and Snoop Scorcese. He has also appeared on TV and in movies, both as himself and in fictional roles. Snoop Dogg has hosted many TV shows, such as Doggy Fizzle Televizzle, Snoop Dogg's Father Hood, Dogg After Dark, WrestleMania, and Snoop and Martha's Potluck Dinner Party.
Snoop is also a spokesperson for Boost Mobile, Chrysler 200, Orbit Gum, and St. Ides. He also has his malt liquor, Snoop Dogg's footlong hot dogs, the Snoop Dogg Board Company, and several clothing lines that bear his name.
There's nothing else to say, and no other way to say it – there's only one @SnoopDogg – thank you and yours 💕 pic.twitter.com/EuSDWYl0k3

— Bux (@ForTheBux) September 4, 2022
Snoop Dogg's Net Worth
Snoop Dogg is a rapper, singer, songwriter, producer, media personality, business owner, and actor who lives on the West Coast. When this was written, Snoop Dogg was worth $150 million. Dr Dre gave him his start in the music business in 1992.
Under the Death Row Records label, he went on to make many classic songs and albums. Snoop Dogg is one of the wealthiest and most successful rappers to come out of the rap scene of the 1990s. He is also one of the few rappers still making music today.
Snoop Dogg Awards & Achievements
In 1994, he won the Billboard Music Award in three categories: "Top Billboard 200 Album Artist – Male," "Top R&B Album Artist," and "Top R&B Album Artist – Male." In 1994, his video for the song "Doggy Dogg World" won the "Best Rap Video" award at the MTV Video Music Awards.
In 1995, he won the "Favorite Rap/Hip-Hop Artist" American Music Award. In 2005, his song "Drop It Like It's Hot" won the "Best Rap/Hip-Hop Dance Track" category of the "International Dance Music Award." He has also won the "MOBO Award," the "Source Award," the "Stony Award," and the "Urban Fashion Award."
Read Other Trending Topics: Tim Cook, Queen Elizabeth And Young Thug on our website Domaintrip.com