Who Is Kourtney Kardashian Dating? Is Kardashian In A Relationship?
Who Is Kourtney Kardashian Dating? The best love stories occasionally begin as pals! Although Kourtney Kardashian and Travis Barker's new romance may surprise some people, the two have been friends for a long time. Us Weekly verified that Barker and  Kardashian were dating after the two spent time together in January 2021 at the residence of Kardashian's mother, Kris Jenner, in Palm Springs, California.
The insider informed Us that "Kourtney and Travis are officially a couple." They have known each other for some years and are currently dating. Travis and Kourtney have been captivated for a while now. The Blink-182 drummer made several flirtatious comments on the Poosh founder's Instagram postings just before the relationship rumors surfaced.
Barker added a rose emoji to her word as she shared a sultry image she took in her wardrobe. He posted a picture of her wading into the water along with a mermaid emoji. She sent screenshots from the 1993 movie True Romance, and he responded with the message, "You're So Cool."
The rock star said that True Romance was his favorite movie in the past, and he even named his daughter Alabama after Patricia Arquette's character.
Who Is Travis Baker?
American musician Travis Landon Barker, born November 14, 1975, plays the drums for the rock group Blink-182. Along with performing as a regular hip-hop artist collaborator, he founded the rock bands +44 and Box Car Racer, played in the rap rock band Transplants, and later joined Antemasque and Goldfinger.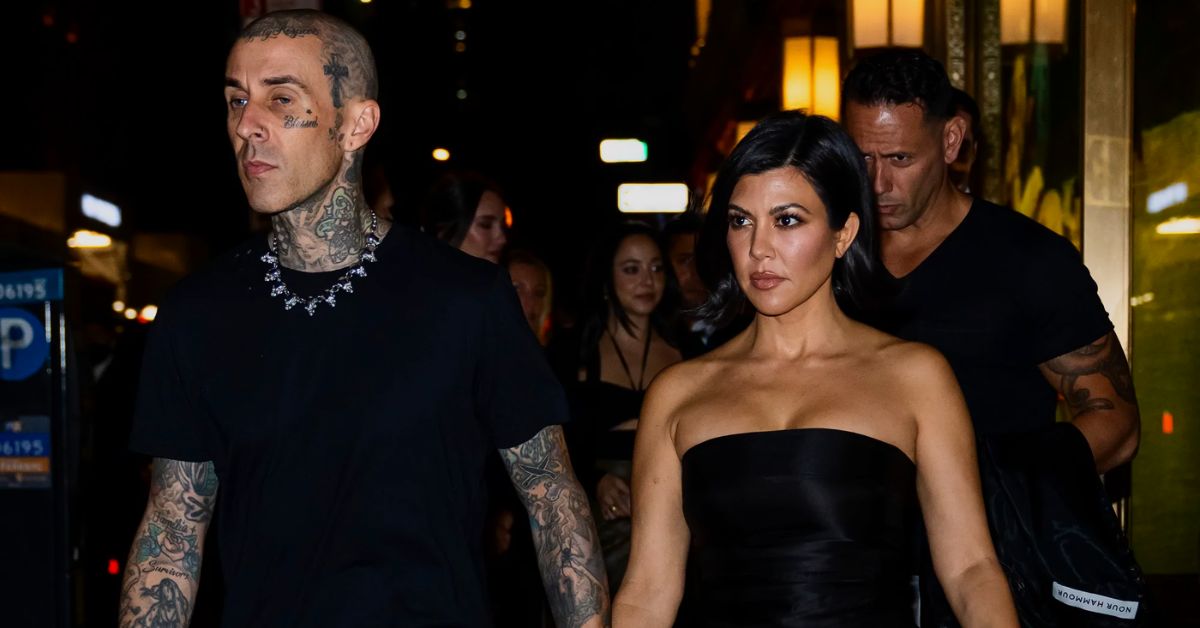 With the late DJ AM, Barker frequently collaborated, and the two of them formed TRV$DJAM. Due to his notoriety, Rolling Stone listed him as one of the 100 greatest drummers and "punk's first celebrity drummer."
When Did Kourtney Kadarshian and Travis Baker Start Dating?
The drummer for Blink-182 talks to Us Weekly about his "crush" on Kim Kardashian, who he first met when he was dating Paris Hilton years before. He remarked at the time, "How could you not stare at Kim? "Don't get me wrong, I had fun hanging out with Paris, but I prefer curvy women. Kim was gorgeous.
No disrespect was intended towards Paris, but I couldn't take my eyes off Kim. He even asserts that Kim sought his counsel after Ryan Seacrest approached her with the concept of Keeping Up With the Kardashians. He remembered Kim saying, "I think my family is interesting, and it may be something," to him. I provided her with the best guidance I could.
Frequently Asked Questions
Are Kourtney And Travis Still Together?
In May 2022, Travis Barker and Kourtney Kardashian exchanged vows.
Just How Long Did Kourtney And Travis Date For?
A PROPOSAL has been made between Travis and Kourtney. After dating for a short time, the couple made the happy announcement on social media. Fantastic! It's like something out of a fairy tale!
How many times have Kourtney and Travis been married?
Kourtney and Travis had their third wedding on the Italian Riviera with only family and close friends. What a lot of change! You need not read further if you are having a "little" difficulty following along.
Final Lines
In this article, you have read about Millie Kourtney Kardashian's Dating. If you like this article, then please share your thoughts in the comments section below and share this article with your friends and family. Stay tuned for trending topics like Kim Kardashian Dating and Nick Kroll's Dating History on our website  domaintrip.com.