Wild Winter Storm Envelops The US, Spooking Christmas Travel!
Wild Winter: On Saturday, a severe winter storm covered many of the United States, bringing blinding blizzards, freezing rain, flooding, and dangerously low temperatures that caused havoc for people making holiday travel plans.
The storm that struck earlier in the week brought down power lines, left mounds of cars involved in fatal collisions on the roadways and caused several flight cancellations. The storm's size was almost unheard of, extending from the Rio Grande near Mexico's border to the Great Lakes in Canada.
According to the National Weather Service, temperatures fell below average from east of the Rocky Mountains to the Appalachians, affecting around 60% of the country's population. People in the Northeast were at risk of inland and coastal floods while freezing rain covered much of the Pacific Northwest in a blanket of ice.
The meteorological agency warned that the arctic temperatures and strong winds would result in "dangerously cold wind chills across most of the central and eastern U.S. this holiday weekend" and that they "would present a potentially life-threatening hazard for travelers that become stranded."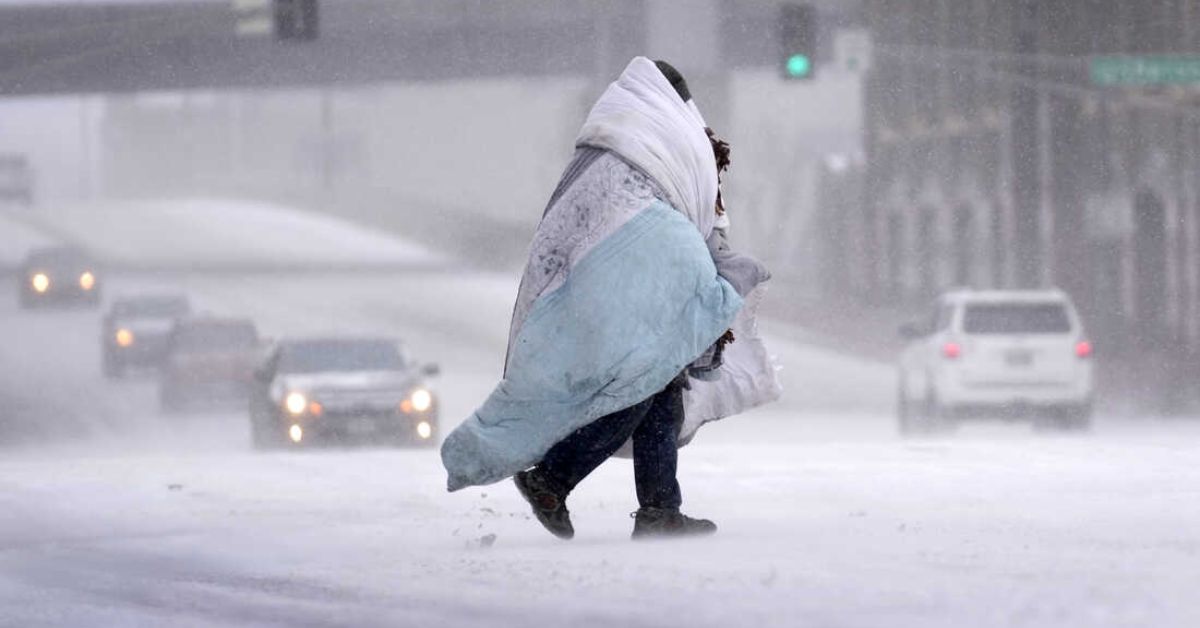 It stated that going outdoors in some places could cause frostbite in a matter of minutes. According to the website PowerOutage, which analyzes utility reports, power outages still affecting more than a million homes and businesses by late Friday added to the problems.
More than 5,700 flights inside, into, or out of the United States were canceled on Friday, according to flight tracking website FlightAware, as millions of Americans were flying ahead of Christmas. At least six people died in collisions, according to officials, and several motorways were shut down.
A major pileup on the Ohio Turnpike involving over 50 automobiles resulted in at least two fatalities. A driver from Kansas City, Missouri, died on Thursday after swerving into a creek, while three others died on Wednesday in separate accidents on slick roads in northern Kansas.
Read More: 
WestJet canceled every Friday flight at Toronto Pearson International Airport in Canada after local meteorologists warned about a possible once-in-a-decade weather event. While in Mexico, migrants tented close to the U.S. border in exceptionally chilly weather.
At the same time, they awaited a ruling from the U.S. Supreme Court on limits from the epidemic era that bar many from applying for asylum. Forecasters reported that a bomb cyclone, which occurs when atmospheric pressure rapidly decreases during a powerful storm, had formed close to the Great Lakes, causing blizzard-like conditions, including severe winds and snowfall.
On the latest episode of #MostlyWeather:

Hosts @clarenasir and @alexdeakin are joined by guest @ASpeciesAday to discuss a severe winter storm hitting North America, 5 key climate events of 2022, plus the Christmas weekend outlook.

To listen to the episode 👇

— Met Office (@metoffice) December 23, 2022
Even residents of Florida were prepared for abnormally frigid weather for the holiday weekend as rare freeze warnings were issued for significant portions of the state. Activists raced to get the homeless out of the cold. Early on Friday morning in Detroit, at a shelter and a warming center that can accommodate just 100 people, close to 170 adults and kids were keeping warm.
Although there were many more persons, Faith Fowler, executive director of Cass Community Social Services, which manages both institutions, said it was not an option to turn anyone away. As snow, freezing rain, ice, and frigid temperatures descended upon the region, emergency weather shelters in Portland, Oregon, issued a need for volunteers due to high demand and staffing concerns.
Multiple hazards are expected with the upcoming winter storm:
1) Brief transition to snow (~1-2") Fri morning
2) Flash Freeze Fri morning – afternoon as temps plunge
3) Strong Winds of 50-60 MPH Fri – Sat
4) Dangerously cold wind chills of -15 to -25°F Fri – Christmas pic.twitter.com/ugoYJq4Nu7

— NWS Pittsburgh (@NWSPittsburgh) December 22, 2022
The National Guard will be sent out, according to South Dakota Governor Kristi Noem, to help with snow removal and transport wood to the Oglala and Rosebud Sioux tribes. Wayne Boyd, the president of the Rosebud Sioux, said, "We have families that are way out there that we haven't heard from in two weeks."
As 12-foot (3.6-meter) snow drifts stopped the house on the Pine Ridge Indian Reservation, Harlie Young was huddled with her father, five siblings, and five cousins around a wood heater. She stated on Friday, "We're just trying to see the positive side that they're still coming and they didn't forget us. Kathy Hochul, the governor of New York, issued a state of emergency and referred to it as a "kitchen sink storm."
.@NOAA's #GOESEast 🛰️ is keeping watch over a powerful winter storm pushing #Arctic air through the eastern U.S. this morning.

This imagery includes satellite-derived winds at different levels in the atmosphere. Red is high-level, blue mid-level, and yellow is low-level wind. pic.twitter.com/dGF0JnSCel

— NOAA Satellites (@NOAASatellites) December 23, 2022
In several areas of New York City, tidal flooding Friday morning submerged streets, residences, and establishments. Some downtown Boston streets were flooded on Friday due to rain and a high tide. Reports of bleeding came from Little Rock, Arkansas. The following reporters from the Associated Press contributed to this story: Dee-Ann Durbin in Detroit, Gillian Flaccus in Portland, Oregon, Zeke Miller in Washington, D.C., and Emily Wagster Pettus in Jackson, Mississippi.
Frequently Asked Questions
What is a bomb cyclone snowstorm?
The meteorological word "bombogenesis" refers to an atmospheric pressure drop of at least 24 millibars within 24 hours, referred to as a bomb cyclone. In other words, this indicates that a storm is rapidly intensifying, which might have more disastrous impacts than a lesser storm.
Where is the cold weather in America?
Alaska's Fairbanks (27.6°F) Surprised? Alaska wins despite our "population of at least 10,000" requirement. The average yearly temperature in the city is 27.6°F, below freezing! For those who are curious about records, Fairbanks's lowest recorded temperature is -66°F.
Is Elliott a bomb cyclone?
On Friday morning, E. Elliott met the requirements to be classified as a bomb cyclone, a low-pressure zone that quickly increases. What Is a Bomb Cyclone, Further?
Final Lines