You Season 4 Review: Joe Goldberg Reaps the Benefits of His Daring Comeback!
Hello, You. Too long has passed. For the newest season of You, Joe Goldberg (Penn Badgley), the resident serial murderer with a taste for baseball caps and pretentious literature, is back, but this time he has a new name, a new city, and a new goal.
Thankfully, Joe's next victim is not yet another helpless, unsuspecting woman, which is surprising. As he desperately tries to identify the "Eat the Rich Killer," a mysterious stranger who murders members of the Oxford circle of wealthy snobs with which Joe finds himself surrounded, Season 4 of You finds Joe being the one on the defense.
Oh, and the murderer is also aware of Joe's true identity and the whole history of murder. So much for Joe's enjoyable trip to the UK. Joe was on the run after Season 3 after killing his wife Love (Victoria Pedretti), fabricating his demise, and abandoning their infant boy.
At the beginning of Season 4, Joe is in London under a new guise as Professor Jonathan Moore, a professor of American short fiction. He is surrounded by a unique ensemble of oddball folks he met as Oxford undergraduates and now his buddies.
The Oxford gang comprises obscenely wealthy elitists who got fame and fortune without working a day in their lives—everything Joe despises. Up to this point, each You season has taken place in a different city and featured a distinctive ensemble of characters that occasionally verges on caricature.
The fourth season is no exception. Season 4 digs into the world of the affluent and regal, much like Season 2 captured the cliché of the granola LA hipsters, and Season 3 displayed the toxic wasteland of momfluencers. There are undoubtedly some standouts in You's new supporting ensemble.
Charlotte Ritchie gives Kate, who may be a member of the elite but has a tragic history that counteracts her first "ice queen" persona, a stunning depth. Lady Phoebe, who may be royalty but lacks the brutality and inhumanity of her wealthy contemporaries, is played to great perfection by Tilly Keeper.
Keeper has excellent comic timing, but like Ritchie, she also adds a unique emotional touch as a lady who, despite her affluence, feels lonely and misunderstood. Author Rhys Montrose, the unexpected member of the Oxford gang due to being born into poverty, is likewise superbly portrayed by Ed Speleers.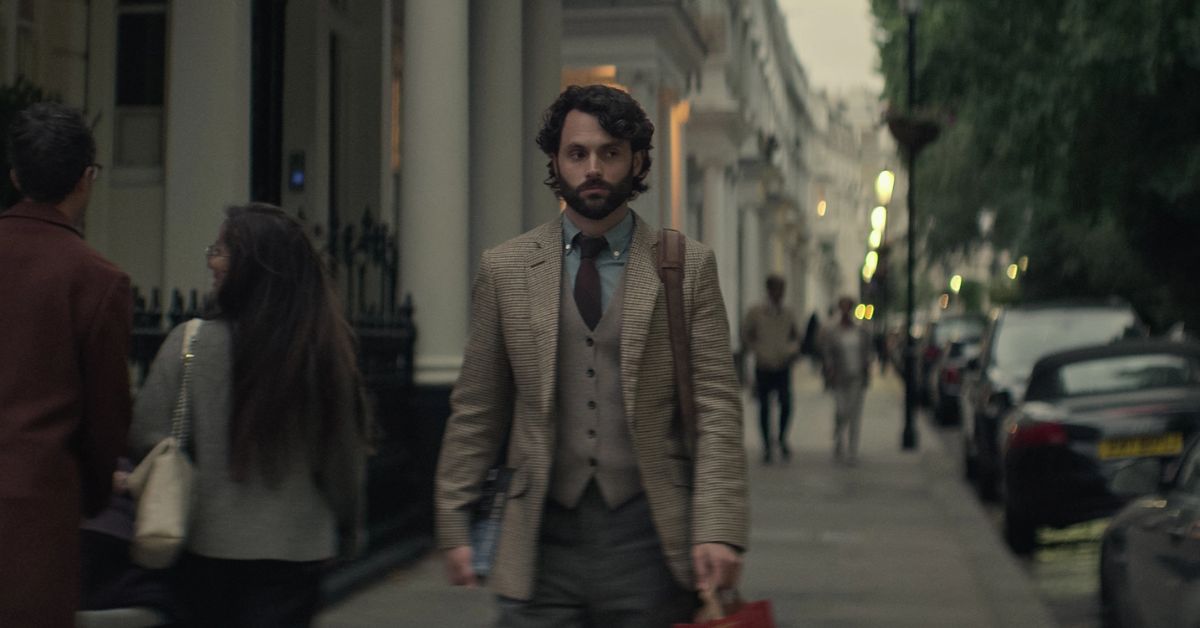 The new supporting cast does an excellent job of undermining Joe, but they frequently err on the side of hyperbole. Even though You has always had an outrageous group of people, there may only be so much comedy left in the use of monarchy.
The Oxford gang isn't as memorable as characters like Sherry (Shalita Grant) and Cary (Travis Van Winkle) Conrad, or even Artisanal Soda Bro Benji (Lou Taylor Pucci) from Season 1 (who were the actual MVPs of that season). Naturally, no one is quite like Love Quinn.
You were given new life by Pedretti's stunning, menacing portrayal of Love in the series' last season, so it wasn't easy to envision how it would continue without her. And here's the truth: With Love, Joe's ideal match, you let go of its pounding heart, and her absence in Season 4 is felt.
If you enjoy watching You TV show and are stuck for something to watch this weekend, we have the following great gift for you:
There is a sensation that something is lacking without Pedretti. Despite this, Season 4 demonstrated that You Can Still Be Good Without Love for one crucial reason: It Finally Broke Its Proven Formula. Love's arrival to the series was triumphant partly because she gave Joe his first true foe in the form of the mirror image of himself, in addition to Pedretti's iconic performance in the previous two seasons.
She reversed the situation on Joe and stopped what we thought would be another stalk, charm, and kill Beck (Elizabeth Lail) 2.0 scenario. It was simple to believe that we were heading back to the beginning after the Season 4 trailer showed Joe chasing Marienne (Tati Gabrielle) through the streets of a brand-new metropolis.
Was Marienne a similar figure to Beck but more fabulous and less whiny? Would Season 4 be another season of Joe relentlessly pursuing the same woman?
By making Joe the goal in Season 4, this is avoided. He no longer delivers the show's traditional narrative with twisted "adoration" for a woman; instead, he does so with seething hatred for a stranger who is determined to get his hands dirty by giving in to his deadly instincts.
This allows us to delve further into Joe's deranged sense of self while giving a new spin on a formula that You has followed for three seasons. Even though the "Eat the Rich" killer merely repeats what Joe has done for the previous three seasons, he consistently expresses outrage at the killer's crimes throughout the season, making it evident that he believes himself to be morally better.
How dare anyone follow him and learn every aspect of his life? Joe is incensed by this stranger's arrogance, underscoring his complete illusion and greatly warped perception of himself as the "tragic hero" who only acts out of "love."
Undoubtedly, Season 4's second half is superior to its first. We get the best of You in Part 2 (due on March 9). You give it to yourself right when thinking, "This is good, but it needs something." About twists, Season 4 of You is no different.
Even while Season 4's first half is undoubtedly entertaining to watch, something else seems to be happening. Since Season 2, You has never gotten comfortable; it consistently finds a way to surprise its viewers. We discovered at the end of Season 2 that Love is not who Joe believes she is, and most definitely not who we thought she was either.
More details regarding You Season 4 Review may be found in the tweet we've embedded below:
you season 4 should have been about her not joe pic.twitter.com/0yi3ijvxJZ

— lil (@NATSBlSHOP) February 9, 2023
Is Love just as evil as Joe, which is the problematic question it left us with? Can she be changed? Then, in Season 3, You did something unexpectedly once more. At the end of Episode 1, Love gave Michaela McManus, Joe's new neighbor and the enigmatic woman over the fence, the "ax," just as we were beginning to believe there was a contemporary "You" there. You turned it around when we thought we understood the main story.
The Season 4 premiere of the show keeps its narrative on track while mainly concentrating on the central mystery of the Eat, the Rich murderer. The current concern is how You'll keep it interesting once the mystery is finally solved, even though it is entertaining (and frequently humorous, considering the Oxford gang's blasé attitude about the death of their so-called buddies).
Although it's delightful to see Joe try to identify his enigmatic stalker, the episode lacks the extra spark that kept us on the edge of our seats the previous three seasons. The second part, though, is a real doozy. You turn the tables on us once more, absolutely leaving us in shock.
You can also check which seasons are officially renewed by the most prominent platforms. We have given the links below:
The final five episodes of You Season 4 showcase Badgley's best work. You are reminded of why you initially loved watching this series because of the delicate detail with which Badgley portrays Joe's thoughts, deeds, and maelstrom of emotions. You's current season took a chance by shifting its tried-and-true plot in a different direction, and it pays off.
You Season 4 Trailer
You can see the You Season 4 trailer below:
If you want to be the first to know all details relating to the tv shows, movies or their cast members you can bookmark our site Domaintrip.com for more updates.