Benedict Cumberbatch's Ancestors Got Rich Through Barbados Slavery Now He May Have to Pay Compensation
Benedict Cumberbatch's Ancestors Got Rich Through Barbados Slavery: Barbados has been trying to get compensation from its colonial masters for decades now after they subjected its people to nearly 400 years of slavery.
The Caribbean nation, however, is now looking to the wealthy descendants of individual slave owners rather than merely nations and institutions.
The Cumberbatch family could be a target. The actor, who has been nominated for an Oscar, has made a fortune portraying such iconic figures as Sherlock Holmes and Dr. Strange.
This article concludes with the information Benedict Cumberbatch's Ancestors Got Rich Through Barbados Slavery Now He May Have to Pay Compensation. So, read the complete article to know more detailed information.
Read more:-
Benedict Cumberbatch's Ancestors Got Rich Through Barbados Slavery
The history of his surname, though, is far darker.
Abraham Cumberbatch, Benedict's ancestor, bought a large sugar plantation there in 1728. The Cumberbatch was one of the wealthiest families in Britain at the period, and it is estimated that over 250 slaves worked on the estate for at least a century.
His heirs may have to make reparation payments to the government for previous wrongdoings even though it has been 189 years since his family sold the plantation.
One of the highlights of the British slave trade When English colonists first landed in Barbados in 1627, they promptly set about exterminating the island's Indigenous population and laying claim to the territory for themselves.
Rapid economic growth thanks to the slave trade made Barbados a "jewel" in the crown of the British Empire. According to Barbadian historian Sir Hilary Beckles (2016), "Barbados was the origin of British slave culture and the most ruthlessly colonized by Britain's governing class."
Benedict Cumberbatch's Family may have to pay reparations to Barbados for owning Slave Plantations. pic.twitter.com/FjMXKpTuVj

— Daily Loud (@DailyLoud) January 2, 2023
They became wealthy off of sugar grown by a slave and "disposable" labor, which helped establish Britain as an imperial power but also led to incalculable human suffering.
During the height of the slave trade, millions of people were taken as slaves in West Africa and transported to the Caribbean, where they lived and worked in terrible conditions for the rest of their lives.
Those people generally had short, wretched lives. According to anthropologist Kristina Schuler, "stress and abuse, coupled with disease and starvation, culminated in high death and replacement" in the Barbados slave trade.
In Bridgetown, the capital, there was a structure known as the "Common Cage" where slaves who had escaped or rebelled might be held until their masters arrived to retrieve them.
Beginning in 1833, the British government borrowed over $4.25 billion in today's dollars to pay reparations to former slaves. African slaves were not compensated for their loss of "property," but their owners were.
Read more:-
According to reports, the Cumberbatches took a settlement in 1834 worth around $6.38 million in today's dollars.
The "very shady" origins of Benedict's family
The fact that Benedict's parents, who are also actors, had to alter their surnames to avoid concerns about their heritage has never stopped him from being open about it.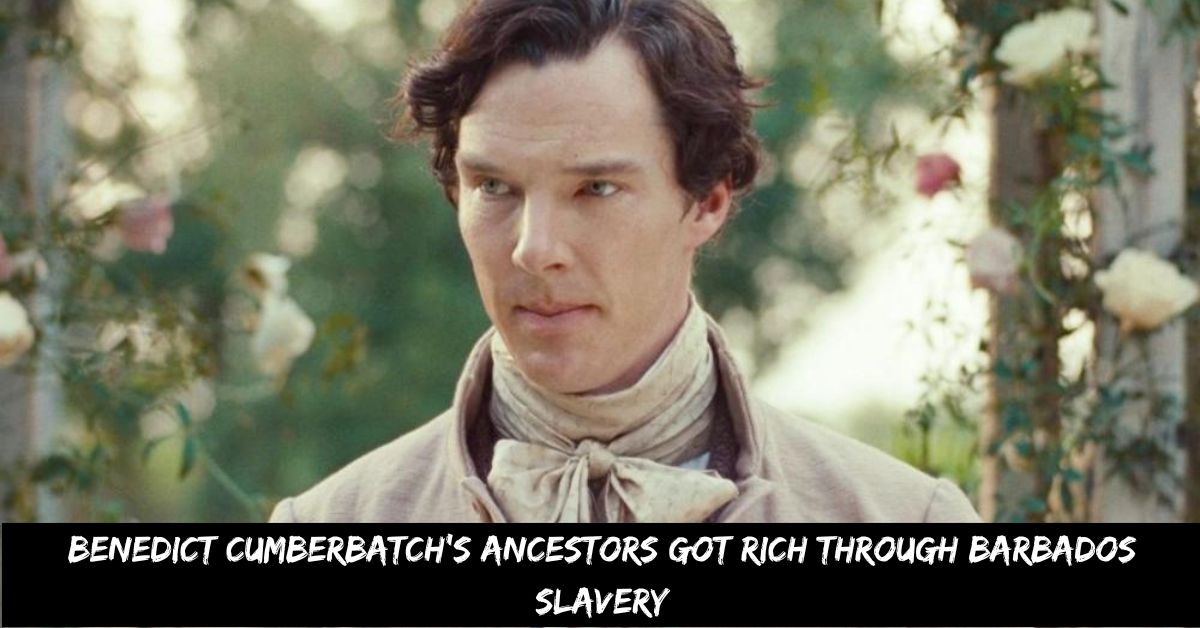 "Mum wasn't very keen on me retaining it until I started acting. She always warned that "they'll be after you for money." "back in 2007 he made these declarations.
Currently, "reparation cases" are being heard in American courts.
From an early point in his career, Cumberbatch was drawn to parts in movies that dealt with the lingering effects of slavery.
He had a leading role in the 2006 British film Amazing Grace, which was based on the fight to abolish slavery in the 18th century.
Additionally, in the 2013 film 12 Years a Slave, he portrayed William Ford, the plantation owner in Louisiana.
In an interview with Scotland on Sunday, Cumberbatch explained his job choices by saying, "Maybe I was attempting to rectify a wrong there."
Although his 18th-century forebears amassed a great fortune, Cumberbatch claims his middle-class upbringing was the norm for him and his family.
Benedict Cumberbatch's family could face legal pressure from Barbados to pay reparations due to his ancestors running a slave plantation of 250 people.

Abolition of slavery resulted in his family receiving compensation from the UK government — about £1 million in today's money. pic.twitter.com/mj6kvUPCIC

— Pop Base (@PopBase) January 1, 2023
The actor has mixed feelings about making good on his family's obligation, despite his "very questionable" past.
It's an intriguing question of how far you should be willing to atone, he stated back in 2007.
It's not like I'm using Nazi money to make a profit off of people's pain.
But many in Barbados believe that those who reaped the rewards of slavery should repay the debt of those whose forebears paid the ultimate price.
The history of the family could serve as an example
Slaveholders' compensation owed to the British government was ultimately paid in full by taxpayers in 2015.
However, Caribbean countries claim they are still financially and morally obligated to pay for the suffering of their citizens.
The Caribbean Community (CARICOM) is a group of 15 Caribbean countries that are asking European governments for an official apology, debt cancellation, literacy programs, and public health support.
Read more:-
For European countries, "the trade in enchained bodies" was a lucrative industry, according to CARICOM.
Millions of men, women, and children had their lives ruined for financial gain.
In 2021, when Queen Elizabeth II was deposed and Barbados became a republic, Prince Charles attended the event marking the transition.
The inhabitants of this island "carved their path with incredible bravery" despite "the darkest days of our past" and "the horrific tragedy of slavery, which permanently stains our history," he remarked.
Benedict Cumberbatch previously revealed his mother advised him not to use his real name for his career in fear of reparation claims due to the family's links to slavery. pic.twitter.com/MWldyQvQ1P

— Pop Base (@PopBase) January 1, 2023
However, the United Kingdom has not yet issued an official apology or offered restitution, leaving Barbados to pursue individuals instead.
The Draxes are the first prominent British family to be singled out for prospective reparations by Barbados.
The family ran a massive sugar plantation in Barbados in the 17th century, and it is thought that as many as 30,000 slaves were forced to work there.
The politician is rumored to be valued at around $266 million and resides at his family's estate in Dorset, where he also has a home.
Mr. Drax is being asked by the National Taskforce on Reparations in Barbados to give over Drax Hall so that it might be turned into a museum.
If he continues to refuse, Barbados plans to take the matter to an international arbitration court.
If Barbados were to win, it would set a precedent for which other descendants of slave owners may be sued for reparations.
David Denny, general secretary of the Caribbean Movement for Peace and Integration, made these remarks this week to the UK Telegraph: "Any descendants of white plantation owners who have benefitted from the slave trade should be required to pay reparations, including the Cumberbatch family."
Besides Benedict Cumberbatch, the National Taskforce on Reparations is considering going after additional descendants of slave owners.
"As such, we are in the very preliminary stages. We've only just begun, "The UK Telegraph quotes the task force's vice chairman, David Comissiong.
"Much of this past is just now becoming known.
Frequently asked questions
Who were the first slaves in Barbados?
The island's west coast agriculture was aided by the arrival of about 40 Taino slaves, imported from Guyana.
Does Barbados have slavery?
The Slavery Abolition Act of 1833 officially abolished slavery in Barbados and all British colonies.
What did slaves do in Barbados?
Slave society in Britain was established on the island of Barbados, which was also the most brutally colonized by British authorities. The sugar they produced with a "disposable" slave labor force made them rich, and that money cemented Britain's position as an imperial superpower while causing enormous misery.
Final Words: We hope you have found all the relevant information about Benedict Cumberbatch's Ancestors Got Rich Through Barbados Slavery. He May Have to Pay Compensation. For more latest news and information stay tuned with us here at Domaintrip.com.