How To Activate Facebook Dating? What Did You Need To Know Before You Start Dating On Facebook?
How To Activate Facebook Dating: The Dating app requires an active Facebook account and that you are at least 18 years old. You may skip making a unique "dating" profile on Facebook because the site will use the information to find people with whom you have things in common.
Here's How To Get Started With Facebook Dating Right Away:
To access the menu in the Facebook app, open it by tapping the three horizontal lines in the top or bottom right corner. (The positioning of menu items may change depending on the mobile operating system.)
 Meet someone on your phone.
 To begin, select the button. To create your dating profile, stick to the on-screen prompts.
 Your dating profile will be automatically created after you input your location and select a photo.
What Did You Need To Know Before You Start Dating On Facebook?
When other users of Facebook Dating see your profile, they will be encouraged to do so. Like Bumble and Tinder, Facebook's dating tool requires mutual interest before allowing users to exchange messages. If you want to use Facebook Dating, you'll need to prove to us that you're at least 18 years old. Here, you can choose between two different approaches.
This particular person who messaged me on Facebook dating two weeks ago gets to just keep her account, I guess. Tried to address this with Facebook since my support inbox now says nothing about her. Super great job #FacebookDating
PS: I'm not even trans. "He with a side of them". pic.twitter.com/jH7QpiE9cG

— Kenzie (@SuperfuntimesV) December 19, 2022
One is to provide a video self-portrait, which Facebook will then analyze with artificial intelligence to determine your age. You may also upload a photo of a valid government-issued identification ID. To get the most out of the dating feature, you should have as complete a standard Facebook profile as possible, as that is what it will draw information from.
The Facebook Dating function is included within the Facebook mobile app; there is no need to download a separate app or visit a particular website. Facebook Dating-specific photo albums and status updates are kept different from the rest of your page.
In addition, Facebook Dating interactions are stored independently from Facebook Messenger ones. Even after you've matched with someone on Facebook Dating and become Facebook friends, you'll still have access to that person's dating page.
After a little while, the app will start suggesting profiles, one at a time. The Facebook app's Dating area is always available to peruse at leisure to check up on your suggestions. Following are five things you can do on Facebook's dating platform:
To express your affection for a user, tap the heart icon on their profile or the X to dismiss them. If they feel the same way, you can strike up a dialogue. You will be notified if another user chooses to like your profile. Click the heart next to their profile picture to show appreciation and open the option to message them privately.
Matches are the app section where you can see who you've been matched with and have chats with. If you want Facebook to make better match suggestions, scroll down to the bottom of your profile and tap Answer a Question. At the very bottom of your profile page is an area where you can upload images and share Instagram posts. You may also check, Who Is Robert Pattinson Dating? and Who Is Jojo Siwa Dating?
How To Change Facebook's Dating Options
Your experience with the Facebook Dating app may be tailored to your preferences with a few simple adjustments. Settings can be accessed by tapping the cogwheel in the screen's upper-right corner, where Facebook displays suggested profiles.
Select the Ideal Match page and enter your search parameters to narrow the pool of compatible users. Choose the "General" menu to modify your profile's settings. Select the ellipses in the Instagram menu to link your account.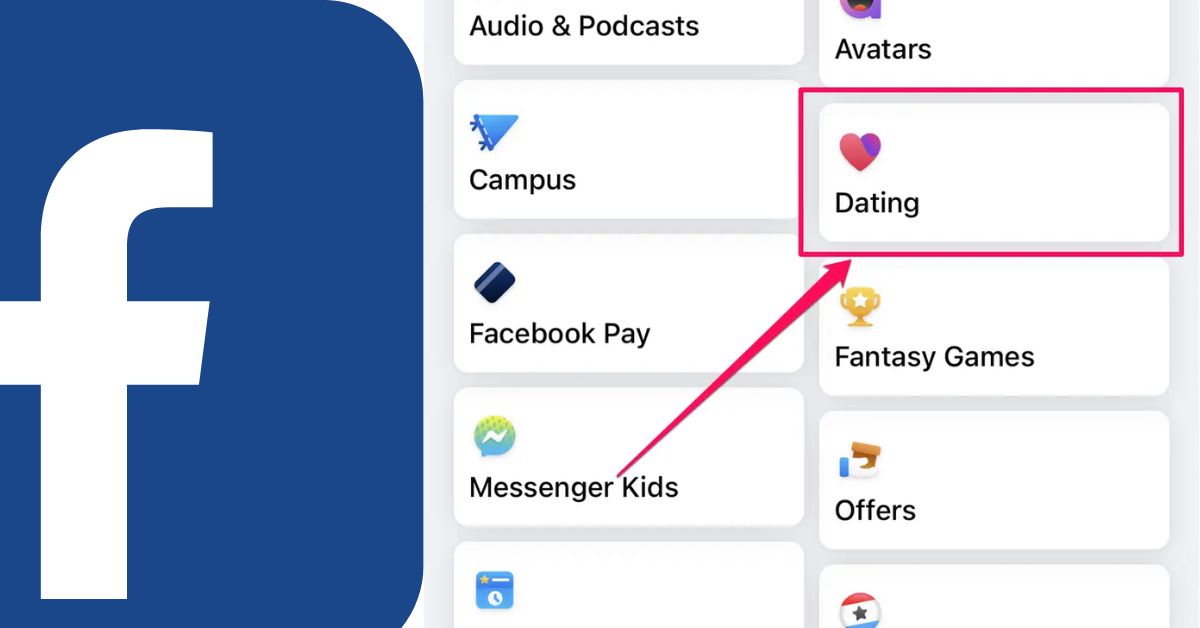 Unrequited Love on Facebook, You can use the secret crush tool to find a match among your Facebook friends and Instagram followers. Select Secret Crush from the list of suggested profiles on the screen's bottom.
Then, choose contacts from social media sites like Facebook and Instagram. If they have Facebook Dating enabled, they will receive a signal that someone likes them, but they will not be told who. They are matched when two people share a secret crush on one another.
How To Remove A Dating Profile On Facebook
However, removing your account will also remove you from Facebook Dating. It is possible to delete your Facebook Dating profile without also deleting your ordinary profile. Everything you have set up on the app will be gone, from matches to chats, but Facebook will still keep track of technical details like your IP address and email address history.
Follow These Steps To Remove Your Dating Profile:
To access the settings, tap the gear on the screen where Facebook proposes profiles.
 Toggle to the General tab.
 Click Delete Profile.
You can either press Skip or choose a reason for quitting Facebook Dating. To complete the deletion of your Facebook Dating profile, tap Next.
Stop Using The App For A While
With that expressly designated option, you can take a break from Facebook Dating instead of permanently deleting it. Take a Break enables you to suspend the account, saves all of your data, and makes it simple to resume using the app later. Turn the switch under General > Account > Take a Break.
Safety For Facebook Dating
Always let a friend know where you're going before meeting up with someone you know online. To let them know you are safe, it is also a good idea to text them or use Facebook Messenger. Under the General tab in the Facebook Dating settings, you can prevent a user from contacting you or viewing your profile.
Frequently Asked Questions
What Does The Facebook Dating Star Mean?
A "spark" is the name of the star. It's a technique to convey your intense interest in someone. Within a day, three messages are permitted.
How Do I Recover Facebook Dating After Deleting It?
After seven days, you can reinstall the app and make a new dating profile. Facebook won't let you before that entire week has passed. Open your Facebook account and select Menu > Dating to start over. Then create a new profile as you did before.
Why Can't I Use Facebook Dating?
You may need to clear the cache on your mobile device, the app may need to be updated, you may have banned notifications, or you may be experiencing issues with your internet connection. If Facebook Dating isn't functioning, try upgrading the app and activating alarms to fix the problem.
Final Lines
In this article, you have read about Facebook dating. How To Activate Facebook Dating? If you like this article, then please share your thoughts in the comments section below and share this article with your friends and family. Stay tuned for trending topics like Kim Kardashian Dating and Olivia Rodrigo Dating only on our website  domaintrip.com.