Jesse And Jennifer Break Up: How Did Jeniffer And Jesse Meet Before '90 Day Fiance?
Jesse And Jennifer Break Up:  According to the 90 Day Fiancé couple's most recent announcement, the stunning divorce between Jeniffer Tarazona and Jesse Meester was caused by an even more ridiculous reason. Jesse, a 29-year-old Amsterdam native who dated TLC icon Darcey Silva in 90 Day Fiancé: Before the 90 Days, rose to the status of franchise villain. Jeniffer, a cast member of the 90 Day Fiancé franchise, fell in love with Jesse despite his notoriety.
Fans first saw the 25-year-old single mother as Tim Malcolm's girlfriend. Jeniffer had entered Jesse's direct messages (DMs) after her separation from Tim. On 90 Day: The Single Life, Jesse and Jeniffer got together despite it taking him a year to reply to her.
While The Single Life season 2 trailer revealed Jesse and Jeniffer's affair to TV viewers, their Instagram followers have been aware of it since June 2021. It created whispers when Jeniffer posted a picture of her mysterious partner wearing a black t-shirt.
The pair, who were on holiday in Turkey then, quickly denied the reports by putting "taken" in their Instagram bios. Funny enough, Jeniffer informed her followers on Instagram once more on Sunday that she and Jesse were "not together" any longer.
Long-time viewers of the program who are aware of Jesse and Jeniffer's clout-chasing tactics thought the couple was playing a joke on them by telling them they were splitting up. And it turns out that they were accurate. On Wednesday, Jeniffer and Jesse shared a photo on their joint Instagram account, jenifferandjesse.
The caption read, "#jandj." Soon, Jesse and Jeniffer reposted the story's screenshot on their pages. According to an accompanying statement, Jesse and Jeniffer are just "physically" connected and are "currently not together." Jesse and Jeniffer's "personal agendas and business" are to blame for this.
To concentrate on their projects and job, the pair had to "temporarily remove" themselves from one another geographically. They still seem very much "in love," and they seem determined to keep their "connection" safe and protected.
About 25 photographs and videos of the couple documenting their relationship are now available on their joint Instagram profile. However, Jesse appears to have deleted all but one of the posts from his Instagram page that featured Jeniffer from 90 Day Fiancé. Given how desperate for fame they appear on TV, even among fans who despise both of them, some believed that Jesse and Jeniffer were a match made in heaven.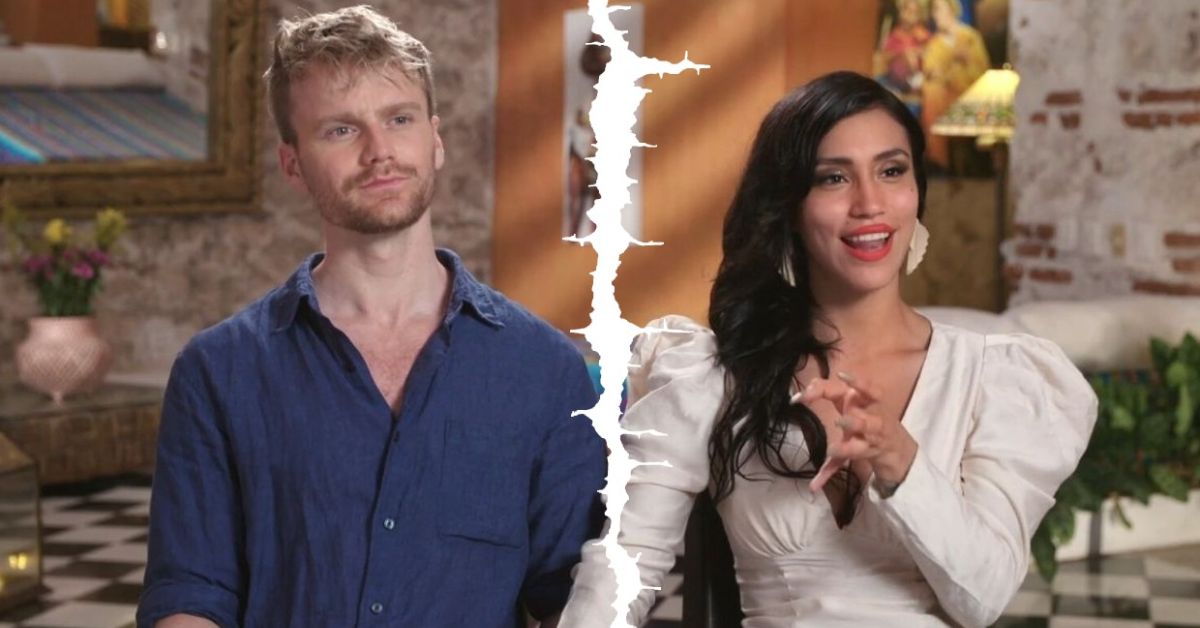 Due to Jesse's prior implication that Tim was gay, Tim had also remarked on Jesse and Jeniffer's relationship and branded them untrue, selfish, and narcissistic. His co-stars in The Single Life season two Tell-All referred to him as a fraud.
While Big Ed Brown believed that Jesse's incessant boasting about his wealth made Jeniffer, the star of 90 Day Fiancé, look like a gold digger, Natalie Mordovtseva argued that Jesse sees Jeniffer because it gives him a lot of money. The "split" couple may be seen together in season three of Pillow Talk for The Single Life.
Who Is Jeniffer Tarazona ?
On July 10, 1994, Jeniffer Tarazona (now 28) was born in Colombia. She is a famous reality TV star. According to numerology, Jeniffer Tarazona's Life Path Number is 4. She is thought to be worth $5 million—most well-known for her involvement in the third season of 90 Day Fiancé.
She has worked as a model and an architect. Selfies, travel, and romance photos are all over her Jennifer Tarazona Instagram account. At the moment, she has 160,000 fans. You may also check Kendall Jenner And Devin Booker Spotted Together After Breakup and Fred Toucher's Divorce.
Who Is Jesse Meester?
Jesse Meester, now 30 years old, was born in Amsterdam, the Netherlands, on December 20, 1992. He is a famous reality TV star. According to numerology, Jesse Meester's Life Path Number is 8. He hails from the Dutch nation. A trainer who became famous after appearing in 90 Day Fiance: Before the 90 Days on TLC.
How Did Jeniffer And Jesse Meet Before '90 Day Fiance?
Jeniffer and Jesse initially sparked relationship speculations after the Bucaramanga resident shared a PDA-heavy photo in June 2021 with an unidentified blond male. Jeniffer later confirmed they were both blissfully "taken" via social media.
Jeniffer claimed that she and her partner first met on social media when they appeared in season 2 of the Discovery+ 90 Day Fiancé spinoff. Jeniffer said in her confessional, "I sent him a message, but he didn't react. "The intervals between the texts were so great. The first time he saw my statement was a year later.
The couple acknowledged on their shared YouTube account that they were unsure if they wanted to join the spinoff that chronicles their first encounter. In March 2022, Jesse claimed that "the show got on to it." "We didn't want anything to impede this since it was so genuine. God, do we want this? Do we have to be involved with it again? That was all we could think. Therefore, we engaged in these extensive conversations.
Frequently Asked Questions
Is Jesse and his girlfriend still together?
After finishing third in season 4 of Love Island USA, which debuted in the summer of 2022, Deb Chubb and Jesse Bray ended their romance. Deb Chubb and Jesse Lamont Bray of Love Island USA are no longer dating. On Tuesday, the pair from season 4 revealed their separation on Deb's Instagram Story.
Who is Jesse second girlfriend?
Jesse to Andrea after criticizing her parenting and his desire to do drugs. Brock Cantillo's mother, Andrea, and Tomás Cantillo's sister Andrea are related. She started dating Jesse Pinkman while she was in recovery from addiction.
What does Jesse from 90 Day Fiancé do for a living?
By 2022, he plans to have visited 72 countries for masterminds, e-commerce, advertisements, influencer marketing, cryptocurrency projects, and engaging audiences on topics like marketing psychology, Defi, NFTs before they were trendy, and mindset. He founded a digital marketing agency at the age of 24. Jesse is a coach as well.
Final Lines
You have read this article about Jesse And Jennifer's Break Up. If you like this article, then please share your thoughts in the comments section below and share this article with your friends and family. Stay tuned for trending topics like Kim Kardashian Dating and Nick Kroll's Dating History on our website  domaintrip.com.