Oregon's Unemployment Rate Increased To 4.1% In October!
Oregon's Unemployment Rate Increased To 4.1% In October: Even though the unemployment rate in the state increased to 4.1% and economists predicted a mild recession is expected within the next year, Oregon gained 5,200 jobs in October. The state's unemployment rate increased somewhat from 3.8% in September and surpassed 4% for the first time since the start of 2022.
It is currently marginally higher than the 3.7% national unemployment rate. According to historical standards, Oregon's unemployment rate, which is at 4.1%, is still quite low, according to state employment analyst Gail Krumenauer.
Krumenauer remarked that hiring increased in October following a net loss of jobs in September. The number of jobs in the state is used to calculate the unemployment rate. It's conceivable for the unemployment rate to increase even while more positions are filled for several reasons.
In reality, the Oregon Employment Department reports that the private sector in the state added 1,682,300 jobs in October, an all-time high. That exceeds its pre-pandemic peak significantly. Last month, three industries—financial activities, manufacturing, and health care and social assistance—all added more than 1,000 jobs each.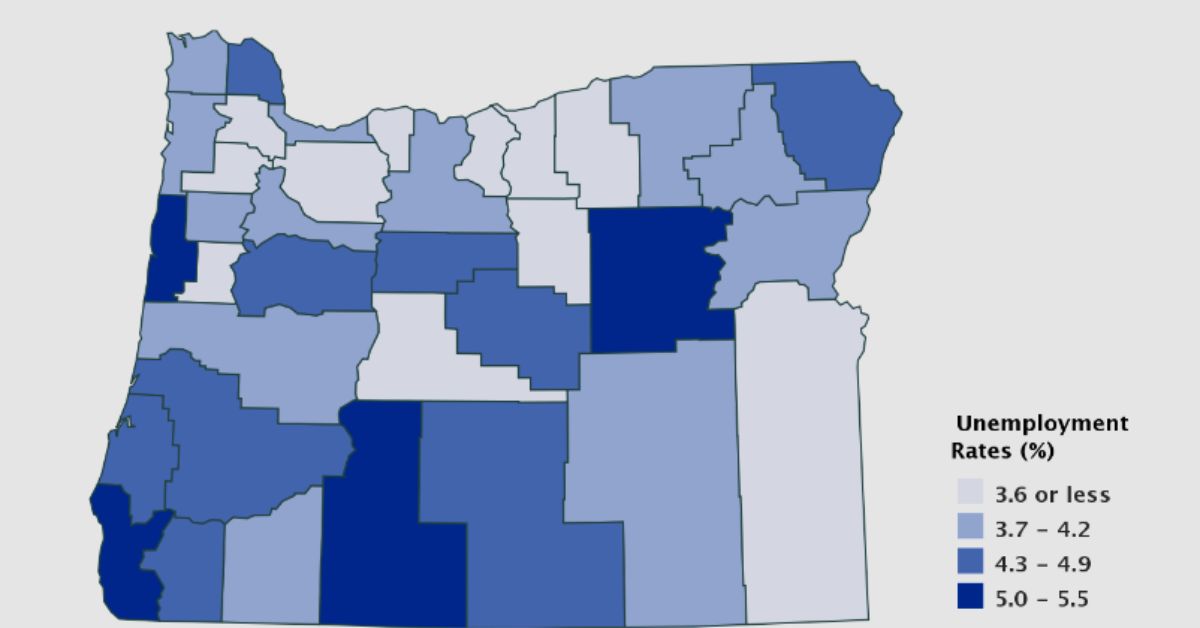 Employment growth in real estate, renting, and leasing was notably strong within the general category of financial industries, adding 1,900 new positions. Additionally, hundreds of jobs were added in the leisure and hospitality sectors, as well as construction, which saw record-high employment.
In contrast, hundreds of jobs were lost last month in the government and retail trade sectors. State economic forecasters issued a warning on Wednesday, predicting that a minor recession will start within the next 12 months, pushing up the state unemployment rate to a peak of 5.4% in the first quarter of 2024.
Oregon's unemployment rate went up again in October to 4.1%, the highest since the 4.2% recorded in January, despite 5,800 jobs added in the private sector. https://t.co/gNUeQD8ZHN

— Portland Tribune (@ThePortlandTrib) November 17, 2022
Approximately 24,000 jobs are expected to be lost, many of them in sectors related to manufacturing and construction, according to forecasters. The most likely scenario for the economy right now, according to state economists' quarterly prediction, is "a slight recession."
It's too early to tell how significantly layoffs in the technology sector would impact Oregon's labour force. The biggest employer in the state, Intel, announced last month that it will implement drastic cost-cutting measures, including job layoffs that were specifically targeted.
The layoff plans of Amazon, Twitter, and Meta have shocked the tech industry, but Washington has felt the effects even more keenly. At least 900 Washington-based employees have been let go by Meta and Twitter so far.
Oregon added 5,200 jobs in October, even as the state's unemployment rate rose to 4.1% and economic forecasters warned a mild recession is likely within the next year. https://t.co/jVxwdxmuXr

— OPB (@OPB) November 16, 2022
Final Lines
This news relates to Oregon's Unemployment Rate. Please share your thoughts in the comment section below and share this news with your family and friends. Read other news like Oregon Elect An Anti-woke on our site domaintrip.com.