The Resident Season 6 Episode 11 Release Date: Where Can I Watch Season 6 Of The Resident?
The Resident Season 6 Episode 11 Release Date: The Resident, a medical drama on Fox, has captivated viewers for a considerable time. The show, now in its sixth season, chronicles the day-to-day operations, personal lives, and professional challenges of the medical professionals working at Chastain Park Memorial Hospital.
The Resident season 11 concluded with its eleventh episode airing at the start of December 2022, and the show after that went on hiatus. Since then, viewers have been eager for the next installment. To that end, when can we expect to see The Resident season 6, episode 11?
DirectTV, Fox, fuboTV, Apple iTunes, Google Play Movies, Vudu, and Amazon Video offer Season 6 of "The Resident" for streaming, and you can also buy it as a download.
The Resident Season 6 Episode 11 Release Date
The eleventh episode of The Resident season 6 will air on Fox on Tuesday, January 3, 2023, at 7 p.m. CT / 8 p.m. ET. After an absence of about a month since its last episode on December 6, 2022, the series returns with a brand new episode on January 3, 2023.
The time to be honest is NOW. #TheResident returns Tuesday at 8/7c with an all-new episode on @FOXTV and next day on @hulu! pic.twitter.com/7oejIq39B8

— The Resident (@ResidentFOX) December 30, 2022
New episodes will resume their weekly Tuesday release schedule after the break. Thirteen episodes will make up season 6 of The Resident, which is scheduled to air from now until January 17, 2023.
Hulu subscribers can see the new episodes as soon as they are released. The streaming service has two pricing tiers: one with advertisements ($7.99/month) and one without ($14.99/month). Additionally, Hulu offers new users a free 30-day trial.
The Resident Season 6 Episode 11 Preview
Fox released a preview for the forthcoming episode to help tide viewers over till the next installment. A preview is available for your viewing pleasure down below. The episode is titled "All In," It will focus on a renowned cardiothoracic surgeon brought to Chastain Park Memorial Hospital with chest problems.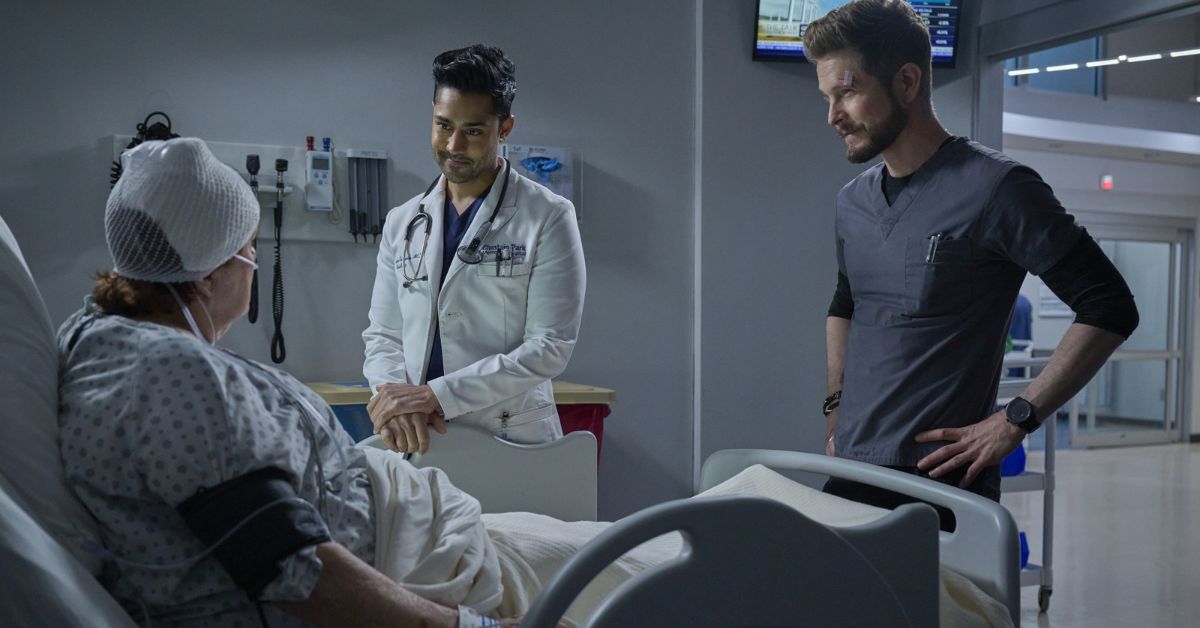 According to the episode's official synopsis, "a famous cardiothoracic surgeon, who also happens to be Dr. Yamada's mentor, comes into Chastain after experiencing heart pain; Kit breaks the news that the emergency room will no longer be accepting trauma patients due to budget cuts; and Devon and Conrad's help treat a confused woman."
Read More:
The Resident Season 6 Episode 11 Cast
Cast for Season 6 of The Resident are Matt Czuzhry as Dr. Conrad Hawkins, Manish Dayal as Dr. Devon Pravesh, Bruce Greenwood as Dr. Randolph Bell, Jane Leeves as Dr. Kit Voss, Malcolm-Jamal Warner as Dr. AJ Austin, Jessica Lucas as Dr. Billie Sutton, Anuja Joshi as Dr. Leela Devi, Andrew McCarthy as Dr. Ian Sullivan, and Kaley Ronayne.
We get them back in ONE WEEK, besties! pic.twitter.com/1Y87CnH09B

— The Resident (@ResidentFOX) December 27, 2022
In an interview with TVLine, Amy discussed fan expectations for the show's last season. She explained that the show's uncertain future was partly because Disney owned it but broadcast by Fox. God knows what will happen with the network drama, and that's tied up with that.
The Resident Season 6 Episode 11 Plot
Previous episodes revealed that Cade told Conard she was going on a girls' trip when, in reality, she was going to visit Ian in recovery. He is doing so well that it has shocked her. Leela is more worried about Padma now that she has decided to leave Atlanta. While at the hospital, Nic's dad is furious with Conard and demands to know why he was brought there.
It's been five years since they've seen one other, and the man has a prolonged pulse rate. Billie was also observed advising a patient against surgery, but the patient's loved ones ultimately opted to continue the procedure.
The Resident Season 6 Episode 11 Trailer
I see the trailer of the resident season 6 episode 11 I have given below.
Frequently Asked Questions
Why Did The Resident Skip 3 Years?
After the tragic loss of Conrad's wife, Nic (the now-departed Emily VanCamp), the producers decided to jump ahead several years.
Why Is Nic No Longer On The Resident?
Reports in Deadline suggest that Emily requested to be freed from her contract near the end of Season 4, well before Nic's pregnancy was made public. In the season finale of The Resident, it was announced that Nic's character had been killed in a car crash, marking the end of her time on the show.
Final Lines
We hope you have found all the relevant information about The Resident Season 6 Episode 11 Release Date. For the latest news and information, stay tuned with us here at Domaintrip.com.