Former Professional Kickboxer Andrew Tate Arrested In Romania On Rape And Human Trafficking Case!
Andrew Tate Arrested In Romania: An investigation into the rape and human trafficking led to the detention of controversial online influencer Andrew Tate in Romania. Tate's home in Bucharest, the country's capital, was raided while he and his brother Tristan were held captive.
The arrests were confirmed to the BBC by a police spokesperson. The former kickboxer gained notoriety in 2016 after being removed from Big Brother's British television program because of a video that purported to show him assaulting a woman.
As a result of his comments that women should "carry responsibility" for being sexually assaulted, he gained prominence online and was banned from Twitter. He was later given a second chance. Despite social media bans, he rose to fame by endorsing a super-masculine, super-luxurious lifestyle, especially among young males.
He frequently appeared in recordings riding aboard private aircraft, driving a fleet of expensive sports cars, and taking lavish vacations. An official from the Directorate for Investigating Organized Crime and Terrorism (DIICOT) told the BBC that prosecutors had requested to detain the influencer for 30 days in a "detention center."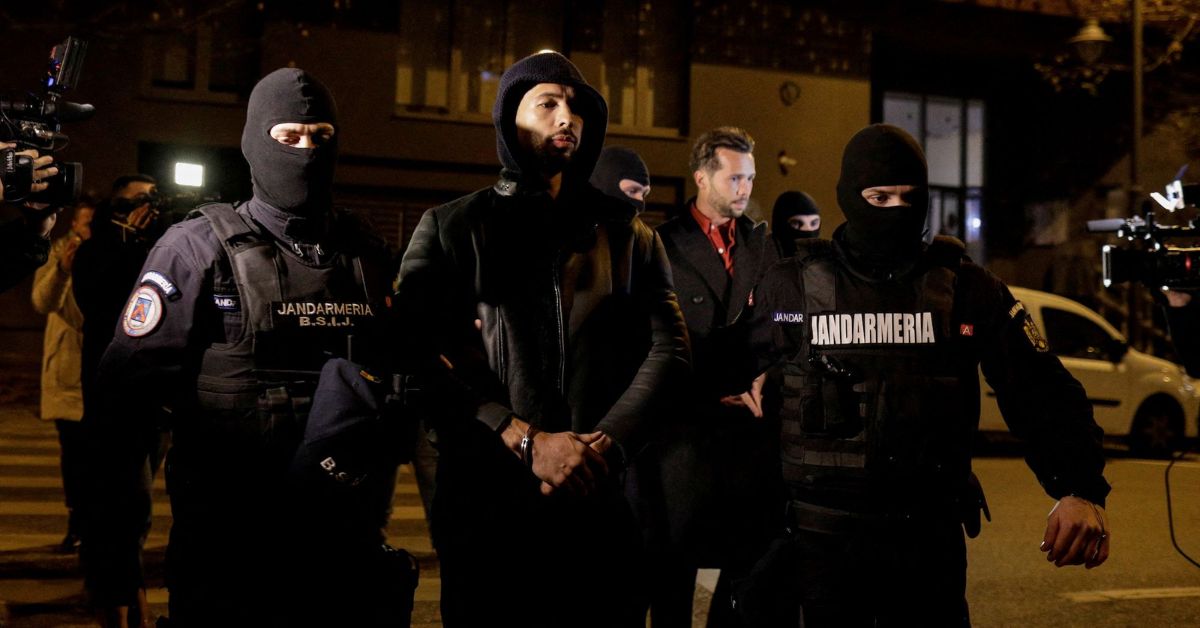 The spokeswoman noted that a court would decide on the application on Friday afternoon. The brothers and two Romanian citizens have been under investigation since April. In a statement, DIICOT claimed that the four suspects "appear to have constructed an organized crime gang to recruit, housing, and exploit women by compelling them to produce pornographic content intended to be viewed on specialized websites for a fee."
Tate and his brother were shown in a social media video being escorted out of a lavish villa. According to a Tate representative, he could not give the Daily Mirror any information about the arrest. However, he continued, "Andrew and Tristan Tate have the best regard for the Romanian authorities and would always cooperate and assist in any way they can.
Read More:
Later, Andrew Tate's Twitter account issued a message that referred to the 1999 film The Matrix, which he frequently mentions in his posts. The post stated that "The Matrix sent their agents." The account also shared Matrix memes published by Elon Musk, the owner of Twitter.
Two British and two Romanian residents were allegedly involved in a human trafficking ring, according to a statement released on Thursday night by Romania's Directorate for Investigating Organized Crime and Terrorism. However, the Tate brothers were not mentioned in the report.
According to the statement, authorities had discovered six victims of "sexual exploitation" by what was described as an "organized criminal cell." Police claimed that the British nationals had "recruited" the victims by lying about their desire to date them, a practice they referred to as "the loverboy method."
Andrew Tate and his brother have been arrested in Romania in human trafficking investigation‼️😳 pic.twitter.com/WA88lB7xQo

— Daily Loud (@DailyLoud) December 29, 2022
The statement said that later on, under threat of violence, they were made to perform in pornographic content. Guns, knives, and money were on display in one room in a video of the raid that was also made public by the police. Five years ago, Andrew Tate moved to Romania.
Online rumors claimed that Tate's posting of a video criticizing the environmental campaigner Greta Thunberg prompted police to learn of his presence in the nation. In the video he shared, he received a pizza box from a nearby restaurant, which several users said unintentionally betrayed his location.
Andrew Tate and his brother have been arrested in Romania in human trafficking investigation. pic.twitter.com/a5ZSDxFNUn

— Pop Base (@PopBase) December 29, 2022
The pizza box, however, is not considered to be necessary. When Tate, 36, tagged the 19-year-old in a post bragging about the "enormous emissions" produced by his fleet of automobiles, the argument with the activist started earlier this week.
She tweeted, "this is what happens when you don't recycle your pizza boxes," about the online rumor after the arrest. Tate, a British citizen, born in the US, competed professionally in kickboxing and won world championships before becoming well-known worldwide.
So…Elon Musk let Andrew Tate back on Twitter, and Tate promptly used it to reveal his whereabouts to authorities in Romania who then arrested him.

All because Greta Thunberg owned him so hard his little wee-wee fell off.

Do I have that right? Please say I have that right.

— George Takei (@GeorgeTakei) December 29, 2022
He entered the Big Brother house in 2016 but was quickly sent out after a video purported to show him using a belt to strike a woman. Tate said the video had been altered at expulsion, calling it "a pure fake attempting to make me seem terrible."
With the statement that "misogyny is a vile ideology that is not permitted," Mr. Tate has been blocked from social media sites like YouTube, Facebook, and Instagram. TikTok has also removed him. He had been barred from Twitter, but after Elon Musk took control, he was recently permitted to return.
Final Lines
I hope you find our post valuable for you. Many thanks for taking the time to read this! If you appreciate it, please leave a comment and share it with your friends. There are other articles available on Domaintrip.com.