Below are the statements we recorded from different news channels about the new trading rise in the imports and exports of china;
"China's foreign trade performance is leading the field among the world's major economies, and China has seen an increase in its international market share," said Li Kuiwen, a spokesman for the customs agency.
"Taking into account the impact of the high base of foreign trade in 2020, the growth rate of imports and exports may fall in the fourth quarter of this year, but the overall upward trend of China's foreign trade will not change, and rapid growth throughout the year is still expected," Li said.
According to the breaking news, the customs agency has leaked some details about China's trading system. China has reported disheartening growth in their import rate of products in September 2021, which the rate of exported materials has been extraordinary. The rate of imports with the United States rose by 17.6% last month, which would be $240 billion, whereas the country's sale of goods to other parts of the world remains brilliant for their economy.
 Julian Evans-Pritchard of Capital Economics said in a commentary that; "The bigger problem for exports is that foreign demand has been buoyed by large stimulus in developed economies and shifts in consumption patterns due to the pandemic, both of which are likely to unwind over the coming quarters,"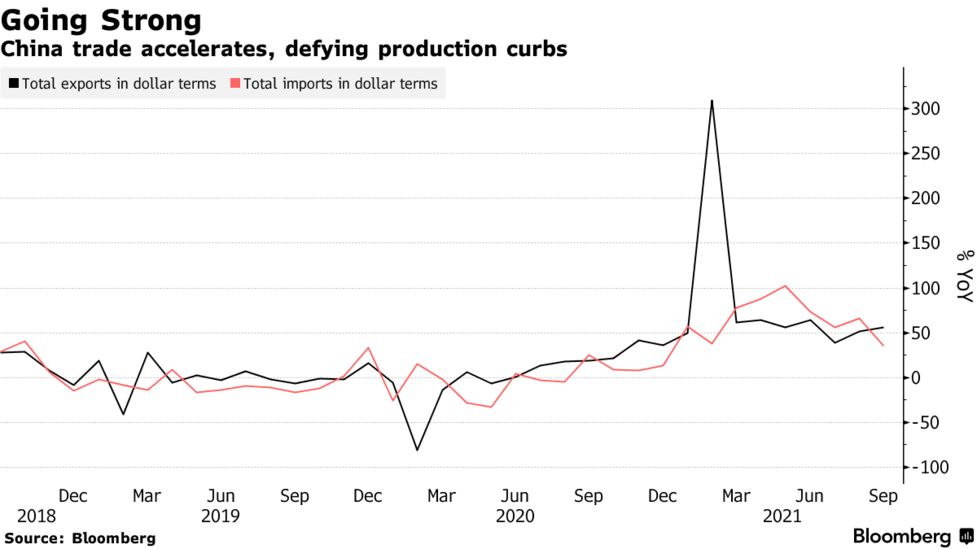 The export ratio in china has been 28.1% that is $305.74 billion in total for this year, which means that the imports of china are less than 20% and exports are more than 20%.
Depending on the estimated report, natural gas and coal imports are on stream while crude oil and soybeans are demolished.
The import of coal and such organic products has soared up to 75% since September last year to 32.9 million tons. The prices for such products have also been reaching sky high, and this year's total estimated cost for imports of coal is $3.91 billion. The imports of natural gas in China have risen 21.8% this year with 10.7 million tons which cost around $5 billion.
Beijing Associated Press says- "China's exports rose at a slightly faster pace in September while demand for imports of iron ore and other commodities eased as a property construction boom cooled and authorities enforced curbs on energy use."
Even the charges for organic compounds of coal such as thermal coal, which is used as a primary source of fuel for producing electric power, have been increased twice the previous amount. That is why the shortage of fuel has resulted in power breakage in certain parts of the country, especially in factories, and more coal imports from all over the world have been requested till now.
The material exported his years shows a good amount of growth in vehicles, smartphones, electronics etc.
The imports of certain metals and minerals due to the shortage of basics like fuel and chips used in technologies have also increased.
Last year, China had the highest export marketing with the southeast part of Asia, where various products were exchanged. But this year, its rise in US trade is a sign of its increase in economy and welfare, but an increase in imports may also lead to destruction and dearness in the country.