Domain Name Abuse Forum will be held in Wellington today. The forum is organised by .nz Domain Name Commission and the Department of Internal Affairs. The two have recently signed a Memorandum of Understanding to facilitate safe and secure  online environment for the .nz domains.
The forum will address issues and challenges surrounding domain name abuse.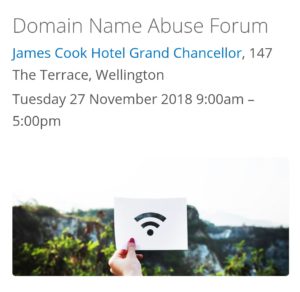 The forum will be attended by domainers, bloggers, end users, lawyers, Internet safety and security experts, government departments, academics, civil society and more.
Forum attendees have been requested to reflect upon the key notes mentioned below:
▪Registration abuse : data quality issues and fake or invalid registration details
▪Content abuse : e.g. online shopping and scam websites
▪Infrastructure abuse : minimise and mitigate technical attacks on the .nz domain name space and protect this vital infrastructure.
The forum will pave way for safer and more trusted .nz domain space.