The Sanderson Sisters have returned, but are they still able to do magic? It's been 29 years since the first movie, and a group of teenagers accidentally bring the three witches back to life. But this time, they're not the same bad guys they used to be. Are they still harmful? Or do people not understand them correctly? We'll only know as time goes on.
Read this post until the end to discover everything about Hocus Pocus 2 and its surroundings.
Hocus Pocus 2: An Overview
Hocus Pocus 2 is a funny fantasy movie from America. It came out in 2022 and was directed by Anne Fletcher. The story was written by Jen D'Angelo, and it was made by Walt Disney Pictures. This movie is a follow-up to another movie called Hocus Pocus, which came out in 1993.
The main actors from the first movie, like Bette Midler, Sarah Jessica Parker, Kathy Najimy, and Doug Jones, are back in their roles. There are also some new actors in the movie, such as Sam Richardson, Whitney Peak, Belissa Escobedo, Tony Hale, and Hannah Waddingham. They filmed this movie from October 2021 to January 2022 in Rhode Island.
They used Rhode Island instead of Salem, Massachusetts for the filming. The movie was put on Disney+ on September 30, 2022. Some people liked the movie and thought the actors did a good job, and it made them remember the old movie. But some people didn't like the story of the movie.
The movie got three nominations for a big TV award called the Primetime Emmy Awards. They were nominated for making a great TV movie. They are also making another movie like this one, with the same director and writer.
The cast and crew of Hocus Pocus 2 are putting on a show that is truly magical. Their hard work and dedication has paid off with three Emmy nominations, including Outstanding Television Movie:
Congratulations to the cast and crew of #HocusPocus2 for their three Emmy® nominations, including Outstanding Television Movie! #Emmys pic.twitter.com/7V4neFBRAa

— Hocus Pocus 2 | Now Streaming (@HocusPocusMovie) July 12, 2023
Hocus Pocus 2 Release Date
Hocus Pocus 2 became ready to watch on Disney+ starting from September 30, 2022. You can also find the trailer for Hocus Pocus 2.
Hocus Pocus 2 Cast and Characters
| | |
| --- | --- |
| Actor  | Character |
| Bette Midler | Winifred Sanderson |
| Sarah Jessica Parker | Sarah Sanderson |
| Kathy Najimy | Mary Sanderson |
| Doug Jones | Billy Butcherson |
| Whitney Peak | Becca |
| Belissa Escobedo | Izzy |
| Lilia Buckingham | Cassie |
| Froy Gutierrez | Mike |
| Sam Richardson | Gilbert |
| Tony Hale | Mayor / Reverend Traske |
| Hannah Waddingham | The Witch Mother |
Can't wait for the next season of your favorite show? We've got you covered! Check out our previous posts to find out when it's coming out:
Hocus Pocus 2 Review
For some people, especially those who are around the same age as me, there's a special feeling tied to watching the movie 'Hocus Pocus.' It's like a ritual to watch it on Halloween, just like other traditional activities. It's a movie that holds a lot of memories and affection, even if it might not be perfect. However, making a sequel like 'Hocus Pocus 2' is a bit tricky. It's trying to capture the magic of the original while also appealing to new viewers.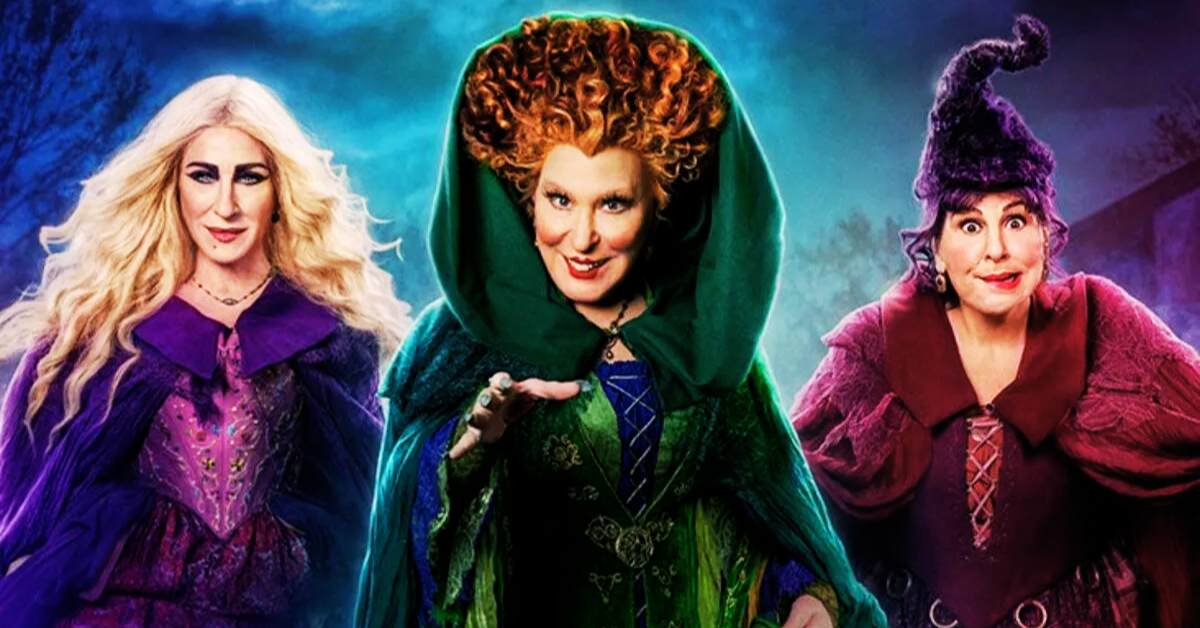 This can be challenging and sometimes doesn't work out well. The sequel feels more like a redo of the first movie rather than something fresh. It has the things we recognize, but it lacks the heart and excitement that we need. It's almost like a sketch comedy show without many jokes, rather than a real movie.
In this new movie, it's been 29 years since the Sanderson sisters (played by Bette Midler, Sarah Jessica Parker, and Kathy Najimy) were last seen. The story tries to show them in a different light, making them seem like misunderstood rebels from the past. They're not as villainous as before, and that change doesn't really fit well. The movie also adds new characters, but they don't feel as interesting as they could.
The movie's story is a bit messy, with too much explaining and not enough excitement. There are odd musical parts and even a scene that feels like a big advertisement. The rules of the movie world are confusing too, and there's a part where characters watch the original movie on TV, which raises a lot of questions.
The original actors are still great, even though the dialogue they have isn't as lively. The change in the witches' personalities takes away some of the fun, and the humor from the first movie is missing. While some families might watch 'Hocus Pocus 2' this Halloween, it's unlikely they'll want to watch it again next year.
This much is currently known about it. When we obtain new information, we will pass it along to you. Domaintrip.com provides the most recent information regarding other events, so you can visit the site for more details.