Money heist season 5 has gone to remarkable fame, it is a well-known show loved by a bunch of viewers all over the world, the show has an explosive beginning with lots of action and gunfights, we can see multiple explosions as well, and the saddest part yet is the death of a famous member in money heist season 5. It is to be noted that this season might be the ending season of this famous Spanish television show. Fans are well aware and keenly updated with the life romances of these on-screen characters and how things become complicated, first during The Royal Mint heist and later as they infiltrated the Bank of Spain.
Therefore it is highly expected that much more tear breaking moments will be seen, and much more exciting for the viewers to experience such suspense and thrill without even knowing who will come out alive. The first 5 episodes of season 5 have been released on NetFlix, which created much hype among the viewers. The show was seen as the number one show as soon as it was on air and received much love from the audience.
As only 5 episodes have been released yet, another part 2 of season 5 will be released soon.
Money Heist Season 5 Volume 2 Release Date
The shocking end of season 5, part 1, has made viewers much more interested in knowing the next part. Season 5, part 1, was released on September 3 2021. Fortunately, an official date for the upcoming part 2 of this epic crime series has been announced, which is just 3 months away.
Season 5 part 2 is to be released on Friday 3rd December 2021. The streaming service announced the Money Heist season 5 release schedule back in May, with a tweet and teaser trailer for the show's stunning conclusion. Which said: La Casa de Papel / Money Heist is finally coming back!
Part 5: Volume 1 premieres September 3
Part 5: Volume 2 premieres December 3.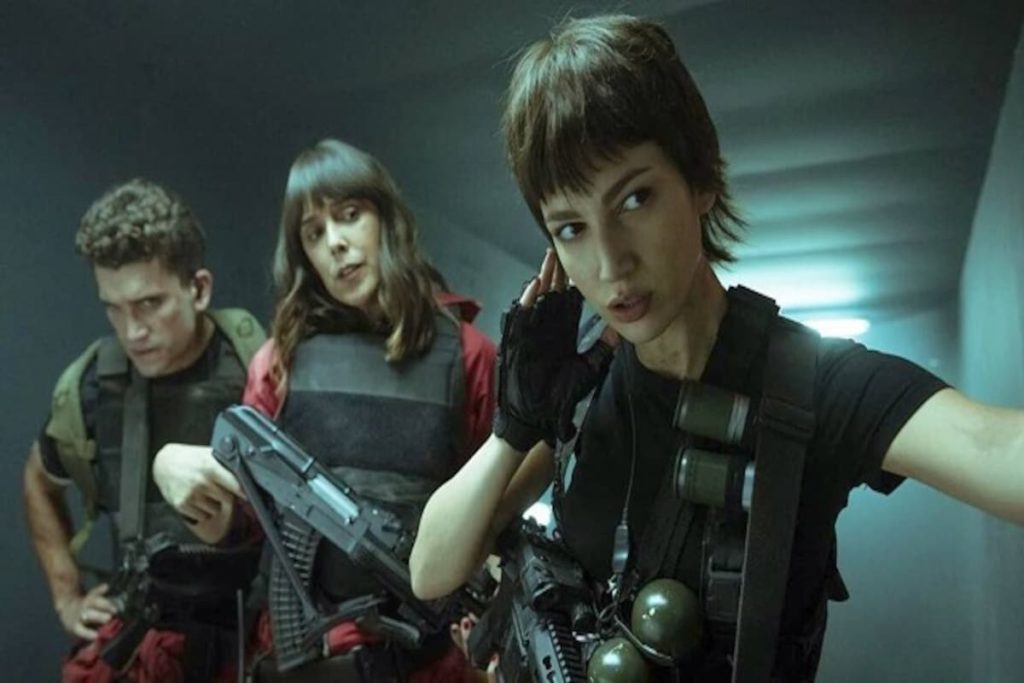 Money Heist Season 5 Volume 2 Spoiler Alert
Money heist season 5 volume one was released this month on 3 September 2021 in which we witnessed all the fights and thrill, we saw the detectives and army who were ready to attack and also the former detective of the show named officer Alicia had captured the professor and made him powerless, and the volume ended with the death of Tokyo.
According to the news, it is said that in volume two of season 5, most of the focus will be on the emotions of the characters. We know that volume 1 involves arguments, danger, betrayal, and drama, which made fans fall in love with the show. The worst part witnessed was the death of a gorgeously famous character Tokyo with a lot of flashbacks.
It is expected to see Tokyo in the next volume too. Maybe the death is the professor's plan, or she is actually dead and will appear in the memories and flashbacks. It is still not confirmed. We are not sure whether Alicia and the professor will sort the situation and save him or hand the professor to the police, and the authorities will handle him. Fans are very excited to know if Arturo roman- the one whom the majority, including me, dislikes, will still be on the show or not, as it was witnessed that Monica shot him for saving other members of the team.
Expected Cast of Money Heist Season 5 Volume 2
It is said that volume 2 will have the same cast as volume one as money heist is a show with lots of flashbacks, so it is expected to see the dead characters in flashbacks and memories. 
We expect to see
The Professor, Tokyo, Lisbon, Rio, Denver, Stockholm, Arturo, Helsinki, Bogota, Marseille, Manila, Coronel Tamayo, Palermo, Inspector Sierra, Gandia, Berlin.
Trailer Updates of Money Heist Season 5 Volume 2
The team haven't released any trailer for volume 2 yet, as it is still three months away. Still, it is expected to release soon as the producers have already announced on their Twitter account that money heist season 5 volume 2 will release on 3 Dec 2021. So we can expect a mind-blowing trailer on its way very soon.
Will Tokyo Return in Volume 2?
MONEY HEIST fans still aren't convinced Tokyo is actually dead despite detonating five grenades strapped to her chest at the end of the latest instalment.
The ending of volume one has made fans much more eager for part 2 as we all witnessed the death of Tokyo. The fans are not yet convinced if she is dead as she is the narrator of the show, this sacrifice by Tokyo made fans emotional and eager to know more about it. 
This show has always been famous for its thrill, emotions and sacrifices. Fans have been through some unexpected encounters. First, it was Berlin's death. Later we witnessed  Nairobi's death, the professor being captured, and many more unexpected things. But the fans never saw the death of Tokyo coming like this. In part one, it was witnessed that the army shot Tokyo, and we could see grenades over her body. We also saw that Tokyo gives a playful wink at her captor, and the bomb explodes, and everything ends.
Moreover, fans cannot get over Tokyo's death as speculations about her return from death spread like fire on social media.
And hence it is all over the social media that Tokyo is not yet dead, the fans are still expecting to see her in the next volume as well, not to forget that she is the one who is narrating the story, so it is very much possible that she will be seen in the next volume.
As the final season kickstarts, we hear Tokyo mentioning, "The day I killed Gandia, all odds were against me ''- These lines from her side have clearly explained that there will be a part 2 of season 5.